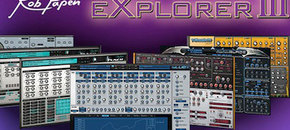 Rob Papen is one of the world´s leading sound designers and over the last few years he has released a series of multi-award winning high quality software plug-ins which have become essential tools for many of the world´s leading music producers. Now you can purchase the whole Rob Papen collection in one single package - eXplorer 3.
Combining all Rob Papen virtual synths plus the company´s four award winning effects plug-ins, eXplorer 3 provides all the tools you need for contemporary music production including thousands of rich, complex, track-ready presets created by Rob Papen and guest artists including acclaimed DnB artists Noisia.
Since eXplorer was first released in 2011, it has been updated to include Punch, Blade and now Blue 2, RP-AMOD and Predator FX at no extra cost, so now more than ever eXplorer 3 represents fantastic value for money!