eXplorer4 CROSSGRADE Single

"There used to be two third-party synths that I routinely relied on in addition to those that come with Live and Logic. Now there are three."
Keyboard Mag. The most trusted information resource for keyboard players and producers in all styles of music.

"Great sounding. Super flexible. CPU efficient. Excellent FX. Powerful routing and incredibly well laid out. Ridiculously cheap." [Punch-BD]
AskAudio. News, reviews & tutorials for the modern musician, producer & DJ.

"Master Rob has done it again! I'm blown away from the sounds and the sound quality..u don't have to touch a knob if u don't want too sounds are thick, clean, wide and there's patches for every Genre! I won't do anotha track without it!" [Predator 2]
Tim & Bob (Tim Kelley and Bob Robinson). A.K.A Funktwons, are Grammy Award-winning songwriting musicians and a Hip-hop/R&B production duo. Working and writing for artist like: Usher, Nicki Minaj, Jlo, Jessy J, Ally Sereda.
The Entire Rob Papen Product Line in One Collection!

IMPORTANT: Please Note that this Crossgrade is for users who already own 1x fully licenced Rob Papen Plugin.
Your existing registrations will need to be checked by us > after purchase, please send your existing Rob Papen product licence/serial code to us at support@pluginboutique.com via email, so that the Crossgrade can be processed.
Users/Owners of 3x Rob Papen plugins can crossgrade HERE.
Users/Owners of eXplorer III can Upgrade HERE.
This inspirational bundle holds all 15 RP products and after registration you also can request the amazing Prisma! The ultimate virtual synth and effects plugin collection.
Main Features
8 Rob Papen virtual synths
6 Rob Papen effects plugins
Thousands of presets
Powerful cutting edge features
Combined value of over £1000
Rob Papen is one of the world´s leading sound designers and over the last few years he has released a series of multi-award winning high quality software plug-ins which have become essential tools for many of the world´s leading music producers. Now you can purchase the whole Rob Papen collection in one single package - eXplorer 4.
Combining all eight Rob Papen virtual synths plus the company´s six award winning effects plug-ins, eXplorer 4 provides all the tools you need for contemporary music production including thousands of rich, complex, track-ready presets created by Rob Papen and guest artists including acclaimed DnB artists Noisia.
Since eXplorer was first released in 2011, it has been updated to include Punch, Blade, Blue II and now Raw, RP-EQ, RP-AMOD and Predator FX at no extra cost, so now more than ever eXplorer 4 represents fantastic value for money! You get over £1000-worth of software for for a incredibly reduced price - a saving of over 50%!
The Following Products are Included in this Package;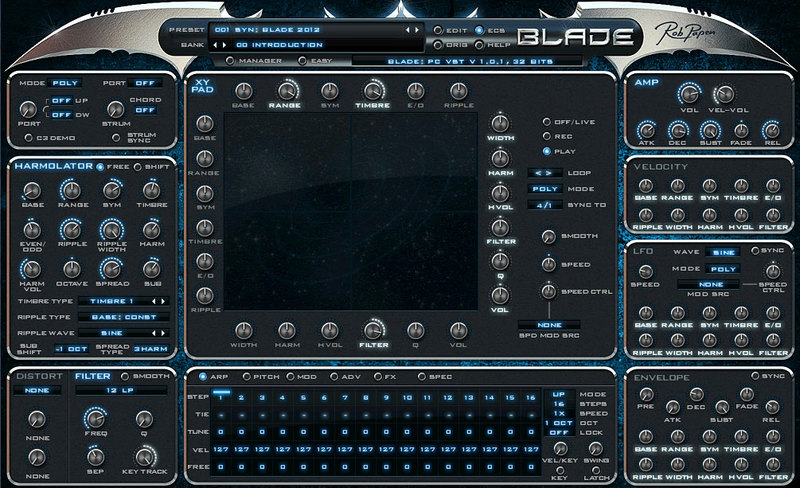 Cutting edge synth plug-in for the creation of unique sounds quickly and easily. The initial idea for the Blade virtual synth was born out of Rob Papen´s desire to have more 'human input' into the sound using the keyboard and controllers like the pitch bend or modulation wheel. An XY pad is perfect for the human input, but it only controls the filter and volume. This was too limiting for Rob Papen who wanted to also be able to control the 'harmonics' of the oscillator... changing the waveform using the XY pad.
The initial idea for Blade was born out of the want to have more 'human input' into the sound. The classic synthesizer parts for modulation are LFOs and Envelopes. The 'human input' is the keyboard we play and controllers like pitch bend or modulation wheel. A XY pad is perfect for the human input, but it controls only the filter and volume... We found this to be too limited. We wanted also to control the 'harmonics' of the oscillator...changing the waveform using the XY pad.
Out of this idea, Blade was born...
At the heart of BLADE, lies the Harmolator. This special oscillator system uses 9 global controls which change the harmonic content (partials) of the waveform.
The Harmolator allows oscillator spreading, fattening the sound and also square / sine wave sub-oscillator. What's more, the sound can be modified further by the 21 per-voice distortions types and 14 filter types.Blade offers total control of the sound over time using an array of different modulation controls.
The most significant of Blade is the central XY screen. Here you can either alter things directly by moving the cursor around, or you can record paths which can be replayed.The recorded path can be looped, bi-directional looped and tempo based as well. Even the speed of the XY recording can be modulated for dynamic changes!
So the XY pad is also an incredibly advanced "human input" modulation source. Furthermore, Blade has the full range of other modulation sources, including a dedicated envelope, LFO and velocity as modulation source for Harmolator controls.
Two FX units featuring all the FX from other Rob Papen products, plus the Arp / Sequencer and an Easy page which allows you to easily control sounds, all add up to an amazingly flexible and useful instrument at the cutting edge of today's synthesizers!
Learn more about Blade.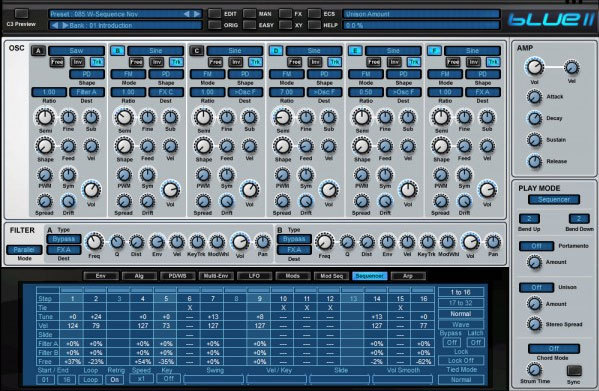 First released in 2005 BLUE already reflected Rob Papen's cutting-edge, creative, and — most importantly — musical approach towards developing virtual instruments by first delivering FM and subtractive synthesis, then duly adding Phase Distortion and wave shaping synthesis into the highly creative mix to create one seriously creative combination. Rob Papen himself called it 'Cross-fusion synthesis' since it covered so much musical ground so effectively.
 
Today BLUE-II remains true to that ethos with even more sound dimensions and features to its extended name, starting with six oscillators beating at its musically creative heart. These can be connected in various ways, together with two analogue-style modelled stereo filters with 27 different filter types, an enormous range of processing and modulation options, sequencer, and an incredibly powerful arpeggiator. A new range of specially selected waveforms based on samples have been meticulously fashioned for creating new and fresh-sounding synth sounds, so don't go expecting acoustic pianos galore here. However, since choirs and strings are an excellent basis for so many synth sounds BLUE-II has them in abundance — with much more besides!
 
Moreover, BLUE-II takes the useful XY pad features from its popular virtual instrument sibling Blade — a cutting-edge additive synthesis powerhouse with a human touch — and transplants them into its own equally extraordinary workflow… perfect for time-based sound movements and vector pad-type sounds. Complemented by four top-quality FX processors, each offering 35 FX types, BLUE-II is a phenomenally powerful virtual instrument to behold.
 
But BLUE-II is also easy to use, thanks to its user-friendly user interface and an innovative Easy Edit page for speedy sound changes, while the Bank Manager allows whistle-stop navigation through thousands of inspirational Rob Papen presets and artist sound banks covering a wide range of musical styles.
 
BLUE-II represents an amazing journey into 'Cross-fusion synthesis' and, quite simply, sounds stunning!
Learn more about Blue II.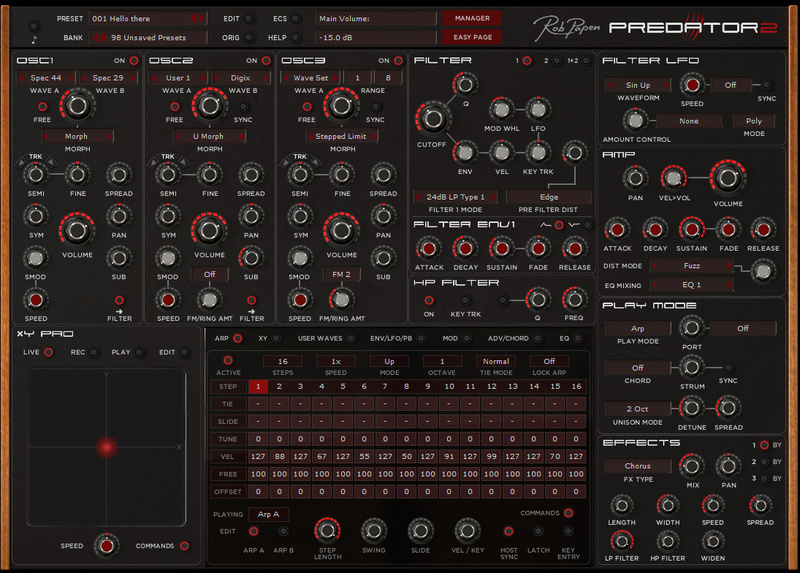 Predator 2 is the successor of a legendary synthesizer that has inspired many artists/composers and appears on countless music tracks! As before it combines inspiring presets and cutting edge features to make this your 'go-to' synth for contemporary music production.
The user interface has again been designed so that almost all main controls are visible on screen, making it fun and incredibly easy-to-use.  
With Predator 2 and all its many cool features,  we have also included an 'Easy Page' for the users that don't like too many controls. The 'Easy Page' offers you the most important parameters if you want to change a sound quickly or just want to use the handy 'preset variation' function, which is an intelligent randomizer.
Predator 2 is packed with new powerful features such as: 'Waveform morphing', 'Waveform drawing', "WaveSet playmode', XY pad, new EQ, and new voice level distortion.... and so much more!
Shipped with inspirational presets, Predator 2 is a unique synthesizer concept which combines 'User Friendliness' and 'Packed Features' in one amazing product.
Learn more about Predator 2.
Predator + Predator FX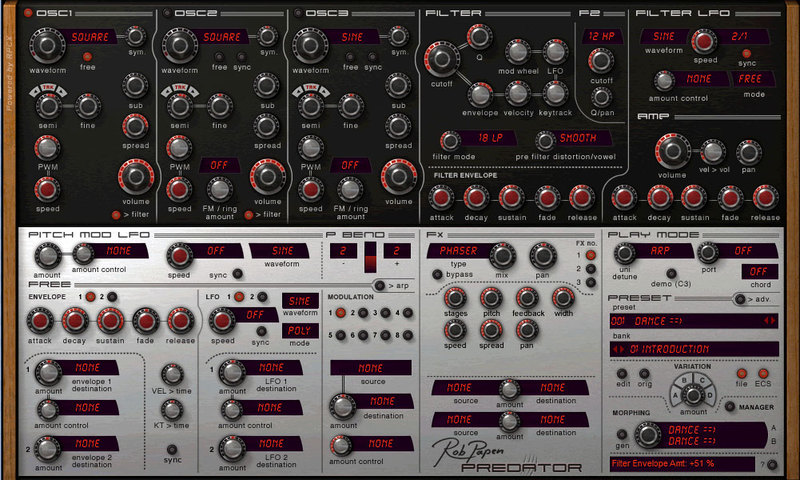 Predator is a "phat sounding" killer synthesizer that combines inspiring presets and first-class features to make this your 'go-to' synth for contemporary music production.
The user interface has been designed so that almost all controls are visible on screen, making it fun and incredibly easy-to-use. And if you're unsure about a particular synth function, simply right click your mouse to access the help screen.
Predator is packed with powerful features such as Preset Quick Browser, Preset bank mananger, Preset Morphing, Intelligent Preset Variation, MIDI and Synth Controllable FX, Unison Detune, Chord Memory and an extremely versatile Arpeggiator.
Included are over 4400 presets, collected in style banks: HipHop, Dance, breakbeat, various Trance styles, DnB banks, DubStep, Hardcore dance, House, SFX banks and last but not least, several artist banks.
Features
Oscillators Section:
3 Oscillators with 128 waves included Analogue, Additive and Spectral type of waveforms plus pink & white noise generators
Oscillator waveform Symmetry control for each oscillator
Free running option for each oscillator and Oscillator Syncing of oscillator 2 or 3 to oscillator 1
Extended semitone range going from -48 semitones up to +48 semitones
Separate octave control and fine-tuning
Keyboard tracking on/off for each oscillator
Each Oscillator offers Pulse Width Modulation (PWM) using an independent LFO for each oscillator with individual speed and amount controls
FM, PM and Ring modulation modes for Oscillator 2 and 3
Each oscillator has a PWM square wave Sub-oscillator
Spread function for detuned multiple oscillator sound within one Oscillator
Volume control for each oscillator and output on/off for Oscillator 1 and 2
Overall Pitch Modulation Section:
Tempo sync-able global Pitch LFO. You can set the amount and also which wave is used for this LFO
Pitch bend with separate settings for up and down pitch-bends
Filter Section:
Main filter is an analogue modelled stereo Multimode Filter, offering 27 types in total. 6dB LowPass and HighPass, 12dB, 18dB and 24dB LowPass and HighPass, 12dB and 24dB BandPass, 12dB and 24dB Notch, Comb positive, Comb negative. Formant 2band, Formant 4band and Vocal Filter
Pre-filtering distortion with smooth or edgy mode option
Easy Filter control by pre-defined Cutoff Frequency modulation controllers: Envelope, Velocity, Key-tracking, LFO and Modulation Wheel
Built-in Filter Envelope with Attack, Decay, Sustain, Fade and Release
Build in Filter LFO with various waveforms, modulation amount control and tempo sync option with speed settings between 16/1 and 1/32t
LFO Poly, free or mono mode options
Filter2 Section:
Additional Filter with cutoff and resonance control offering all 27 filter types setting of Filter 1 included Split 1 and Split 2 modes with panning control
Amp Section:
Built-in Amp/Volume Envelope with Attack, Decay, Sustain, Fade and Release
Volume control
Velocity> Volume amount
Panning control
Free Modulation Section:
2 Envelopes with Attack, Decay Sustain, Fade and Release. Tempo based sync option
Option to control the Envelopes times using "velocity" or "key played"
Modulation Amount Envelope 1&2 and amount control for Envelope 1
70 modulation destinations
 2 LFO's with various waveforms
Tempo sync option with speed settings between 16/1 and 1/32t
Poly, free or mono mode options
Modulation Amount LFO 1&2 and amount control for LFO 1
70 modulation destinations
8 free modulation routings
40 modulation sources
70 modulation destinations
Secondary modulation source & control
Play Modes Section:
Poly/Mono/Mono2/Mono3/Legato/Legato2/Arp/Unison2/Unison4/Unsion6 synthesizer play modes
Portamento featuring constant rate/constant time or held(legato) constant rate/constant time
Unison detune amount, if Predator is in Unison2, Unison4 or Unsion6 mode
8 note Chord memory, saved within the preset, including syncable strum timing (advance panel)
Demo C3 button to preview sounds
Arpgeggiator Section:
16 step arpeggiator, which can be used as a step sequencer or as modulation source
Arpeggiator patterns can be 1-16 steps long
Speed setting of 1/4, 1/3, 1/2, 2/3, 1, 3/2, 2, 3 and 4x BPM
Up, down, up/down, down/up, random, ordered, reverse ordered, ordered up/down, ordered down/up, chord and modulation mode
1-4 octaves settings
Overall step length
Swing amount. Slide amount for sliding steps
Velocity control knob which mixes between keyboard (midi) velocity input and the steps velocity settings
Each step has on/off, Tie, Slide, Tune, Velocity and Free row
Tie modes normal and special which allows Slide, Tune, Velocity and Free settings inside a step if that step is set to Tie. Toggle modes 1 and 2 which toggle between normal and special
Arpeggiator Latch which can be controlled by the midi sustain pedal
You can load, save, copy, paste and reset arpeggiator patterns, so you can reuse them in different presets
Right mouse menu in the arp screen brings up an arp menu which allows you to copy, paste, clear, move, reverse, randomize and turn off / on controls, for both selected steps or all steps
PredatorFX
Last but not least, Predator also includes , allowing you to use the incredible filters, modulations, effects and vocoder as an FX plug-in within your music host. This is a seperate plug-in that is included and shows up in your host FX list. It makes that you can use Predator its filters, vocoder and FX at an audio track. PredatorFX has its own preset format and once you boot up you can find 128 dedicated presets.
PredatorFX Group Preset-Names Do Explain their Usage:
Voc: Vocoder (no midi input needed)
Voc-midi: Vocoder that needs midi keyboard/input (see example with Cubase SX4)
Filter: Into the Filter of Predator first (no midi input needed)
Filter-midi: Into the Filter, but needs midi keyboard/input (see example with Cubase SX4)
Fx: Into the fx only
Fx-send: Predator used in fx send setup (not as channel insert)
Example #1 with Cubase SX4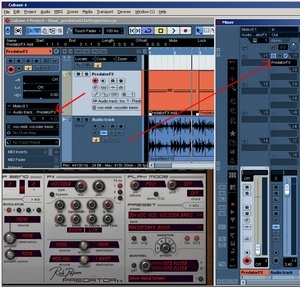 How to use the "voc-midi" and "filter-midi" presets
You need to make an extra midi track and select "PredatorFX" as instrument. It controls then the audio track on which the PredatorFX is used (insert).
Example #2 with Logic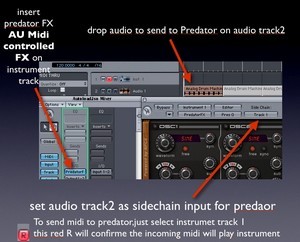 How to use the "voc-midi" and "filter-midi" presets.
Example #3 with Ableton Live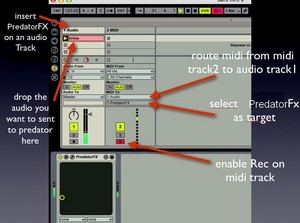 How to use the "voc-midi" and "filter-midi" presets.
PRISMA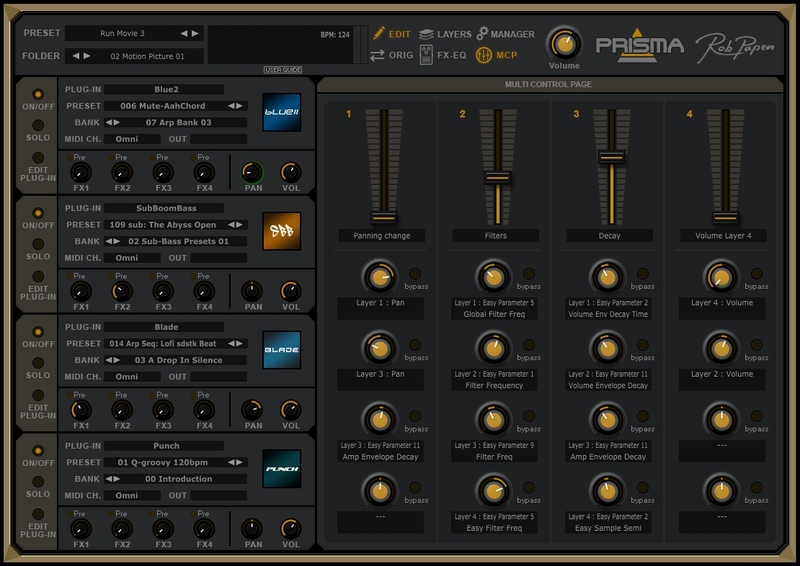 Unlock the True Potential of Prisma
Whilst PRISMA works well with a single Rob Papen plug-in, its true potential is unlocked with the full range of Rob Papen instruments. Get them all as part of this eXplorer4 bundle.
PRISMA is a free plug-in treat for users of Rob Papen software that allows you to stack up to four Rob Papen instruments, complete with their respective settings, into a single 'prismatic' sound source that can produce limitless creative combinations. Combined with the eXplorer III bundle with its 14 synths and effects, PRISMA's possibilities are truly amazing.
Each instrument can be opened individually, easily edited and combined with any other stacked Rob Papen software instruments to create a whole new spectrum of sounds.
What´s more, PRISMA´s four built-in top quality FX allow users to bypass the individual instruments´ effects to save on CPU - making it even faster to produce fresh and unique sounds.
Imagine a PRISMA preset with a dreamy pad from Blue II, together with an arpeggiated sound from Predator, a wild wobbulating effect from Blade and a groove from Punch - so many possibilities and a lot of fun!
But PRISMA is more than stacking...
The Multi Control Page (MCP) allows the user to shape PRISMA patches by using 4 faders to control multiple parameters of the layers. Dynamic changes of the sound add an additional dimension to this extremely versatile tool.
Other seriously smart features include individual velocity or keyboard range split layers which allows the user to creatively combine two instruments at once. For example, owners of Rob Papen's Punch, which features triggerable built in grooves, will be pleased to see that PRISMA perfectly adapts to this feature by also allowing keyboard range selection for those grooves – get into the groove with PRISMA by using Punch to generate background rhythms!
And in standard Rob Papen style, PRISMA is packed with a huge range of professionally-programmed presets, including stacks that only use instances of the same software instrument for users that simply own one Rob Papen product.
So if you seek super pads, textures for film scores or game music, EDM stack sounds… PRISMA delivers a full dynamic spectrum of possibilities.
PRISMA is a free download for existing registered users of Rob Papen software, get it now by logging into your account at robpapen.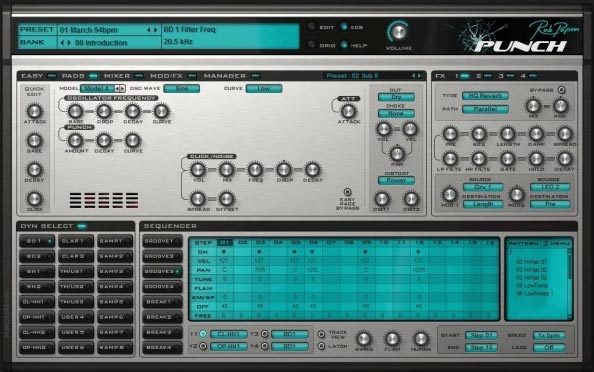 With Punch, Rob Papen delivers a brand new speaker busting, body rattling software instrument. Punch delivers synthesized drums in the finest audio quality and with breathtaking features for the contemporary producer.  You can can use synthesis to build your own unique sounding drum-kit, but also your own samples can be loaded into Punch to complete your kit. Your sounds can then be crafted using the stunning features, filters and huge synth power we all know from other RP synthesizers.
Punch has a unique sound but also built in sequencers, allowing you the user to have multiple patterns at your finger tips. These grooves can be triggered in a live environment to build a song, but are also great for just improvisation and jamming! 
Learn more about Punch.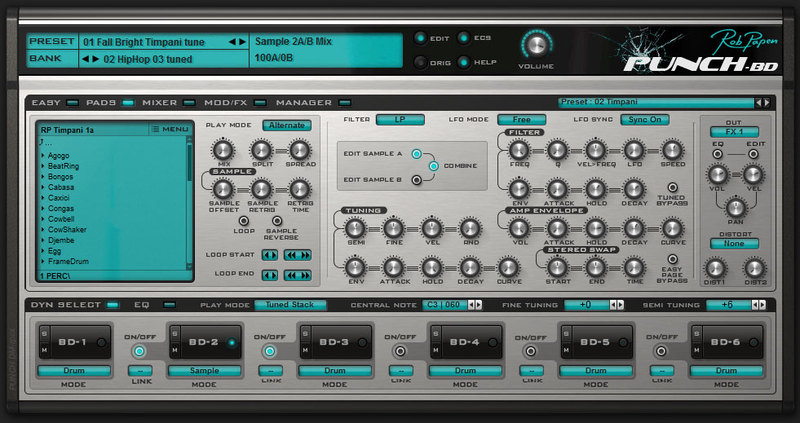 Based around the BD module of the multi award winning Punch virtual drum synth, Rob Papen delivers a creative module to help you to produce the fattest sounding bass drums for your music.
 
Stacking bass drums is a popular technique used by today's music producers and Punch-BD gives you the ability to stack up to 6 in total. Divide the 6 BD pads over the keyboard or use them 'stacked' in tuned mode to produce creative new BD sounds for all styles of contemporary music. 
 
Punch-BD delivers synthesized drums in the finest audio quality or you can choose to load in your own samples for complete flexibility. Each pad has its own distortion module with several distortion types as well as its own 3 band graphic EQ. What's more, each individual pad also has its own preset section next to the overall 'BD kit'.
 
Like its big brother, Punch-BD features four FX units each with many 31 types of top quality FX plus further filters, envelopes, modulation routings and more for crafting your own unique sound.
 
From Electronic Dance and Hip Hop to Soundtrack projects, Punch-BD provides a solid speaker-busting sound for your productions.
Learn more about Punch-BD.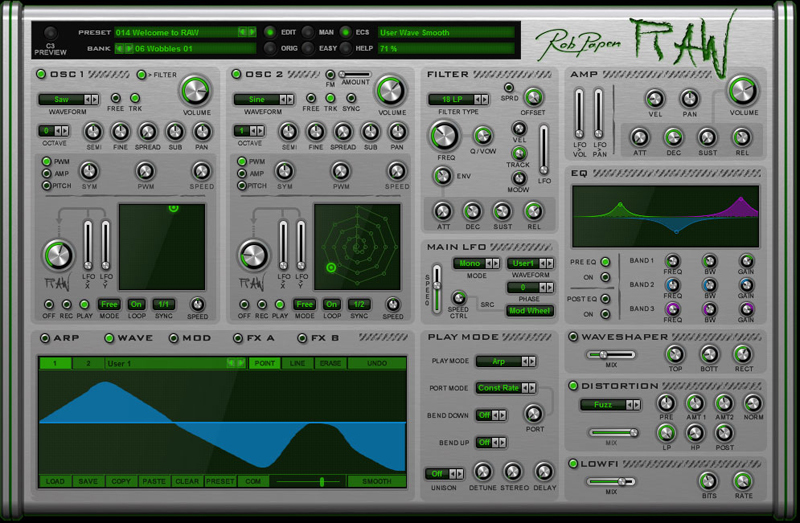 At the Dutch Dancefair 2014, DJ Promo (aka producer Sebastian Hoff) and DJ Free-K (aka producer Freek Vergoossen) approached Rob Papen with the idea of a synthesiser that focused more on 'distorted' sounds with an easy to use layout.
Renowned for delivering fresh, cutting edge and musical plugins for producers, Rob Papen invited the DJs to his studio for a brainstorming session resulting in a list of 'must have' features and tools for a brand new synth. Armed with this list and several more brainstorming sessions later, Rob Papen and his development team created a powerful new virtual synth RAW.
RAW has two oscillators each with an X/Y field, (as included in Blade and BLUEII) to distort the waveform using Phase Distortion. But that's not all, you can also draw two of your own 'waveforms' and use them as LFO waveforms enabling the creation of unique 'wobble' movements that are perfect for for DubStep and other electronic music styles.
RAW has all the great Rob Papen filters to shape your sound further, but in a refreshing twist, 'EQ', 'Waveshaper', 'Distortion' and 'LoFi' have also been added on a voice synthesis level. Other FX such as Chorus, Phaser, Flanger, Stereo delay and the amazing HQ Reverb of Rob Papen can all be added to your sound and of course, the cool Arpeggiator/Sequencer, Easypage and preset bank manager have all been included as standard.
In true Rob Papen style, RAW comes with many great presets with mainly contributions from several well known DJs and Producers for instant user inspiration!
Promo, Ophidian, Mad dog, Deathmachine, D-Passion, Rob Fabrie, DJ Thera, N-Vitral, Tha Playah, DJ Hidden, The Viper, Warface, Stephan Jacobs,  Amnesys and many more...
Learn more about RAW.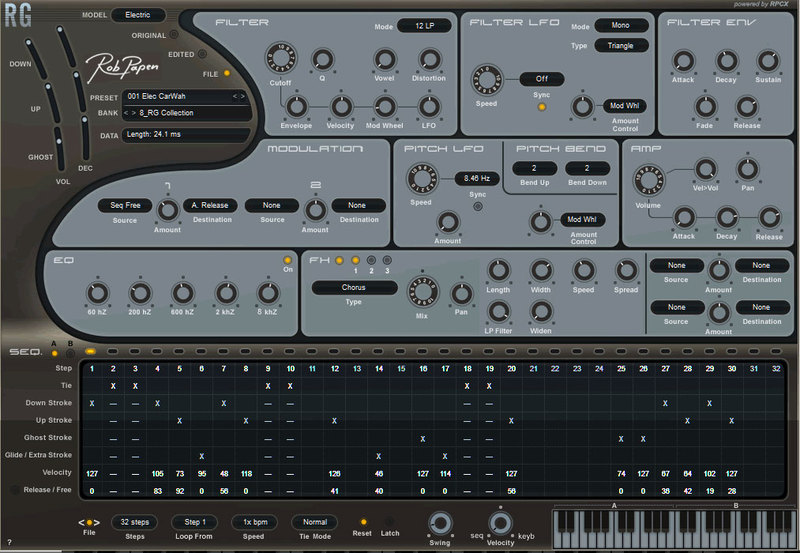 RG is a unique groove plug-in that is far more than just a "virtual Rhythm Guitar player!
By using the RG onboard sequencer it is possible to create classic Rhythm Guitar grooves, but beyond that you can use the synthesizer features and effects to make fresh new edgy guitar grooves. To play the grooves RG is using a keyboard layout of "major chords" and "minor chords", each with two sequence patterns (A or B) option.
It is only a matter of hitting a single note in the major keyboard range or minor keyboard range and the groove plays. The sound sets are clean sampled guitars, which gives you great freedom and flexibility when using the synthesizer features and effects of RG. Additionally there are also the Power Chord, Distorted sound and Muted guitar sound banks which both have no major or minor range, but can still sequence A and B.
RG Guitar Types Included Are:
The classic Fender Stratocaster electric guitar (major and minor7 chords)
A 8th note groove type Steel String acoustic guitar (major and minor chords)
A 16th note groove type Steel String acoustic guitar (major and minor chords)
A Power Chord groove type Distorted guitar ( 5ths chords / absense of 3rd)
Muted Low and Muted High groove type guitar (single notes / no chords)
The synthesizer parts of RG include a classic analog modelled synthesizer filter, LFO, envelopes and modulation section. The effect section can be built up by using up to 3 effects at a time. Included are midi time-based delays, chorus and also speaker simulators, phaser, flanger and many more. Included are over 1000 presets included 850 "RG" grooves and 300 "basic" grooves. Watch the "Video Tutorial" about RG!
RG - the very first "Rhythm Guitar Synth."
Learn more about Rhythm Guitar - RG.
AP-AMOD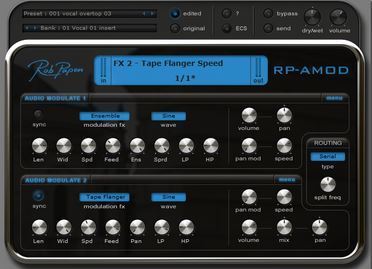 As you will probably know, a modulator is a term that is used in synthesizers. They are various types of settings that can change and alter a sound. With RP-AMOD you can use it's modulators to alter your audio in different ways.
We have added 'Phaser', 'Flanger', 'Chorus', 'Ensemble' and 'Tremelo', which are classic audio modulation FX. What differs with RP-AMOD from these classic versions, is that you can also 'tempo sync' them to your music, and you can use two FX at the same time in various routing configurations. These routing options are not only in serial and parallel, but you can also 'filter split' the audio signal ahead of going to both of the FX!
RP-AMOD can spice up your vocal track, liven an instrument and even beef up your drums or drum-loops.
Features
Presets in various style banks. Preset / Bank menu with Quick Browser, Favorites & Recent etc functions
Main section with:  Bypass, Mix, Volume, Send, Readout display and ECS (External Midi Controller Setup)
Send button is 'global' and should be used in FX send mixer setup
Routing Controls how the 2 Modulation Units are Connected:
Parallel
Serial
Filter Split, using either 6, 12 or 24 db low pass / high pass filters. The filters frequency is set by the split frequency dial
FX Types:
Chorus
Tape Chorus
Ensemble
Flanger
Tape Flanger
Phaser
Analogue Phaser
Tremelo
Back Panel:
The back panel shows you the credits, version and registration information. It is also the place to make changes to general control settings for RP-AMod
Audio:
Audio Modulation 1 & 2 with Sync, Volume Mix control
Audio Pan and Pan Modulation inside each Audio Modulation module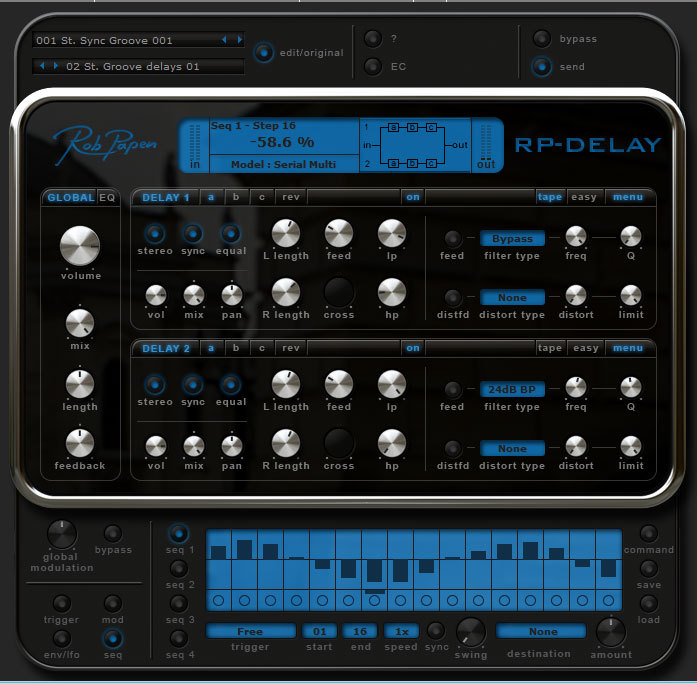 Delay insanity. reverser, 6 lines, 8 filters, 4 LFOs & more. The perfect accompaniment to RP-Verb, this latest effects plug-in from Rob Papen includes numerous new features that will transform the way you mix your music – whether it be electro dance vocals or acoustic orchestral instruments.
RP-Delay is a unique delay with a particular focus on some very special features, including brand new FX routing! To explain, the sound reverser can reverse the input, while simultaneously reversing one of the delay lines. The reverse sound can also be triggered via a midi keyboard, generating totally new sounds, and sending them into the reverser with its own filter and distortion!
You can have 6 delay lines with 8 active multi-mode? filters all operating at once in each of several delay models. Of course, we included basic delay models like a simple mono delay and a stereo delay, but also a tape-sound delay which allows you to change tape length without any clicks. The delays, filters, and reverser can all be modulated by the built-in modulators. There are 4 modulation sequencers, 4 LFO's, and 4 envelopes, complete with several trigger options!
There are many other new features and options for you to discover which aren't mentioned here, so go ahead, take the plunge, and dig into the brand new experience of RP-Delay.
Learn more about RP-Delay.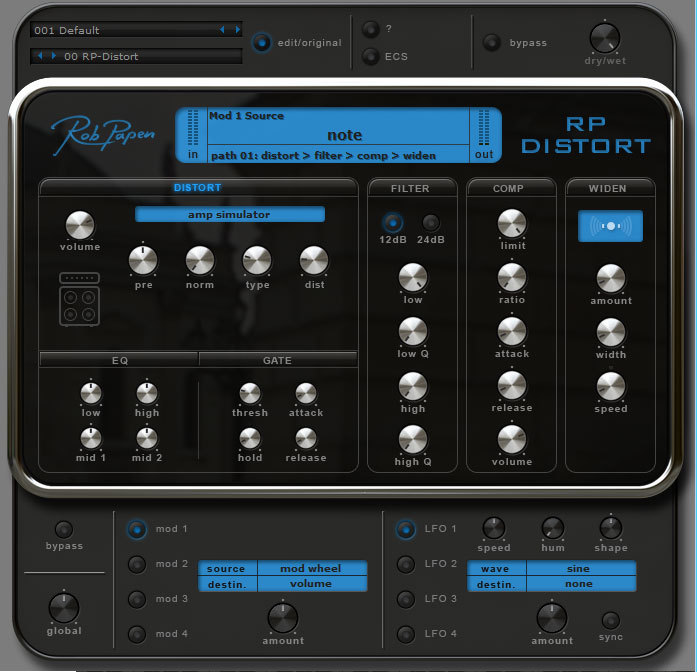 RP-Distort is not just a distortion unit, but much more. The distortion unit inside RP-Distort can be combined with an analog modelled filter, compressor and widener unit. These units can be re-ordered, but can also be turned on or off. So in case you only want a great analog modelled filter... RP-Distort can offer this. Or only the unique widener unit which is great for widening a boring mono track.
On top of that, the controls can be modulated using midi sources or by one of the 4 build in LFO's that can sync to your host tempo..
The distortion unit offers 22 distortion types included ring modulator and lo-fi. Inside this section you can also find the EQ and noise-gate.
RP-Distort is in fact a wicked FX unit that will distort or alter your tracks in an inspirational way?
Learn more about RP-Distort.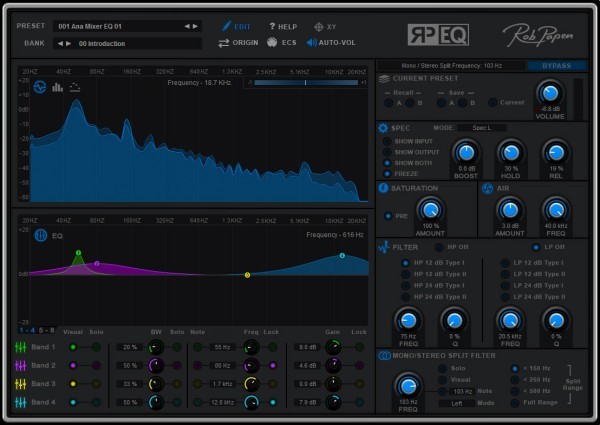 In the virtual music world there are a countless number of different EQ's available...so why another one?
Well, Rob Papen is all about sound and he was convinced he could add something special to the EQ plugins. When you first open RP-EQ in your DAW software  you will see that it is far from a basic bread-and-butter equalizer. Unique elements were added to the core equalizer unit.
The toolbox includes a Mid/Side equalizer mode and Mono/Stereo split filter which is used frequently in modern EDM/Dance music styles. The Air section is fantastic on your master channel and the proven X/Y Pad adds a dynamic and creative edge to an already very musical RP-EQ.
In true Rob Papen style, RP–EQ comes with many great presets to get you started  and with the 'sound' of RP-EQ you will have a great go to plug-in for your  top notch music productions!
Learn more about RP-EQ.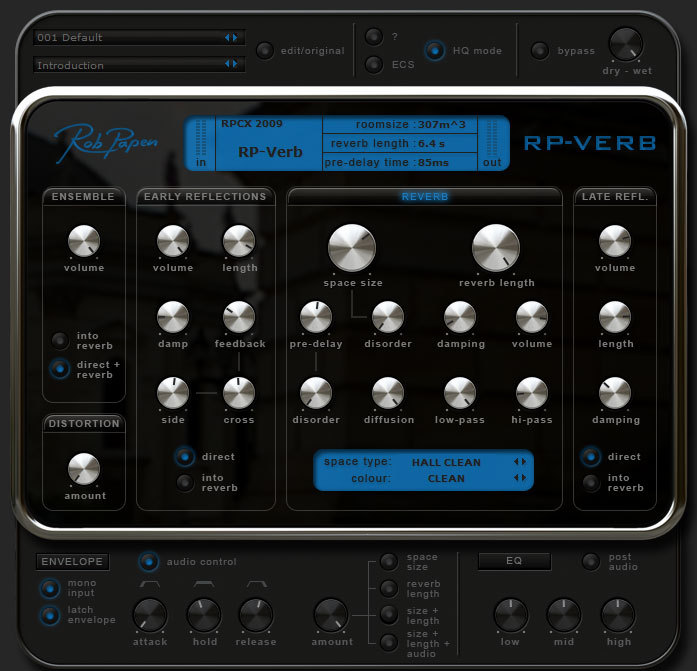 You've spent hours on your track? Working and reworking every part to bring your musical vision to life. And you know that the quality of your reverb can be the difference between the rich sounding mix you're after and one that comes off as flat and artificial.
Face it: When it comes to pristine, authentic reverb, it's the algorithm that counts. RP-Verb is the fruit of Rob Papen's decades-long study of reverb and endless hours of exploring, testing, and tweaking by Rob and Jon Ayres. The result is exactly what you would expect: a stunning, musical reverb that brings unmatched dimension and fullness to your mixes.
But if you're thinking that this sound quality must come at the cost of usability, fear not RP-Verb has a straightforward, intuitive interface that puts all the most essential parameters right at your fingertips. And like all Rob Papen plug-ins, it inspires right out of the box with spot-on presets that range from intimate venues to abstract, surreal spaces.
RP-Verb is the reverb you've waited years to have in your setup. Try it out for yourself and see why pros describe it with one word: amazing.
Learn more about RP-Verb.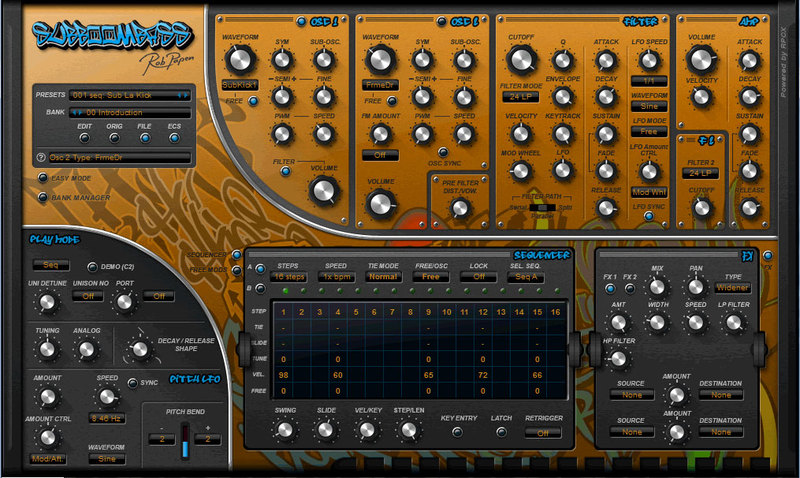 SubBoomBass is filled with excessive amounts of low end ammunition to detonate your tracks! With presets designed by the legendary Rob Papen and other guest artists, this dedicated bass synth will supply you with huge cone-rattling sounds that will devastate any dancefloor. This software instrument is great for Hip Hop and RnB but can also be used for Dubstep, Drum and Bass, Garage, Grime and much more… 
SubBoomBass is filled with excessive amounts of low end ammunition to detonate your tracks! With presets designed by the legendary Rob Papen and other guest artists, this dedicated bass synth will supply you with huge cone-rattling sounds that will body any music track. This software instrument is great for Hip Hop and RnB but can also be used for Dubstep, video game music, film scores and more...
SubBoomBass has been carefully crafted to provide you with the tools to create fresh new bass lines. It includes unique tuned drum percussion samples which are great for Hip Hop and RnB basses but can also be used to add rhythm flavour to your tracks. Also check out the innovative 'Wave-sequence' feature which will open up brand new sonic possibilities for your music.
Other features included are two effects slots which can be modulated using midi from any of the synthesizer parts. SubBoomBass also features a great 'Easy Edit' page and the unique 'Quick Browser' system that will allow you to find the sounds you need quickly and easily.
Learn more SubBoomBass.
System Requirements
Serial/License System
2nd serial for 2nd computer/laptop is available after you have registered the product's original Serial License Code
PC:
32 & 64 bits VST and AAX for Windows XP / Vista / Windows 7/ Windows 8/ Windows 10
Mac:
32 & 64 bits AU, VST and AAX  for OSX 10.6 or higher
Awards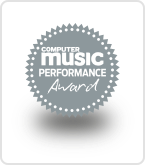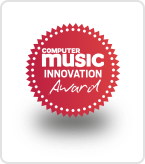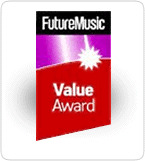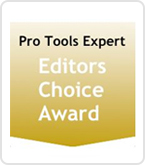 You may also like