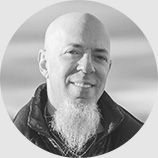 "Vintage Vault is a tremendous offering from a company who is known for producing top level virtual instruments. To say I LOVE this collection of vintage synths and beyond is an understatement. Bravo!"
Jordan Rudess. Keyboardist & Composer (Dream Theater, Liquid Tension Experiment)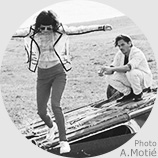 "Discovering the sounds of Vintage Vault was very important in developing and creating our album Shake Shook Shaken!"
The Dø. French/Finnish indie pop band founded in Paris in 2005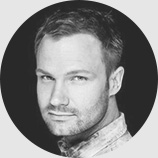 "Stop dreaming of a private synth museum. Vintage Vault is a reality and it sounds sensational."
Dash Berlin. Award Winning Dutch Electronic Band (Justin Timberlake, Janet Jackson, BT, Usher, N.E.R.D., Lenny Kravitz, Junkie XL, Mylo)

The Ultimate Vintage Synth Collection

50 instruments, 111 drum machines, over 7,000 presets
No emulations, all instruments created on the actual hardware
Incredible savings, $2,600 if purchased separately
The premier collection of authentic vintage synthesizer and drum machine sounds just got better! Vintage Vault now includes 50 instruments, 111 drum machines and over 7,000 hand-crafted presets all created using the original hardware. Explore your own personal dream studio packed with over 5 decades of synthesizers and drum machines from analog to digital, classic to obscure, all recorded in professional studios through class-A signal chains just like they were for countless hit records. Now you can experience the raw grit, character and texture of dozens of real hardware instruments with all the simplicity of software. Vintage Vault is easy to use, completely portable, instantly recallable, and never out of sync or out of tune (unless you want it to be!) – it's all the sounds you want, when and wherever you need them.
Unlimited Inspiration
All of those polyphonic analog synths from the '80s? Check. Hundred-thousand dollar digital workstations? Check. Ultra-rare prototypes and string synths from the '70s? Check. What about all of those classic drum machines? And the obscure ones we never heard of? Check, and check. Vintage Vault brings together 20 UVI products representing some of the most coveted and sought-after electronic instruments ever made. It represents decades of man-hours in development and is a testament to our passion for synths and our dedication to quality. Quickly browse through a massive catalog of synths and drum machines, layer them, and effortlessly sculpt your sounds to perfectly fit your mix. Whether you're looking for an iconic sound from your favorite record or film score, or you simply want access to these rare machines, the raw sound of your favorite hardware is never more than a few keystrokes away.
Real Hardware, No Imitations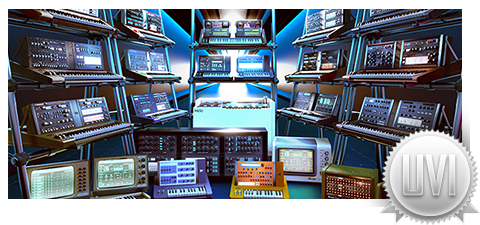 It sounds like hardware because it is, it's as simple as that. All Vintage Vault instruments start with the real hardware. Expertly programmed patches, extensive sampling through the highest-quality equipment, innovative scripting and a meticulous attention to detail – take all of that and combine it with the award-winning UVI Engine™ and you've got the start of what makes UVI instruments sound like no others. Our sample-based philosophy means the genuine character and sound of your favorite vintage hardware is never out of reach. If you want real hardware tone, look no further.
Optimized Workflow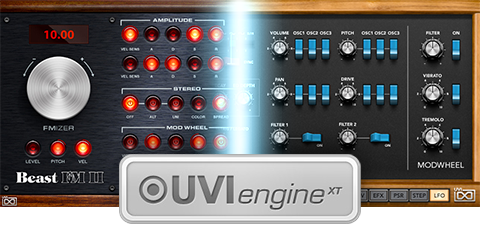 Vintage Vault instruments all share a common structure, meaning that regardless of whether it's a simple analog monosynth or a complex FM workstation, once you become familiar with a single instrument you can easily use them all. No more time lost digging through tiny menu screens or ambiguous user manuals. No more being stuck with a single instrument because it's what you know best. Vintage Vault breaks down the technical barriers and streamlines your workflow so you can focus on what's most important – staying inspired and making music.
Infinitely Adaptable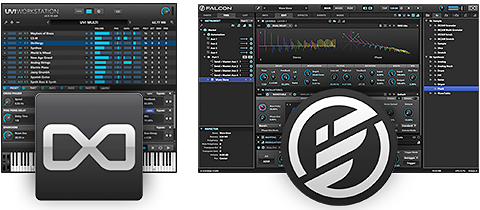 Vintage Vault instruments can be as nimble or deep as you want them to be. Need sounds fast? Launch your instruments in the free UVI Workstation, quickly browse, layer and mix your sounds all within a focused and ergonomic UI. Want to explore the outer-limits of sound design? Step up to Falcon for the ultimate no-compromise experience, unlimited audio and MIDI effects, sample editing, scripting and more. Regardless of which you choose you'll experience the same incredible sound quality thanks to the UVI Engine's fast and flexible architecture.
Incredible Value
Everyone knows that vintage gear is expensive to buy, expensive to maintain and takes up valuable real estate. With each passing year that goes by these instruments become more rare and more costly. Vintage Vault gives you the sound of hardware at a fraction of the cost, without the headaches and hassle of moving, organizing or repairing a large collection of synthesizers. On top of that, the Vintage Vault bundle gives you a massive savings over purchasing the UVI instruments individually, and if you've purchased from us before you could be eligible for even greater savings.
Explore the history of synthesis voiced by the machines that made it, from analog to digital and everywhere in-between - unlock your inspiration with the authentic hardware sounds of Vintage Vault.
Instruments

Phase Distortion Suite
A 3-instrument suite inspired by the distinct character of PD synthesis
Over 470 patches deliver vintage and modern phase distortion sounds
Explore the factory presets or craft your own sounds with raw waveforms
For us at UVI the CZ series from Casio is a longstanding favorite. When we approached the Cameo project we wanted to do something special that not only highlights the amazing sounds of these classic synths but that offers something new to our fellow CZ aficionados.
We began with a number of fully-serviced classics, including the Casio CZ1, CZ101, CZ1000, CZ2300S, CZ3000 and CZ5000, and ended up with 3 instruments—each with a different approach, unique sonic character and inspiration.
Learn more about Cameo. 


Digital Mavericks of the 90's Revisited
3-instrument suite delivers authentic sounds of vintage digital synths
Over 500 patches push the hardware to their limits
Intuitive interfaces and modern controls allow exploration of new sonic territory
The late '80s and early '90s was a time of great technological change, ushering in the digital-era and bringing with it exciting new possibilities. Over the years a legion of digital synthesizers appeared from all across the world, reforming the very idea of what a keyboard could do. Equipped with new and innovative synthesis techniques, these machines would forever change our sonic landscape and lay the groundwork for the modern software instruments and effects that we use today. Digital Synsations Volume 2 is the next step in our journey to revisit and preserve these revolutionaries, exploring the capabilities and unique character of 3 digital synths from the '90s.
Learn more about Digital Synsations Vol. 2.
Ob Legacy

Homage to a Synthesizer Luminary
6 instruments explore the sounds of a legendary American designer
1,400+ presets deliver the analog sounds of real hardware
Easy-to-use, deeply-customizable sample-based instruments
One of the most prolific figures in synthesizer history is the maverick engineer and designer Tom Oberheim. His efforts can be heard across hundreds of albums, decades of pioneering instrument designs, and experienced through conveniences we take for granted on a daily basis including preset memory and MIDI. His influence is as great as any and his designs have stood the test of time better than most, with models in production today that have changed little in over 40 years. The sound of his instruments is distinct and inherently musical, with a character that's often described as "lush" and "massive", and rightly so.
Learn more about Ob Legacy.


Forebear of the Polyphonic Analog 
Based on a rare polyphonic analogue synth prototype from the '70s
An intuitive interface for both quick edits and deep customization
Use ready-to-play patches or create your own
PX Apollo is based on a rare synthesizer prototype from the early '70s of which only 2 are known to exist. Part of a larger project that was eventually abandoned, this instrument was the precursor to one of the world's first and most prolific polyphonic analog synthesizers. With a sound that can be described as rich, warm and surreal, this instrument was extraordinarily playable for the time, sporting velocity sensitivity and a performance interface, while its polyphonic 71-voice architecture signaled the coming paradigm shift in synthesizer design that would soar during the following decade.
Learn more about PX Apollo.

A Tribute to the Korg PS-3200
Incredible sounds from the rare 48-voice KORG PS-3200
Over 220 patches covering classic and modern styles
Deeply editable instrument with pristine sound quality
UVS-3200 brings you the rare and exceedingly warm sounds of a complex and stunning piece of synthesizer history, the KORG PS-3200, perfectly restored and deeply sampled in all its vintage analog glory. Built in a very limited quantity during the late '70s this Japanese beauty featured a semi-modular 48-voice polyphonic engine. Each voice was equipped with 2 VCOs, of which each had its own VCF and LFO. The PS-3200 also featured a remarkable 16 patches of memory recall (a fantastic convenience at the time). Settings could be saved and restored at any time by way of the front panel or optional remote. This synth also featured a unique keyboard controller with scalable CV joystick providing a fun and dynamic performance angle.
Learn more about UVS-3200.

80s Japanese Maiden Revived
Inspired by a rare Japanese 8-voice analog synth
Over 250 patches of vintage analog warmth with modern controls
Production-ready presets make great starting points for your own 
UVX80 is based on a well known Japanese manufacturer's first analog polyphonic synth, a digitally-controlled 2+1 oscillator, 8-voice, 61-key instrument launched in 1984 with a gorgeous and futuristic-looking visual stance. Technically comparable to the JX-3P, this synth boasted a more robust architecture with 2 extra voices, a sub-oscillator and real pulse-width modulation. Despite its technical advantages and profound sonic capability it would find a similar fate, never managing great commercial success but attracting a cult following that's present even today. While not as difficult to edit as the 3P, this synth shared the lack of explicit controls found on the wildly popular but more basic Juno-106 that launched the same year. A truly progressive design for the time, you'd never know it was analog by looking at it, but there's no mistaking the warm and punchy sound this keyboard produces - it's a legitimate analog beast, and somewhat of a sleeper gem from the era.
Learn more about UVX80.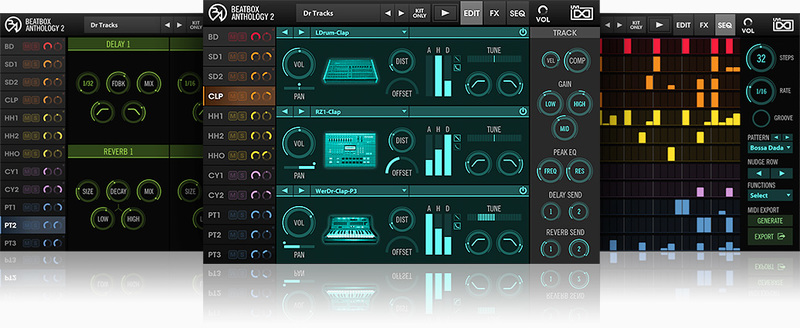 Hardware Drum Machine Tour De Force
Massive collection of vintage, modern and unique drum sounds
111 hardware drum machines, 11,000+ samples
Versatile 12-track/3-layer architecture, built-in sequencer with MIDI drag-n-drop
An incredible collection of vintage, modern and customized drum machine sounds representing over 50 years of grooveboxes, beat machines, drum modules, synth drums and more, from analog to digital, mainstream to obscure, BeatBox Anthology 2 delivers them all in an extraordinarily versatile and easy-to-use percussion instrument. Explore the history of hardware drum synthesis while you design your own kits, layer different machine sounds together, and even create entirely new hybrids with precision envelopes and sample offsets, all with expertly recorded and exquisitely sliced samples that deliver the authentic and unmistakable sound of hardware.
Learn more about BeatBox Anthology 2.

A Collection of Three Instruments Inspired by The Legendary Studio Icon
3-instrument suite includes a synth, drum machine and multi-phraser
Wide variety of sounds with the true vintage grit of the original machine
Modern UI and controls allow exploration of new sonic territory
Costing upwards of $100,000, the dream machine of the '80s was unattainable by most. Used by countless prominent artists including Peter Gabriel, David Bowie, Michael Jackson, Kate Bush, Herbie Hancock, Jean Michel Jarre, Thomas Dolby and many more, it remains a highly regarded and sought after instrument.
Suffering a fit of nostalgia as we often do, we decided to set about making a new instruments inspired by this legendary studio icon and we ended up making three: a digital synth, a digital drum machine, and a multi-phraser. Each instrument with its own unique quirks and personality, suited for different tasks, all with the raw, lo-fi character of the original machine. The result is an extremely fun and flexible set of instruments that gives new life to classic sounds and pushes these old voices into new sonic territory.
Learn more about Darklight IIx.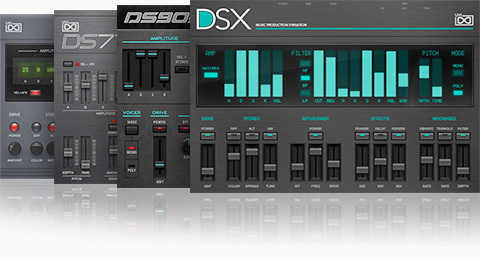 Inspired by Four 90's Wonders
4-instrument suite traversing the revolutionary sounds of '90s digital synths
Over 500 patches of boundary-pushing sounds
Intuitive interfaces and modern controls allow exploration of new sonic territory
In the late 80's and early 90's the synthesizer landscape began to change. A new breed of keyboards began appearing in shops, records and on stage; matte black behemoths eschewing the familiar knob arrays for uniform clusters of discrete buttons and glowing green LCD screens. They signaled more than a shift in interaction with our musical counterparts' they ushered in the era of the digital synth.
To those willing to forgo the immediacy and ease-of-editing of the analog synth world these keyboards offered amazing features for the time; massive polyphony, extensive on-board sequencers and pattern memory, removable storage and digital effects. In addition to the immediate benefits of digital processing some of these keyboards also dawned innovative hybrid synthesis techniques, combining sample playback with classic methods allowing synthesists and musicians the opportunity to explore new sonic territory.
Learn more about Digital Synsations.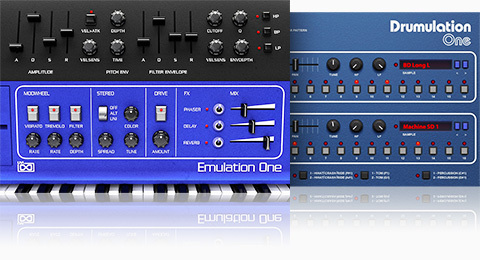 Classic 80's 8-Bit Sound Revisited
2-instrument suite includes the iconic 8-bit synth/sampler and a drum machine
Over 270 presets explore the roots of new wave 80's synth pop and 8-bit sampling
Use presets as starting points for your own patch design
Emulation One delivers a complementary and similarly fantastic 80's sound used by many greats of the day including Vangelis, Herbie Hancock, David Bowie, Depeche Mode, Genesis, Kitaro, Jean-Michel Jarre, Stevie Wonder, Philip Glass, John Carpenter and more.
Emulation One gives you the original sonic character of vintage hardware with the added control and sound shaping flexibility of analog modeled filters and advanced digital signal processing.
Learn more about Emulation One.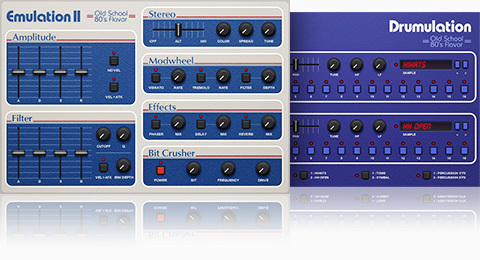 Classic 80's 12 Bit Sounds Revisited
2-instrument suite includes the classic 12-bit synth/sampler and a drum machine
Over 280 presets explode with new wave nostalgia
Use presets as starting points for your own patch design
Emulation II was designed specifically to reproduce the warm digital sounds and analog textures characteristic of 80's music. A massive library of samples was recorded from a professionally restored unit and utilized in this hybrid instrument - giving you the sonic character of real vintage hardware with the added control and sound shaping flexibility of analog modeled filters and advanced digital signal processing.
Learn more about Emulation II.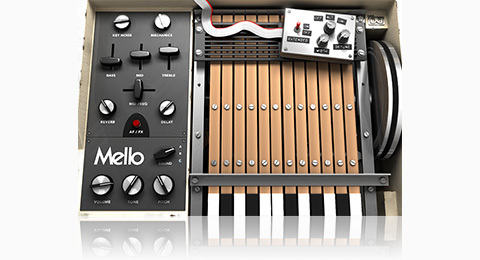 A Tribute to a 60's Classic 
Throwback to the origins of sampling with this quintessential '60s studio instrument
The true vintage grit of the original machine with modern software convenience
Use presets as starting points for your own patch design
Hark back to the heyday of classic rock and one instrument stands above the rest, a 350lb behemoth that would forever change the way we think about making music. At the heart of this monster was an array of tape machines, one per note on the attached keyboard, each playing a uniquely recorded sound. With only 8 seconds of tape per key and a cumbersome frame this machine had its limitations but was nonetheless impressive for its time, boasting a multitimbral and truly polyphonic 'engine'. Instantly made famous by the Beatles hit 'Strawberry Fields Forever' and used by countless others including The Moody Blues, Rolling Stones, and prog rock legends Yes, this was the 'must-have' sound of the 60's. While its use fell out of fashion the implications it made have become fundamental to modern music production.
Learn more about Mello.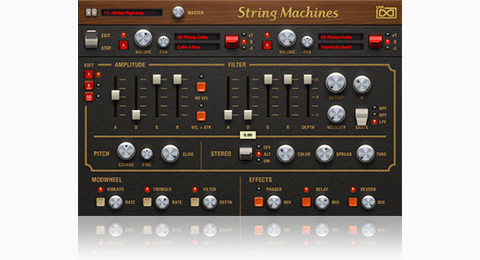 Vintage String Synthesizers
11 vintage string machines in a dual-layered instrument
Delivers the analog grunge and warm circuits of cult machines from the '70s
Use presets as starting points for your own patch design
Back in the '70s leading keyboard designers around the world attempted to reproduce orchestral string sounds through analog synthesis. The results were far from their original intent but were in no way failures. Used on countless cult records and engrained in our collective memory to this day, these 'String Machines' bore an analog soul on their own.
Learn more about String Machines.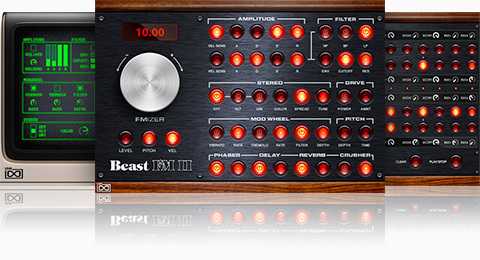 Inspired by the Pinnacle of 70's Technology
3-instrument suite delivers the stunning sounds of a famous '70s workstation
Over 290 presets covering expansive sonic territories
Use presets as starting points for your own patch design
A machine of luxury is birthed for the musical elite. Using electronics developed for NASA, this revolutionary instrument was unprecedented for its time. Starting off its life as a gorgeous FM synth, it evolved into a comprehensive workstation through subsequent expansions. Its emergence into the professional studio inspired many of the leading avant-garde artists and sonic visionaries to embrace its potential, including Frank Zappa, Chick Corea, Michael Jackson, Sting, Kraftwerk, Stevie Wonder, and Depeche Mode, among others.
Learn more about The Beast.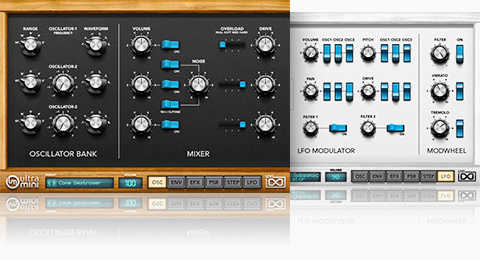 Revered Analog Monosynths, Revisited
Two legendary analog synths with the convenience of software
Over 420 presets deliver the quintessential analog sound
Use presets as starting points for your own patch design
First made available to the public in 1971, this synth continued to be produced with very little change for over 10 years. Considered the most popular synth ever by some there's no doubt the instrument has led a prolific life, leaving a massive wake in its path; changing perceptions and influencing synthesizer design to this day. With a striking balance of simplicity and sonic range it was one of the first real novice-friendly systems, a factor that surely contributed to its success and also made it a superb tool for teaching the basics of subtractive synthesis. Being one of our favorite sounds of all-time, we create the UltraMini - a testimony to the timeless sound of a luminary synth pioneer.
Learn more about UltraMini.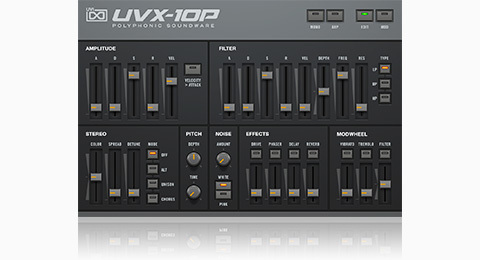 Tribute to the 80's Japanese Super-Synth
Inspired by the sounds of 3 iconic Japanese analog polyphonics
170+ presets deliver authentic hardware sound with modern controls
Use presets as starting points for your own patch design
In 1985 the world was introduced to a Japanese 12-voice, 24-oscillator analog synthesizer par excellence and the last true analog synth of its lineage. Fashioned with a sparse aesthetic, a lack of knobs made the system a bit of a chore to program but an external controller could be attached, cheerfully reuniting synthesists with the immediacy and rapid programming speed of its ever-popular sibling lines. This synth is known for an immense and capable analog sound, even some digital textures; it's simply a magnificent machine. Programming capabilities were equally rich with independent control of 2 DCOs per voice, 2 EGs, 2 VCFs, onboard chorus and even a sequencer (albeit a limited one).
Learn more about UVX-10P.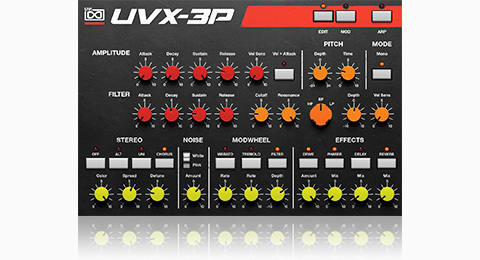 Classic Japanese Analog from the 80's
Authentic analog sounds with vintage Japanese soul
Over 160 presets provide ready-to-play basses, leads, pads and more
Use presets as starting points for your own patch design
UVX-3P takes inspiration from a classic 6-voice Japanese synth introduced in 1983. With a rather sparse control panel this synth signaled an industry shift towards less complicated preset players aimed at getting the famous Japanese analog sound into the hands of semi-pros and hobbyists who often couldn't afford or were intimidated by the more expensive 'control dense' models.
Often overlooked due to its more conservative appearance this synth was in no way technically inferior. It offered many of the same components as its more expensive siblings, a break-out programmer, and even boasted dual DCOs making it somewhat of a sleeper powerhouse. With a darker and edgier sound than its 'cosmic' brethren, this synth was put to use by many well known pop acts such as Stevie Nicks, Vince Clark and The Cure, and electronica pioneers such as Orbital and The Future Sound of London.
Learn more about UVX-3P.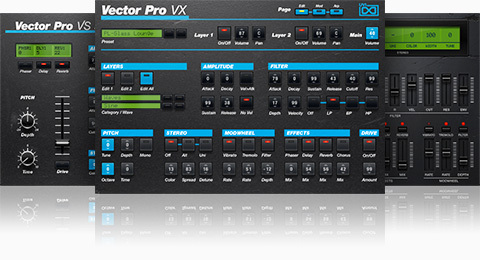 Vector Synthesis Collection
3-instrument suite delivers a huge palette of vector synthesis sounds
Over 560 presets with authentic hardware sound and modern controls
Use presets as starting points for your own patch design
In the summer of 1986 a renowned American synth manufacturer released a machine with a remarkable new method of constructing sound, that machine was the Sequential Prophet VS and the method was vector synthesis. A ground-breaking instrument in its time and still sought-after to this day, the Prophet VS was ill-fated and its failure signaled the end of Sequential's distinguished legacy. Needless to say the tonal range and sheer flexibility of the Prophet VS was brilliant.
Learn more about Vector Pro.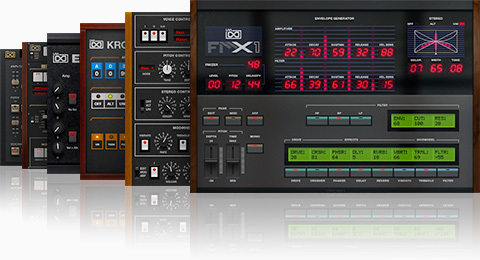 Powerful Vintage Synths Revisited
6-instrument suite delivers the stunning sounds of 11 classic synths
Unique character of vintage machines with modern software convenience
Use presets as starting points for your own patch design
Vintage Legends integrates over 35,000 samples from classic synths into the acclaimed UVI Engine - experience massive unison spreads, abundant polyphony, analog modeled filters, drive, reverbs, modulation, FX and much, much more.
Vintage Legends comes packed with over 1,000 presets expertly crafted by UVI sound design team, giving you a huge library of unique sounds and textures.
From modern prog and pop to dance, electro, hip-hop and experimental, Vintage Legends is a deep and versatile sonic resource that's sure to inspire artists working in any style.
Learn more about Vintage Legends.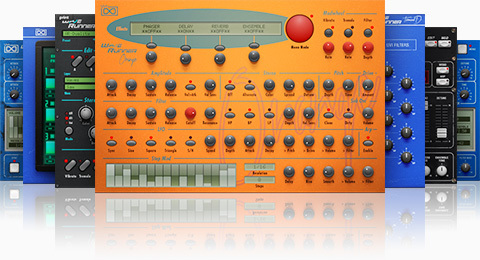 Wavetable Synthesis Retrospective
7-instrument suite delivers synths, drum machines and rare prototypes of esteemed German heritage
Over 680 presets deliver the authentic and fascinating sounds of 30+ years of wavetable synthesis
Use presets as starting points for your own patch design
A multitude of synths, drum machines and rare prototypes of esteemed German heritage come together in this massive and unparalleled retrospective. WaveRunner presents you with a wondrous collection of authentic and fascinating sounds from over 30 years of wavetable synthesis. Everything from the raw and strident origins to the wild evolving tones of more modern, full-featured machines.
Each system addressed was serviced, meticulously multi-sampled and artfully designed into 7 unique hybrid instruments driven by over 30,000 samples. Both a historical archive of sound and a collection of new and unique instruments with over 680 presets and limitless sound design potential, WaveRunner is a suite not to be missed.
Lear more about WaveRunner.
What you get
Size: 116.26GB
Content: 51 instruments, 111 Drum Machines, 7,974 Presets, 313,858 Samples
Sample Resolution: 44.1 kHz. Recording at 88.2 kHz
License: 3 activations per license on any combination of computer hard drive or iLok dongle
System Requirements
Runs in UVI Workstation version 2.6.12+, and Falcon version 1.3.1+
iLok account (free, dongle not required)
Internet connection for the license activation
Supported Operating Systems:

Mac OS X 10.7 or higher (32 and 64-bit)
Windows 7 or higher (32 and 64-bit)

120GB of disk space
Hard Drive: 7,200 rpm recommended or Solid State Drive (SSD)
4GB RAM (8 GB+ highly recommended for large UVI Soundbanks)
Compatibility
Supported Formats: Audio Units, AAX, VST, Stand-alone
Tested and Certified in: Digital Performer 8+, Pro Tools 11+, Logic 9+, Cubase 7+, Nuendo 6+, Ableton Live 8+, Studio One 2+, Garage Band 6, Maschine 1 & 2, Tracktion 4+, Vienna Ensemble 5, Reaper 4+, Sonar X3, Main Stage 3, MuLab 5.5+, FL Studio, Bitwig 1+, Reason 9.5+
You may also like