RX Post Production Suite 2

"Transient Design, Compression, EQ, and harmonic distortion all wrapped up in one ridiculous sounding package. iZotope you have done it again."
Darrell Thorp. American record producer, mixer, and engineer who's worked on albums for Nigel Godrich, Paul McCartney, Radiohead, among others.

"What an amazing full-package for mixing - so intuitive! Neutron allows for a crazy fast workflow, and it's a game changer with the implementation of the 'masking' feature."
Rafa Sardina. Grammy-Award winning Producer/Mixer/Engineer who's worked with artists such as as Stevie Wonder, Lady Gaga, Elvis Costello, The Roots, Lady Gaga, Michael Jackson, Celine Dion, Mariah Carey, Shakira, Dr. Dre, Dru Hill, David Morales, Beyonce, D'Angelo, Macy Gray, among many others.

"Neutron is incredibly intelligent and quick to use, it really enhances my skill set and will do the same to anyone who uses it, regardless of their level of experience"
Rik Simpson. Multi Grammy-Award winning British record producer/Sound Engineer/Musician/Songwriter, who's gained critical acclaim for his work with Coldplay, Jay-Z, Portishead, Kasabian, Black Rebel Motorcycle Club and PJ Harvey.

Introducing RX Post Production Suite 2: The Complete Post Production Suite
Do you own an exisitng iZotope product? We have a variety of upgrade paths available for this product:
Headed up by the flagship RX 6 Advanced, RX Post Production Suite 2 is a comprehensive post production toolkit providing intelligent and powerful software solutions for everything from dialogue editing to mixing and delivery. Included are RX 6 Advanced for audio repair and enhancement, Neutron Advanced mixing toolkit, RX Loudness Control for automatic loudness standard compliance, the Insight metering suite, and free access passes for Pro Sound Effects and Groove3 video training.
Key Features
Exclusive Content and Video Tutorials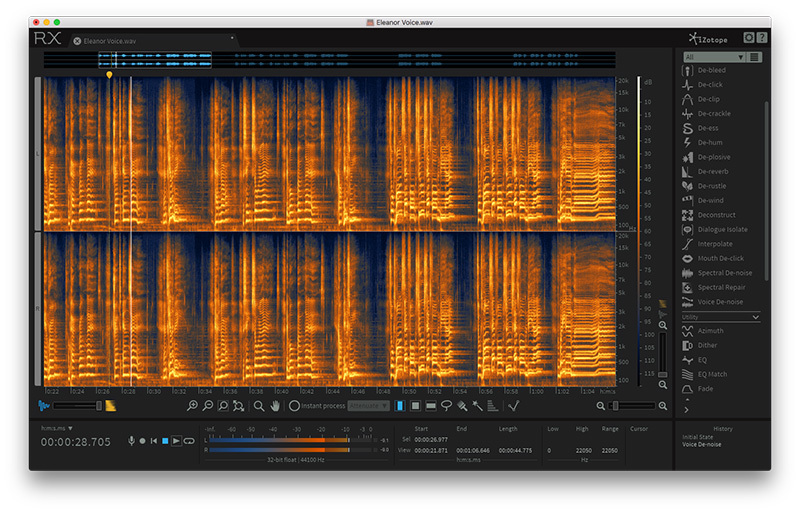 Perfect for Post Production Studios and Facilities
The industry standard for audio repair, RX 6 features powerful, time saving dialogue editing tools and technologies for post production like mic de-rustle, dialogue isolation, and low-end wind rumble removal. It also introduces creative approaches to age-old dialogue recording problems like sibilance, mouth clicks, breaths, and microphone bleed. With version 6, RX advances to the next level of audio repair that once seemed impossible.
RX 6 Advanced is the flagship of the RX family of products, the industry standard audio repair tool that's been used on countless albums, movies, and TV shows to restore damaged, noisy audio to pristine condition. From noise reduction to removing clicks to fixing distortion, RX is a complete toolkit for clean up and audio restoration needs. Visually identify and repair problems with the standalone RX Audio Editor application, or use the plug-ins in real time in your favourite DAW or NLE.
RX 6 Advanced is a complete audio repair, noise reduction, and dialogue editing toolkit featuring revolutionary repair tools like lav mic rustle removal and dialogue isolation, developed with machine learning. Remove lav mic rustle with the industry first De-rustle, reduce low-end wind rumble with De-wind, and remove mouth clicks with the low latency Mouth De-click. Remove microphone bleed, isolate dialogue from noisy backgrounds with Dialogue Isolate, and tame aggressive sibilance with the transparent Spectral De-ess. Clean up your sound with the new industry standard for audio repair.
Built for dialogue editors and post production professionals, RX 6 Advanced features powerful, time saving dialogue editing tools and industry firsts like De-rustle and Dialogue Isolate, developed from machine learning.
Years of research and innovations in machine learning allowed us to solve some of the most impossible repair issues in audio post production, including lavalier mic rustle and noisy dialogue backgrounds. Only RX 6 Advanced now includes both of these jaw-dropping new features.
Key Features
De-rustle [Advanced only]: Developed with machine learning, De-rustle enables you to remove lavalier mic rustle from dialogue with a single click—an industry first!
Dialogue Isolate [Advanced only]: Developed with machine learning, Dialogue Isolate extracts dialogue from noisy environments with complex background sounds like clanging plates in a restaurant, traffic noise, and machinery
De-wind [Advanced only]: Clean up low frequency wind rumble from location dialogue
Composite View: Edit multiple files at once to fix problems picked up by multiple microphones or in multi-channel files
Mouth De-click: Remove distracting mouth noise with the new low latency Mouth De-click
Spectral De-ess: Tame overly aggressive sibilance. The new Spectral De-ess mode transparently attenuates sibilance with iZotope's Spectral Shaping technology
De-bleed: Fix bleed problems in multi-mic'd situations, click track bleed, and other bleed issues
Ambience Match [Advanced only]: Fill in consistent ambience beds under constructed sentences and ADR lines right from within Pro Tools AudioSuite
EQ Match [Advanced only]: Impart the EQ profile of location dialogue to ADR with two clicks
Spectral Repair: Visually paint away audio problems like ringing cell phones, birds, and scene interrupting sirens
Voice De-noise: Fine tuned for vocals and dialogue, reduce unwanted steady state or changing background noise like air conditioning, refrigerator hum, and amp hiss
Breath Control: Reduce or remove distracting breaths between words and phrases
De-plosive: Transparently repair unwanted plosives with a single click
Spectral De-noise: Attenuate amp buzz, tape hiss, and other unwanted steady state background noise
De-click: Clean up vinyl clicks, clocking errors, and more with the new low latency De-click algorithm
De-clip: Repair digital and analog clipping artifacts to restore distorted audio
De-hum: Remove ground loop hum and line noise
Learn more about RX 6 Advanced.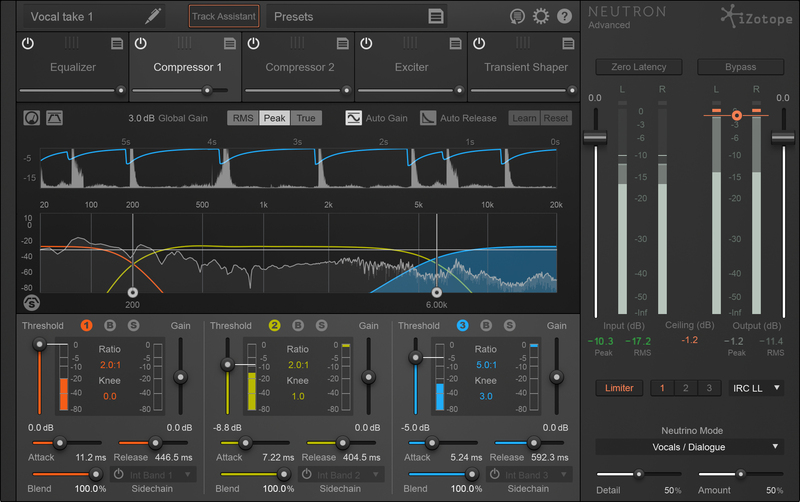 Achieve unprecedented focus and clarity in your mixes with Neutron. This new mixing plug-in combines the latest innovations in analysis and metering with award-winning audio processing.
Neutron is the smartest way to mix for audio post production. Neutron's high-quality, CPU-efficient audio processing offers zero-latency processing across all mixing modules, an award-winning BS.1770 True Peak Limiter, dynamic EQ with sidechaining to sonically balance sub-mixes, an automatic dialogue-polishing Neutrino mode, and surround sound support in all 5 modules and individual plug-ins.
The Neutron mixing plug-in combines five great-sounding new processors with the latest in intelligent metering and analysis. Like having a virtual assistant, Neutron can listen to your audio, identify instruments, and offer tailored starting points for creating powerful mixes with focus and clarity while leaving all the creative control to you. The revolutionary new Masking Meter can help you visually identify frequency collisions between instruments, allowing you to tweak each track so it sits better in the mix. Optimized for mixing, you can use this on dozens of tracks to carve away muddiness and reveal new sonic possibilities in your mixes.
With powerful new features like Track Assistant and Masking Meter, Neutron helps you quickly reach an optimal starting point, clearly identify perceptual frequency collision and fully wield creative control over all your mix decisions.
Meet your New Assistant

What Makes Track Assistant So Unique:​
Automatically detects different instrument types like guitar, vocals, bass, and drums
Creates custom, optimal starting points based on your audio tracks
Offers three levels of power, from Subtle to Medium to Aggressive
Adds Neutrino's Spectral Shaping sound for subtle focus and clarity
Intelligently places EQ nodes and creates an EQ curve
Sets optimal settings for signal flow, including single or multiband processing
Smartly places crossovers in multiband modes 
Selects Compressor style (Digital or Vintage) and automatically sets settings (Threshold, Attack, Release, and Ratio) 
Selects Exciter algorithm blend and dials in a custom amount tuned to the audio
Learn more about Neutron Advanced.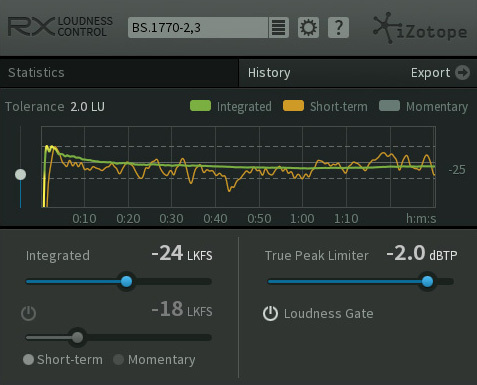 Deliver transparent audio while meeting global broadcast specifications! RX Loudness Control works faster than real-time to ensure your audio mixes are delivered within the appropriate loudness standards. Designed specifically for audio/video post production and broadcast workflows, RX Loudness Control combines industry-leading, intelligent audio signal processing with an easy-to-use interface. It's the best-sounding automatic loudness compliance processing available today - unparalleled in speed, accuracy, reliability, and sound quality.
Ensure your mixes meet global broadcast loudness specifications. RX Loudness Control works faster than real-time to ensure your audio mixes are delivered within the appropriate loudness standards. Efficiently analyze and render your mix to comply with any of the global loudness standards, then instantly create a .CSV loudness report.
Key Features
Ensure your mixes meet the required delivery specifications with truly intelligent algorithms that take out the guesswork
Deliver results globally with a single product offering the latest, greatest, loudness standards
Produce more content than ever with extensive presets, a curated featureset, and a fast, efficient workflow that saves you time on the final stage of TV production
Learn more about RX Loudness Control.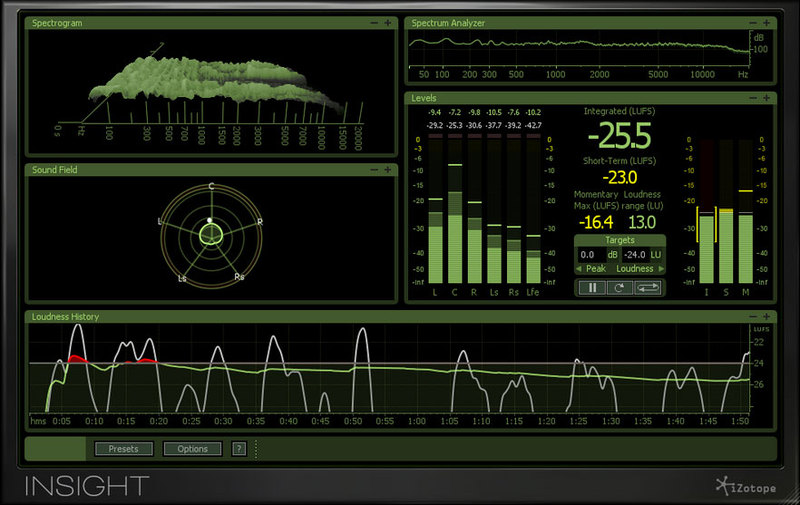 Insight provides an extensive set of audio analysis and metering tools, perfect for visualizing changes made during mixing and mastering, troubleshooting problematic mixes, and ensuring compliance with broadcast loudness standards. Fully customizable and scalable, Insight allows you to visually monitor all relevant information from your mono, stereo or surround mix in a convenient floating window.
Key Features
Immediately detect potential mix problems through real-time visual monitoring and color-coded alerts
Ensure your audio is fully compliant with current loudness standards with forward-thinking tools that adhere to standards like BS.1770-1/2/3
Perform deep and flexible analysis with zoomable meters and the ability to route audio from any tracks or buses to Insight
Design your ideal metering view by choosing the meters you want to see, customizing them, and resizing the Insight window to fit your current workflow
Get an extensive suite of metering tools in a single plug-in, including True Peak Meters, Loudness Meters, Loudness History Graph, Stereo Vectorscope, Surround Scope, 2D/3D Spectrogram, and Spectrum Analyzer
Insight visually guides you throughout the mixing process, empowering you to look deeper into your audio with intelligent analysis tools and real-time monitoring capabilities. View tried and tested analog-style meters with innovative digital twists. Keep tabs on cutting-edge displays that give you limitless access to your audio. Design your ideal metering plug-in with customizable views, settings, and presets. With Insight, the eyes have it all.
Learn more about Insight.
Extra Features
Groove3 Video Training: Get a 1-year, all-access pass to Groove3's online video tutorials. Tailored for beginners and professionals alike, Groove3 offers valuable in-depth education on RX. You can also enhance your understanding of ProTools, Logic, and other leading audio software
Pro Sound Effects: Get 50 download credits to the Pro Sound Effects Library. Each download comes with a 1-user, perpetual, royalty-free, commercial license for use in an unlimited number of productions. Search, browse, preview, and download from 175,000+ professional sound effects
System Requirements
RX 6
Supported Operating Systems:
Windows: 7, 8, and 10
Mac: OS X 10.8.5–10.12
Supported Plug-in Hosts:
Audition CC 2017, Cubase 9*, Final Cut Pro 10*, Live 9, Logic Pro X*, Media Composer 8.8, Nuendo 7, Premiere Pro CC 2017, Pro Tools 10-12, Studio One 3
*Supported in OS X 10.11 or higher
Supported Plug-in Formats:
AAX (64-bit), Audiosuite DPM, Audio Unit (32-bit and 64-bit), RTAS (32-bit), VST 2 (32-bit and 64-bit), and VST 3 (32-bit and 64-bit).
Neutron Advanced
Neutron runs as a plug-in within your digital audio workstation. Neutron is not a standalone application.
Supported Operating Systems:
Windows: 7, 8, and 10
Mac: OS X 10.9–10.12
Supported Plug-in Hosts:
Ableton Live 9, Cubase 8, Cubase 9*, FL Studio 12, Logic Pro X*, Nuendo 7, Pro Tools 10-12, REAPER 5, Studio One 3
*Supported in OS X 10.11 or higher
Supported Plug-in Formats:
AAX (64-bit), Audiosuite DPM, Audio Unit (32-bit and 64-bit), RTAS (32-bit), VST 2 (32-bit and 64-bit), and VST 3 (32-bit and 64-bit).
RX Loudness Control
RX Loudness Control runs as a plug-in for your video or audio editing software.
Operating System Requirements:
Windows: 7, 8 and 10
Mac: OS X 10.7-10.12 
Supported Plug-in Hosts:
Media Composer 7.0.4 and 8.3.1, Premiere Pro CC*, Pro Tools 10-12.  
*Although we support CC 2015, you will have to manually move the presets from the old location to the new location in order to load them. Additional host support is under development. 
Supported Plug-in Formats:
Adobe Extension for Media Encoder CC, Adobe Extension for Premiere Pro CC, and AudioSuite DPM & AAX.
Insight
Supported Operating Systems:
Windows: XP (32-bit Service Pack 3), Vista (64-bit), 7, 8, 10 
Mac: OS X 10.6.8–10.12
Supported Plug-in Hosts:
Audition, Cubase, Digital Performer, EDIUS Pro 6.5, Final Cut Pro X, Logic, Media Composer, Nuendo, Premiere Pro (Surround only), Pro Tools 7.4+, REAPER, SONAR, Sound Forge Pro, Vegas Pro, WaveLab.
Plug-in Formats:
AAX (64-bit), Audiosuite DPM, Audio Unit (32-bit and 64-bit), RTAS (32-bit), VST 2 (32-bit and 64-bit), and VST 3 (32-bit and 64-bit).
Graphics Card Requirements:
For use of the scrolling 3D Spectrogram, Insight requires a graphics card that supports Open GL 2.0
Awards