"I use U73b Compressor on most of my mixes. Magic."
Dave Pensado. Grammy Award-winning mix engineer who's worked with The Pussycat Dolls, Will.i.am and many more.

"The most musical compressor I've ever heard."
Bjorn Thorsrud. Music Producer, Programmer and Audio Engineer who has worked with Billy Corgan, The Dandy Warhols, Marianne Faithfull, The Frogs, Monster Magnet, The Smashing Pumpkins and many more.

"Definitely not your typical compressor."
Craig Anderton - Guitar Player. Musician, Author, Lecturer who is known for such books as 'Electronic Projects for Musicians' & 'Home Recording for Musicians.'
Faithful and unique emulation of an old German broadcast compressor/limiter unit U73b. Second generation of the famous plug-in.
The device was often used for mastering between 1960 and 1980. It is an all tube vary-mu compressor/limiter with adjustable release time option. We kept the circuit exactly as it was originally designed and only added input and output gain (before and right after compressor circuit) to help with proper adjustment of the compression. The plugin effect has been also supplemented with a VU meter and selectable side-chaining. U73b is great for mastering, mixing drums, bass, guitar, vocals and voice overs.
Features
External side-chain added
Auto Output parameter added
Plugins built in newer IDEs with more effective code
Color settings dialog added
Default calibration parameter value mechanism added, calibration parameter range changed
English language added
Oversampling added
GUI improved, retina support
Software can be used on 2 computers per ID simultaneously (User gets 2 licenses)
Controls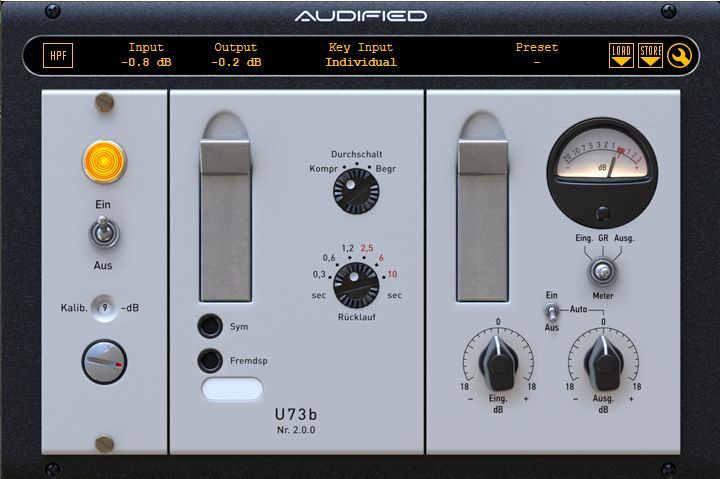 The compressor's controls are very easy, but the effect of this unique device is audible at the same moment you turn it on.
Compressor/Limiter switch - is the upper U73b knob and it switches between Compressor mode (Kompr), Bypass (Durchschalt) and Limiter mode (Begr). The compressor mode has lower threshold setting and very gentle increasing ratio, in opposite, the limiter mode provides higher threshold setting with higher ratio but still with smooth knee.
Release time - the first three positions offer fixed release time, the other three positions (marked red) provide adjustable program content dependent release time option.
IN - adjust input gain before the compressor/limiter circuit
OUT - adjust output gain after the compressor/limiter circuit
Key input - selects the signal source used for controlling the gain reduction
HPF - U73b is a vintage device and as such it may not meet present mastering demands. We added a bass management button that simply switches between original sound and desired modern sound (without low frequencies bypass
System Requirements
MAC:
OS X 10.9 - Mac OS X 10.12
Formats:
AAX for Pro Tools (32/64-Bit) 
Audio Units - AU (32/64-Bit)
VST2 (32/64-Bit)
VST3 (32/64-Bit)
PC:
Formats:
AAX for Pro Tools (32/64-Bit) 
VST2 (32/64-Bit)
VST3 (32/64-Bit)
Note: U73b Compressor is iLok protected. The hardware key is not necessary, only the License Manager, which is available at iLok.com
Awards
You may also like