Egoist is a Groove Instrument.
Load any audio file and squeeze the groove out of it! Try your mp3 library and use it a a sound source! The additional onboard bass, beat and fx units make Egoist the perfect track sketch tool in the studio and on the road.
Quickly + Easy sketching of tracks, based on sample slicing

 Minimal, yet effective bass line

Unique beat box with more than 1000 drums from vintage to electronic

Effect Sequencer

Randomizers in all areas
 Parameter madness and endless obsession with details often suffocate creative composition on computers.
Egoist is different: Playful, yet effective. A pragmatic toolset to make unique music on a professional level. Music, that exceeds mediocrity and stands out from the crowd of predictable tracks.
Features
Egoist is Playful - It will bring some quality time to your studio. It's more than a toy though, enabling an experienced musician to create original pieces on a professional level. Egoist is a wellthought - out toolset to sketch a loop or a complete song. It combines a slice arranger with a beat and bass section. There's also sequencer with 7 effects to add some special SB sauce.
Slicer - The Slicer arranges up to 16 slices of the loaded sample. Apply different parameters like Reverse, Attack, Decay, Level and pitch with the sequencer. Using the 16 available patterns, up to 16 different samples can be used at any time.
Bass & Beat - Egoist includes a great sounding bassline synthesizer/sequencer. The bassline synth offers a mean and strong sound, with different lowpass filter flavors and overdrive. The versatile sequencer is capable of notes and pitch bends of any length. The internal beat box offers kick, snare and hihat, along with a simple sequencer. If you imagine, that you can change the drum sounds with each pattern, limitations start to get you inspired!
Effectrix Inside  - The Effect unit brings funky hickups to your tracks. Engage tapestop, looper, reverb or filter at any time to give your beats that otherworldly feel and create stunning breaks!
Song Sequencer - Chain your patterns! Or create stunning breakbeats by changing patterns quickly! The internal Part/Song sequencer lets you sketch your pattern progressions and line out your next track.
Always Special - The very special Slice Keys turn Egoist into a slice keyboard! Play the sequencer steps on the keyboard, with all their settings and effects, you will not believe how cool that is!
System Requirements
Windows (32/64 bit)
XP or later, 2GHz, 2GB RAM
Mac OS X (Intel/PPC, 32/64 bit)
10.6.7 or later, 2GHz, 2GB RAM
Plugin Interfaces:
Mac OS X: VST / AU / RTAS / AAX
Windows: VST / RTAS / AAX
Awards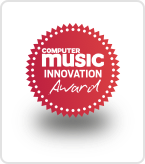 You may also like