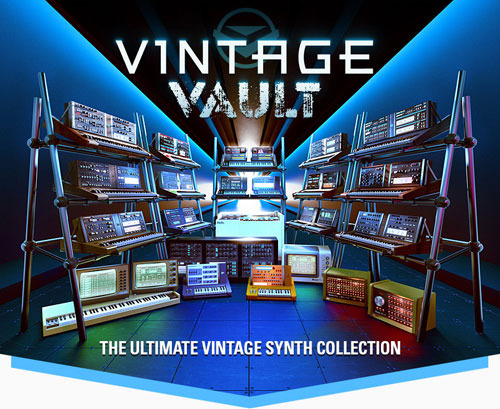 A History of Synthesis at Your Fingertips
36 Instruments, 80+ Drum Machines, Over 5,000 Presets
Sample-Based Instruments for Authentic Hardware Sound
Imagine having dozens of the most rare and sought after synths, samplers and drum machines. A truly massive collection of vintage gear, with over 5 decades of sound innovation at your fingertips. With Vintage Vault it's yours. Instantly call up your favorite vintage gear, be inspired by the unmistakable authenticity of real hardware samples and tweak the sounds to perfection through intuitive user interfaces designed in homage of their hardware counterparts.
With Vintage Vault you get access to the full line of UVI vintage series instruments, a comprehensive collection, covering the history of synthesis from analog to digital and everywhere in-between. Get the authentic tones you've been craving at a price that can't be beat!

Real Circuits, Real Sound
No emulations here- all UVI vintage series instruments start with the real thing. Extensive sampling of the highest quality combined with the award-winning UVI Engine XT give you all the character and soul of real hardware instruments with the ease, efficiency and control provided by modern software. All presets were expertly crafted by our sound design team starting with real hardware instruments - what you get here is truly the best of both worlds. Take your productions to the next level with the raw sound and uncompromising quality of UVI Instruments.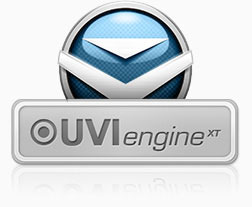 Where Inspiration and Creativity Meet
Lush pads from that monster 80's analog polyphonic synth? Done. Crisp bells from that ultra-rare FM synth? Done. Evolving soundscapes from that famous vector synth? Done. What about all of those obscure drum machines from the 80's? Done (and we have the big name ones too). Whether you're looking for an iconic sound from your favorite vintage pop-song or film score, or you want to design your own sounds from scratch with these rare machines, you'll never run out of inspiration or creative options.

All UVI instruments use a common architecture, meaning that regardless of whether it's a wavetable synth, monophonic analog or tape-based sampler, once you become familiar with a single UVI instrument you can operate them all. This streamlined control schema coupled with clean, intuitive user interfaces translates to less time digging in manuals and more time being creative.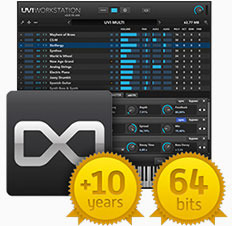 Extreme Versatility
Vintage Vault instruments run in the acclaimed UVI Workstation (included). An unlimited multi-timbral environment with built in arpeggiator, mixer, aux busses and a vast library of studio-grade effects. Easily create your own key-splits, design layered instruments in minutes and save your setup for later. With over 10 years of development under the hood, UVI Workstation offers rock-solid stability and full compatibility on all major platforms and DAWs, including 64-bit VST, AU, AAX and standalone.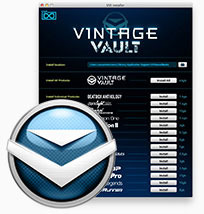 Fast and Flexible
Thanks to UVI's advanced compression system, Vintage Vault installs from a high-speed USB key in about 45 minutes and requires only 63 GB of drive space. This not only saves you time on installation and storage, it translates to dramatically faster load times in the studio. UVI's flexible licensing system allows for authorization on 3 systems concurrently, allowing you to work where you want, when you want, without worrying about moving dongles or reauthorizing.
Incredible Value
Everyone knows that vintage gear is expensive to buy and expensive to maintain. With each passing year these instruments become even more obscure. Vintage Vault gives you the authentic sound of the hardware without worrying about rising costs, space, maintenance, complex menus or workflow integration. Every piece of gear is ready when you want it, perfectly in tune, perfectly recorded, and preserved for all time.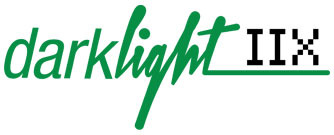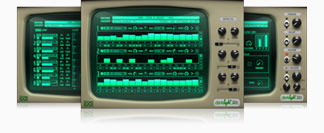 Costing upwards of $100,000, the dream machine of the 80's was unattainable by most. Used by countless prominent artists including: Peter Gabriel, David Bowie, Michael Jackson, Kate Bush, Herbie Hancock, Jean Michel Jarre, Thomas Dolby and many more, it remains a highly regarded and sought after instrument.
Suffering a fit of nostalgia as we often do, we decided to set about making a new instruments inspired by this legendary studio icon. We ended up making 3; a digital synth, digital drum machine, and multi-phraser. A unique hybrid approach was employed combining our rigid sampling process with the advanced digital processing algorithms and modeling capabilities of the UVI Engine. This approach allows us to capture the raw character of the original machine while facilitating a full array of modern controls. The result is an extremely flexible system that allows you to quickly call up the classic sounds or take the old voices into new sonic territory.
Powerful analog modeled filters, LFO's, envelopes and effects in a beautiful old-school interface await you in this tightly packed but massive sounding 2 GB UVI instrument.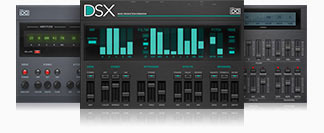 In the late 80's and early 90's the synthesizer landscape began to change. A new breed of keyboards began appearing in shops, records and on stage; matte black behemoths eschewing the familiar knob arrays for uniform clusters of discrete buttons and glowing green LCD screens. They signaled more than a shift in interaction with our musical counterparts' they ushered in the era of the digital synth.
To those willing to forgo the immediacy and ease-of-editing of the analog synth world these keyboards offered amazing features for the time; massive polyphony, extensive on-board sequencers and pattern memory, removable storage and digital effects. In addition to the immediate benefits of digital processing some of these keyboards also dawned innovative hybrid synthesis techniques, combining sample playback with classic methods allowing synthesists and musicians the opportunity to explore new sonic territory.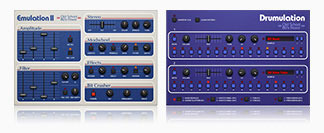 Emulation II was designed specifically to reproduce the warm digital sounds and analog textures characteristic of 80's music. A massive library of samples (nearly 5 GB) was recorded from a professionally restored unit and utilized in this hybrid instrument - giving you the sonic character of real vintage hardware with the added control and sound shaping flexibility of analog modeled filters and advanced digital signal processing.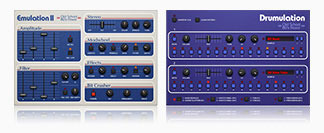 Emulation One delivers a complementary and similarly fantastic 80's sound used by many greats of the day including Vangelis, Herbie Hancock, David Bowie, Depeche Mode, Genesis, Kitaro, Jean-Michel Jarre, Stevie Wonder, Philip Glass, John Carpenter and more. A UVI hybrid instrument, Emulation One gives you the original sonic character of vintage hardware with the added control and sound shaping flexibility of analog modeled filters and advanced digital signal processing.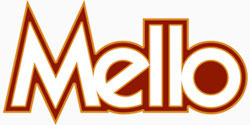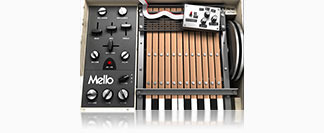 Hark back to the heyday of classic rock and one instrument stands above the rest, a 350lb behemoth that would forever change the way we think about making music. At the heart of this monster was an array of tape machines, one per note on the attached keyboard, each playing a uniquely recorded sound. With only 8 seconds of tape per key and a cumbersome frame this machine had its limitations but was nonetheless impressive for its time, boasting a multitimbral and truly polyphonic 'engine'. Instantly made famous by the Beatles hit 'Strawberry Fields Forever' and used by countless others including The Moody Blues, Rolling Stones, and prog rock legends Yes, this was the 'must-have' sound of the 60's. While its use fell out of fashion the implications it made have become fundamental to modern music production.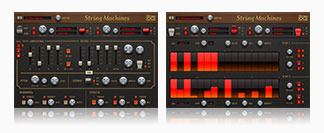 Back in the 70's, leading keyboard designers around the world attempted to reproduce orchestral string sounds through analog synthesis. The results were far from their original intent but were in no way failures. Used on countless cult records and engrained in our collective memory to this day, these 'String Machines' bore an analog soul on their own.
We spent countless hours working to faithfully capture these analog souls and present them in an accessible, expressive, fully editable digital tool. So was born String Machines; a hybrid instrument, forged with the analog imprint of the 11 most musical string synthesizers ever built. Thousands of samples, painstaking recorded with the very best analog and digital gear available, combined with our deep knowledge of analog modeling and advanced signal processing; we've applied everything we've learned in order to bring you this comprehensive instrument at an unbelievable price.
UVI String Machines is your doorway to a grand collection of analog gems from some of the most esteemed synth pioneers of our time.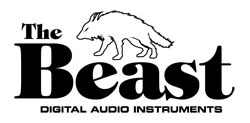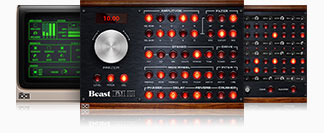 A machine of luxury is birthed for the musical elite. Using electronics developed for NASA, this revolutionary instrument was unprecedented for its time. Starting off its life as a gorgeous FM synth, it evolved into a comprehensive workstation through subsequent expansions. Its emergence into the professional studio inspired many of the leading avant-garde artists and sonic visionaries to embrace its potential, including Frank Zappa, Chick Corea, Michael Jackson, Sting, Kraftwerk, Stevie Wonder, and Depeche Mode, among others.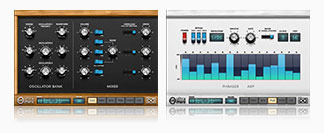 UltraMini 1.5 is here, bringing with it over 200 new factory patches, a significantly optimized low-CPU mode and computer-based authorization.Two legendary analog synths with the ultimate convenience of digital - now leaner, meaner and easier to use than ever!
There's something evocative and mysterious about firsts. Normal people will recall their first pet, first crush or their first kiss. That's not us. For us, that warm ethereal feeling comes from our first analog synth. There's something timeless about it. Part of it is its place in history, being the first affordable and accessible analog synthesizer. Part of it is a sonic fingerprint that resonates through over 40 years of live and recorded music. Regardless of the criteria we can only summarize by saying this instrument has made a permanent impression on us, and we're not alone.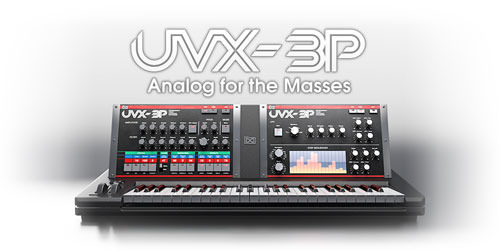 In 1983, Roland introduced one of the first affordable analog synths, the JX-3P. The JX-3P signaled a shift away from control dense synths like the JUNO and JUPITER series for a less intimidating, more entry-level aesthetic aimed at players who wanted the Roland sound without being distracted by a slew of controls. 
That said the JX-3P was in no way technically inferior, offering many of the same components as its more expensive siblings' it even boasted dual DCO's per-voice compared to a single in the JUNO series making it somewhat of a sleeper powerhouse.
Not as pervasive as the JUNO series, the JX-3P was still a very capable and expressive instrument used by many well known pop acts such as Stevie Nicks, Vince Clark and The Cure as well as electronica pioneers Orbital and The Future Sound of London.
UVX-3P was developed with the same care and thoroughness as our other Vintage series instruments. A JX-3P was fully restored to factory spec, programmed by members of our sound design team and deeply multi-sampled, capturing samples both dry and with the built-in analog chorus enabled. Great care was taken to capture a wide range of the sonic capabilities of this synth, giving you 160+ presets in all.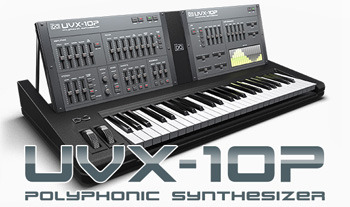 UVX-10P was designed to deliver on all of the strengths of the JX series with none of the weaknesses. We started with a pristine JX-10, MKS-70, and JX-8P and set off, tirelessly programming and sampling these beauties in high-resolution through a world-class signal chain. As with the UVX-3P we made every sample twice, with and without the built-in chorus, providing an authentic and versatile foundation. This sonic backbone paired with the UVI Engine results in a lush and extravagant analog sound; faithful to the hardware with a modern studio bite. UVX-10P delivers a fully-featured and fully-programmable interface sporting ADSR control of our high-quality amp and multimode filter designs, multiple effects, LFO and step modulator, a tediously crafted library of 150+ patches and even original wave samples for you to create your own programs with.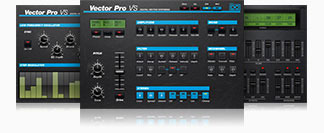 Vector Pro offers a huge range of sounds of both impeccable quality and distinct character. A great sounding instrument sure to please sound designers, producers, composers or anyone else looking for sonic inspiration. 
Two basic architectures are provided in Vector Pro, VS and VX. Vector Pro VS offers an efficient and flexible single oscillator system which expresses quite unmistakably the qualities of the Prophet VS. Vector Pro VX takes things a step further with a dual-layer system built on a library of raw multi-sampled waveforms. This system allows for the exploration of completely new sounds with independent control of each layers amp, filter, stereo and effects sections, a built-in LFO, step modulator and two versatile arpeggiators. User interfaces for both recall the classic design of the Prophet VS and sport a full array of programmable controls that should be both immediate and intuitive to anyone with synthesizer experience.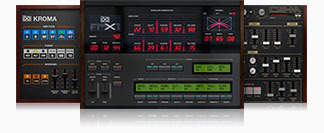 Six Brand-New Soft Synths with The Brilliant Depth and Character of Classic Hardware.
Instantly call up inspiration from the Yamaha CS-70M, CS-40M and CS-20M, the crazy Italian Elka Synthex, the Rhodes Chroma, the king of FM - the Yamaha DX1, the rare DK Synergy and the classic K250.
Vintage Legends integrates over 30,000 samples from classic synths into the acclaimed UVI Engine - experiment massive unison spreads, abundant polyphony, thick-modeled filters, drive, reverbs, modulation, FX and much, much more.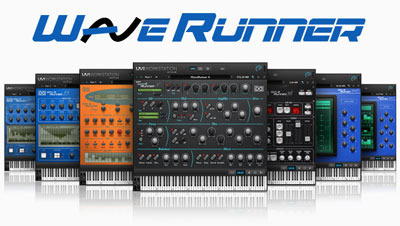 A multitude of synths, drum machines and rare prototypes of esteemed German heritage come together in this massive and unparalleled retrospective. WaveRunner presents you with a wondrous collection of authentic and fascinating sounds from over 30 years of wavetable synthesis. Everything from the raw and strident origins to the wild evolving tones of more modern, full-featured machines. Each system addressed was serviced, meticulously multi-sampled and artfully designed into 7 unique hybrid instruments driven by over 30,000 samples. Both a historical archive of sound and a collection of new and unique instruments with hundreds of presets and limitless sound design potential, WaveRunner is a suite not to be missed.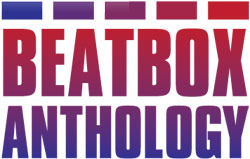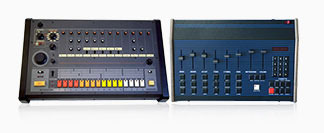 With Beat Box Anthology we've set out to capture a full spectrum of these machines - allowing you to instantly call up the analog classics or newer digital models. Including cult machines like the Roland 808 and 909 to lesser known and rare models that saw very small production runs, giving you a huge diversity of sounds and character at your disposal.
Each of the 80 machines we processed was sampled at 24 bit / 96 kHz using the very best DI boxes and ADCs. In addition to precise captures of these sounds we had the entire library of over 10,000 samples individually mastered by Chris Gerhinger at Sterling Sound resulting in an immediate, punchy, world-class sound you won't find anywhere else.
Features
Size: 63 GB (FLAC lossless encoding, was 114 GB in WAV)
Collection: Vintage Synth Bundle
Content: 36 instruments, 5,000+ presets
Sample Resolution: 44.1 kHz, recording at 96 kHz
System Requirements
Supported Formats:
Audio Units, RTAS, AAX, VST, Stand-alone
Supported Operating Systems:
Mac OS X 10.7 and higher - OS X 10.10 Yosemite supported (32 and 64-bit)
Windows 7 and higher (32 and 64-bit)
Requirements 
Hard Drive: 7 200 rpm recommended or Solid State Drive (SSD)
4GB RAM (8GB+ highly recommended)
FREE iLok account not necessarily an iLok dongle, just a free account
Internet connection for the license activation
UVI Workstation
Tested and Certified in:
Digital Performer 7 & 8, Pro Tools 10 & 11, Logic 9 & X, Cubase 7+, Nuendo 6+, Ableton Live 8 & 9, Studio One 2, Garage Band 6, Maschine 1 & 2, Tracktion 4, Vienna Ensemble 5, MPC Renaissance, Reaper 4, Sonar X3, Main Stage 3, MuLab 5.5, Finale 2014, Sibelius 7
You may also like