Our first line of plugins is called the R.A.O.N series, which stands for Ridiculous Amounts Of Noise. The R.A.O.N. series has evolved into a very complete bundle, providing you quality and flexible audio processors for your mixing tasks. But the family will not stop to grow. ChopChop and KRUCZ surely would like to have a little EQ brother.
Included in the R.A.O.N Series Bundle

ChopChop
ChopChop's algorithm was originally designed to be reasonably clean while operating with a very fast attack time and classic peak detection. The result is a very flexible compressor with a distinct sound. ChopChop is best used when the compression is meant to be heard, but it can act as an invisible tool as well! It offers a rich feature set, presented on a very simple user interface, designed for a optimal workflow. Distinct features like the adjustable range knee or the release acceleration control distinguish it form other compressors.
Lastly, its external side-chain allows ChopChop to duck tracks or tame fighting frequencies, which might come in handy at any time!

ST-R-I-P
ST-R-I-P. is a analog inspired channel strip for OS X/VST/AU and Windows/VST/64/32.
ST-R-I-P features subtle saturation and noise to emulate the behaviour of analog mixing desks. It's intended use is with pure 'in the box' music to give it some texture and depth while having traditional sound shaping features like compression and equalising at your fingertips. Get traditional, get ST-R-I-P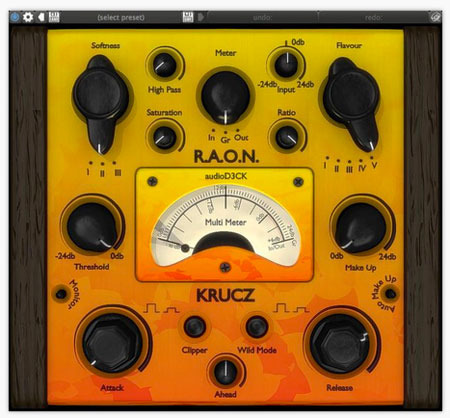 KRUCZ
This maximizer from the R.A.O.N. series is audioD3CK's version of a look ahead maximizer. Great care has been taken to design it as musical as possible. It ranges from clean to totally smashed and will not turn your audio into harsh dirt when driven hard!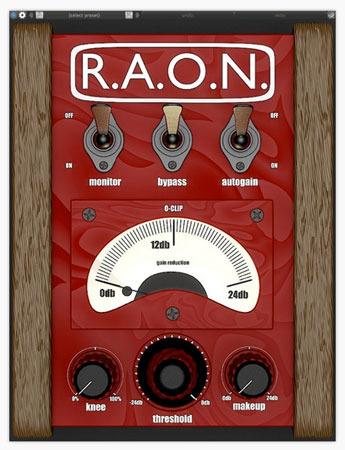 o-clip
o-clip is a simple clipping plugin with the usual audioD3CK features. Though there are multiple clipping plugins available, none had the features we wanted, so o-clip was born. o-clip benefits greatly from audioD3CK's high quality oversampling framework. Boost your tracks without aliasing!
Flexible High Quality Oversampling

Oversampling is a technique used to prevent aliasing at low sample rates, a common and mostly undesired artifact created by digital audio processing. There are numerous ways of achieving this goal. With audioD3CK you can oversample your way! Use the colourful polyphase oversampling or stick to the crystal clear linear phase oversampling, set a fixed ratio (x1 - x64) or set a minimum sample rate at which the processor should operate (20khz - 1mhz)
System Requirements
Mac 
Mac OS X 10.8, 10.9 or 10.10 (latest update)
Intel Core Duo, 2 GB RAM (4 GB recommended)
Windows
Windows 8, Windows 7 (latest Service Pack, 32/64 Bit)
Intel Core Duo or AMD Athlon 64 X2
2 GB RAM (4 GB recommended)
You may also like