VirtualCZ Expansion Pack: Digital Nostalgia
We're proud to present the very first expansion pack for our phase distortion synth, VirtualCZ!
Xenos Soundworks' 'Digital Nostalgia' contains 64 original presets for VirtualCZ. While imbued with a clear old-school personality, their timeless essense is still useful in current electronic music. Whether you produce House, Minimal Techno, 80's Electronica, or retro-inspired Hip Hop, 'Digital Nostalgia' will find its useful place in your mix when you want that special sound of the CZ synths.
Be sure to check out the audio demo located in the multimedia player!
Features
17 Basses
4 Bells
3 Brass
6 FX
3 Keyboards
12 Leads
10 Pads
8 Plucks
1 Strings
System Requirements
A full version of VirtualCZ
Awards
Product Reviews
We've got three different expansion packs for one of our favourite soft synths, Plugin Boutique's Virtual CZ, the recreation of the...
Also available in these bundles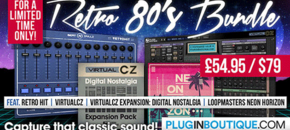 You may also like