Introducing The Air Music Keyboard Bundle [Plugin Boutique Exclusive] For the first time you can get the Velvet 2, DB-33 and Mini Grand together with a saving of over 25%.
For demos and more information on a selected product, simply click the plugin's user interface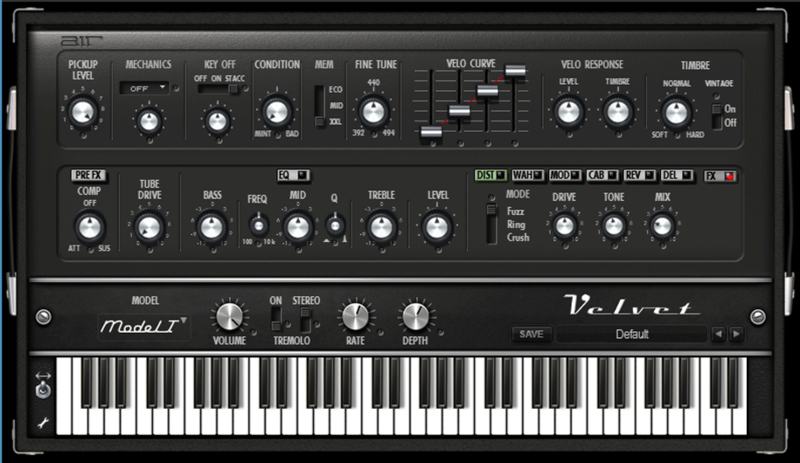 Five Legendary Electric Pianos
Velvet is a virtual electronic piano that combines five legendary electric pianos from the 60s and 70s into one versatile instrument. Based on the Fender Rhodes Suitcase, Fender Rhodes MK I and MK II Stage Pianos, Wurlitzer 200A and Hohner Pianet-T, Velvet accurately emulates the sound quality, response, and nuances of each original instrument to bring your piano tracks to life. Additionally, Velvet features a pallet of onboard effects and allows you to control every aspect of the sound for unparalleled realism: turn up the tube drive controls in the preamp section to warm up your tone; adjust the timbre, dynamic response, and velocity curve to customize the playing feel; and mix in the sound of pedal and other keyboard mechanical noises to recreate an authentic electric piano track.
Features
A virtual electronic piano instrument with built-in effects that captures the character and response five legendary instruments
Dynamic modeling and proprietary engine deliver unprecedented sound quality and dynamic response
Tweak the timbre, dynamic response, and velocity curve of each model
Mix in the sound of the keyboard and pedal noise for mechanical realism
Powerful preamp section with tube overdrive and compression for a crunchy tone
Onboard 3-band EQ with a parametric mid band for quick tone shaping
Authentic tremolo and autopan effects deliver classic expression
Vintage distortion, wah/filter, modulation, and amplifier effects
High-quality reverb effects include Ambience, Spring, and Room settings
Delay effects featuring a classic tape echo
MIDI Learn functionality allows easy mapping to MIDI controllers
350 ready-to-play presets that can be tweaked to your taste
Intuitive graphic user interface reminiscent of each classic electric piano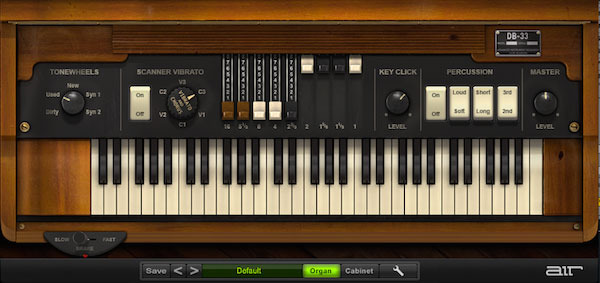 There are very few truly unique instrumental sounds in the world of music. Sounds so distinct, so compelling, so immediately identifiable and genuine that you just have to have it. Nothing else will do. "Close" won't do. "Almost" won't cut it. "Approximately" will instantly brand you as a shallow imposter.
One of these really great, unmistakable instrumental sounds is the tonewheel organ, such as the classic Hammond B3. The Hammond B3 was used by many great rock, soul and jazz artists in the 1960's to 1980's. Unforgettable musicians like Stevie Winwood, Jon Lord of Deep Purple, Jimmy Smith and Richard "Groove" Holmes.
Great music, great sound, created on an absolutely great instrument. That's what you want. And that's what DB-33 Tonewheel Organ gives you.
DB-33 Tonewheel Organ is a virtual organ that recreates the sounds and controllability of classic tonewheel organs such as the Hammond B3, and the rotary-speaker cabinets they are often played through. It includes 122 preset sounds plus an extra-realistic convolution rotary cabinet and tube overdrive emulation. The rotary-speaker cabinet can also be used as an effect in its own right on an audio track.
AIR-proprietary vintage organ model
AIR-proprietary, extra-realistic convolution rotary cabinet
AIR-proprietary tube overdrive emulation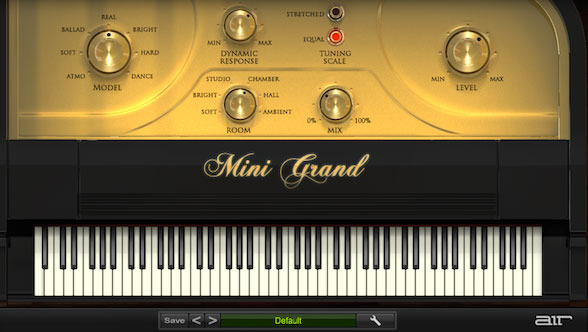 The piano—perhaps more than any other single instrument—conveys the whole range of musical thoughts and emotions like nothing else can.
Whether you're the next Evgeny Kissin bringing the crowd to their feet at the conclusion of a stirring rendition of Rachmaninoff's Piano Concerto No.2, or Herbie Hancock laying down the funkiness on Watermelon Man or Monte Neuble making Rihanna's music explode on the stage, it's our mission to give you the creative tools you need to reach heights you never thought you could reach.
Mini Grand is a simple to use yet powerful virtual piano instrument with seven different acoustic piano sounds to suit a broad range of musical styles and production needs.
Premium quality piano samples
7 selectable piano models covering a wide range of piano sounds
 Re-pedaling technology, recreating super realistic string resonance behavior
Built in room simulation
Equal and stretched tuning available
System Requirements
Velvet 2:
Mac: 
Mac OS X 10.8.5-10.12; Core Duo Processor (Core i5 or i7 Recommended)
PC: 
Windows 8 (64 bit), Windows 7 (64 bit); Minimum Dual Core 2GHz (Intel Core i5 or i7 Recommended)
Formats:
VST (32 bit and 64 bit) qualified for:
Ableton Live, Cubase, Arsenal
AU (64 bit only) qualified for:
AAX qualified for:
ProTools 10.3 (32 bit), ProTools 11.x (64 bit)
Please Note:
Minimum RAM 4GB (8GB or more recommended)
3GB free hard drive space required (Download and Installation)
Internet access required (Download and Authorization)
No iLok key required
DB-33 + Mini Grand:
Mac: 
Mac OS X 10.8.5-10.10; Core Duo Processor (Core i5 or i7 Recommended)
VST64 is qualified for Cubase 6 (64-bit) and Ableton Live 9 (64-bit). AU64 is qualified for Logic Pro X (64-bit)
PC: 
Windows 10, 8 or Windows 7 Service Pack 1; Minimum Dual Core 2GHz (Intel Core i5 or i7 Recommended)
VST64 is qualified for Cubase 6 (64-bit) and Ableton Live 9 (64-bit)
Formats:
Compatible with AU and VST only. (AAX version available in AIR Creative Collection)
Please Note:
Minimum RAM 1GB (2GB or more Recommended)
1GB free hard drive space (Download and Installation)
A 64-bit compatible host application*
Internet access (Download and Authorization)
iLok optional
You may also like