Quadrant is a modular sound generator and effects processing plugin geared toward experimental sound design and electronic music production. Quadrant's open-ended graphical patching system and diverse set of modules give you access to a new customizable processing environment capable of a very broad range of effects.
Quadrant's intuitive workflow and vast sonic potential will inspire you to push the envelope, while its flexible architecture invites you to try imaginative new routing scenarios to explore endless possibilities. Use it to generate vivid electronic tones and textures or to process your drum loops, soft synths, sound effects and external hardware.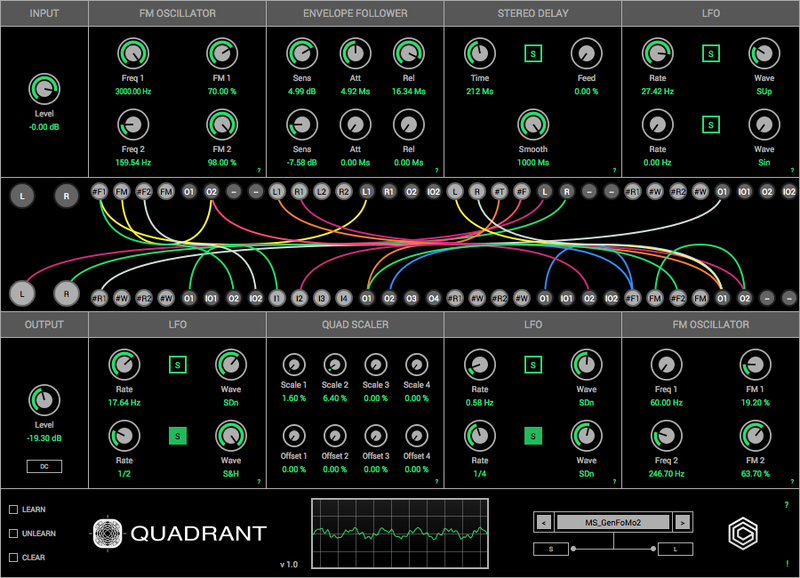 At the heart of Quadrant, you will find a selection of modules you can freely configure by populating up to 8 slots. Once populated with a module, a slot will give you access to up to 4 input and output nodes, which you can freely connect via Quadrant's virtual patch cables. Nodes are configured to have the ability to send and receive multiple signals at once, making very complex modulation scenarios possible. Quadrant ships with 26 modules ranging from effects to utility, with additional modules already planned for future updates.
Quadrant's unique workflow and interface will change the way you think about modulation and signal processing. The plugin makes it possible to set up completely self generating patches, making it equally capable as a sound generator and effects processor. Our designers have crafted a variety of external and internally generated effects patches to show what the plugin is capable of. We've included 160 patches by Subjex, Balkansky, Thomas Hennebert, Nicholas Yochum, Daed, John Black, Shiro Fujioka and Blush Response.
Embracing all things modular, Quadrant includes a Eurorack modular synthesizer sample pack comprised of over 1500 samples. We worked with 6 of the best module manufacturers to put together the Eurorack system used to generate all the content. Our goal was to create a functional counterpart to Quadrant; something you can't easily achieve with a computer that interacts well with the plugin and gives you a new palette of sounds to work with right out of the box. Focused on the darker side of modular synthesis, sound designer Ivo Ivanov created a collection of compelling effects that are equally distinctive and indicative of the depth of Eurorack's sonic landscape.
Crafted with a combination of analogue and digital modules, Quadrant's sample pack is packed with gritty and intricate sounds in the form of hits, glitches, one shots and asymmetrical passages you can use to create your own rhythms, basslines, percussive elements and much more. To give you a true sense of the modular sound, the pack features raw samples with no further processing. Import the sound effects into your favorite DAW or sampler and twist them into something truly unique. To show you how the samples can be integrated into your projects, we've included loops by sound designers Ivo Ivanov, Thomas Hennebert, Nicholas Yochum and Daed.
Features:
Fully patchable modular sound generator and signal processor
Sample pack with 1500+ modular SFX in 24bit/96khz .wav
26 Modules ranging from Oscillators & Delays to LFOs & Mixers
Freely configurable module slots and signal flow
Graphical patching system with virtual patch cables
Real-time animated audio analyzers and visualizers
160 patches from 8 cutting-edge sound designers and artists
Cross-platform compatibility (PC/Mac – VST/AU 32bit & 64bit)
Quadrant Modules:
FM Oscillator
Stereo Delay
Mono Delay
Multi-Mode Filter
Pitcher
Reducer
Clipper
Distortion
Fold
Waveshaper
Noise
Envelope Follower
LFO
Stereo Mixer
Mono Mixer
Dual Mono Mixer
Stereo Gainer
Mono Gainer
Meta Control
Quad Scaler
MIDI
Add / Sub
Mult / Div
Random IN
Random OUT
Lag
System Requirements:
Broadband Internet connection for product download
VST/AU host such as Ableton Live, Logic Pro, Renoise, etc.
Mac OS X 10.7 or higher (PPC not supported)
Approximately 1.5 GB of hard drive space
Windows Vista or higher
Minimum 2 GB RAM
CPU with SSE2 support
Minimum recommended CPU: Core 2 Duo, 2GHz
Product Reviews
Imagine an audio effects plug-in which uses the modular synth paradigm as its base... Glichmachines are one step ahead with Quadrant. Toby Pitman...
You may also like