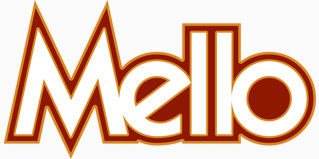 The Origins of Sampling - A Sound that Shaped the 60's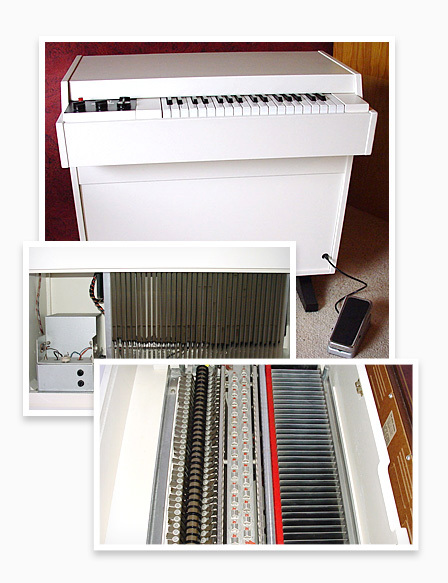 Hark back to the heyday of classic rock and one instrument stands above the rest, a 350lb behemoth that would forever change the way we think about making music. At the heart of this monster was an array of tape machines, one per note on the attached keyboard, each playing a uniquely recorded sound. With only 8 seconds of tape per key and a cumbersome frame this machine had its limitations but was nonetheless impressive for its time, boasting a multitimbral and truly polyphonic 'engine'. Instantly made famous by the Beatles hit 'Strawberry Fields Forever' and used by countless others including The Moody Blues, Rolling Stones, and prog rock legends Yes, this was the 'must-have' sound of the 60's. While its use fell out of fashion the implications it made have become fundamental to modern music production.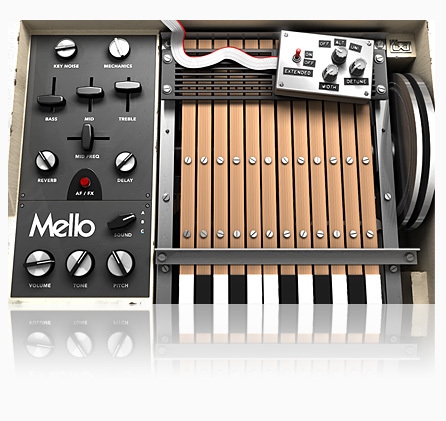 With Mello we've aimed to deliver a complete and authentic recreation of this prolific instrument. Dozens of original tapes were multi-sampled on 3 different machines in order to give you the best representation of each of the 28 available sounds. To capture the live experience the key noise and inner mechanical sounds were stereo recorded, including tape noise and key-off sounds, and are all mixable to taste. To make Mello even more versatile we've added a few tricks of our own, including an analog-modeled tape delay, reverb, a custom unison mode to give you stereo sound without unwanted transposition or chorusing, a switchable multimode filter, a 3-band EQ and more. Mello delivers a warm and buttery tone indistinguishable from the original and is, in every way we could make it, a perfect tribute to the quintessential studio instrument of the 60's.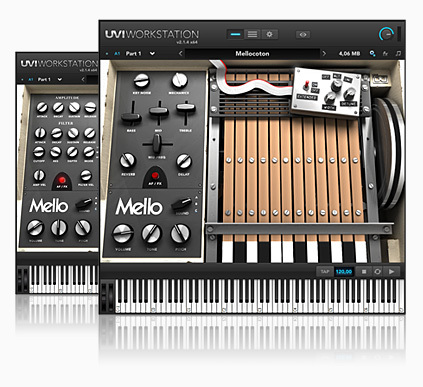 Features
Pristine and comprehensive sample library from 3 original machines
Mixable key and mechanical noise for authentic experience
Switchable keyboard range (original or extended)
Stereo modes including custom unison
Switchable multimode filter with cutoff and resonance
ADSR envelopes for amplitude and filter with velocity sensitivity
3-band EQ with sweepable mid frequency
Built-in SparkVerb
Analog-modeled tape delay
Included Sounds:
Brass
CelestaAndVoice
Cello1
Cello2
ChoirFemale
ChoirMale
ChoirTron
ChurchOrgan1
ChurchOrgan2 
ChurchOrgan3 
Clarinet
Flute1
Flute2
Sax
Guit12Str
GuitElectricA
GuitElectricB
GuitSpanish
Harp
Oboe
Piano
Strings1
Strings2
Strings3
Strings4
Vibraphone1
Vibraphone2
Viola
Summary
Size: 0.68 GB (FLAC lossless encoding, was 1.4 GB in WAV)
Collection: A perfect tribute to the quintessential studio instrument of the 60's
Content: 12 presets, 28 sounds, 2,000+ samples
Sample Resolution: 44.1 kHz. Recording at 96 kHz.
System Requirements
Supported Formats:
UVI Workstation: Audio Units, AAX, VST, Stand-alone
Supported Operating Systems:
Mac OS X 10.7 and higher (32 and 64-bit) - (OS X 10.11 El Capitan supported)
Windows 7 and higher (32 and 64-bit) - (Windows 10 supported)
Requirements
Hard Drive: 7 200 rpm recommended or Solid State Drive (SSD)
4GB RAM (8GB+ highly recommended)
FREE iLok account - not necessarily an iLok dongle, just a free account
Internet connection for the license activation
Tested and Certified in:
Digital Performer 8+, Pro Tools 11+, Logic 9+, Cubase 7+, Nuendo 6+, Ableton Live 8+, Studio One 2, Garage Band 6, Maschine 1 & 2, Tracktion 4+, Vienna Ensemble 5, Reaper 4, Sonar X3, Main Stage 3, MuLab 5.5+
You may also like