Bitcrush: Simulate Lo-Fi Sound Sources
When nostaliga hits, Bitcrush can bring you back to the digital hardware of times past. It simulates the audio being played back using a low quality sampler with limited sample rate and bit depth. Mm, crunchy.
Supported Formats
What's a snapin?
This plugin is a "snapin". That means you can use it as a regular VST/AU plugin, or you can use it with our snapin hosts Multipass and Snap Heap where you can combine effects in amazing ways.
Also available in these bundles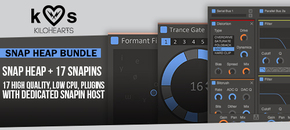 You may also like