Filter: Common Filter Effects
Sometimes in life, sound comes with frequencies you don't like. So why not cut them out?
kHs Filter is a resonant filter with 7 modes, swiftly getting rid of frequencies you  don't like or enhancing frequencies you do. And it's doing it and doing it and doing it good.
Supported Formats
What's a snapin?
This plugin is a "snapin". That means you can use it as a regular VST/AU plugin, or you can use it with our snapin hosts Multipass and Snap Heap where you can combine effects in amazing ways.
Also available in these bundles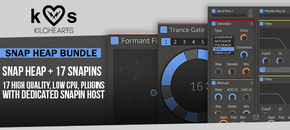 You may also like