Swäzher Generator AAX Plugin . The natural overtone exciter thats really makes the difference.
The first process extracts the smallest sound objects, which characterize the sound itself, and then adds them together to create natural harmonics. The Presence setting controls the amount of harmonics that are generated. The second process uses a traditional psychoacoustic method to create harmonics from the overfeed, with a selectable frequency band that is applied to our Presence algorithm. The resultant plugin is not only suitable for vocals, but is also adaptable to almost any instrument, bringing new nuances and richness to your mix.
The user interface is easy and intuitive. We recommend that you reduce both effects by one or two notches once you have achieved your desired setting. This is advisable since the listening fatigue that occurs when handling this material leads us to perceive less of what we are really doing. There are various factory presets available for you to have a starting point in adjusting your audio mixtures.
The Presence control introduces natural harmonics that do not change the sound timbre and do not produce saturation. Use the harmonic distortion to create unusual timbral effects, or to enhance the presence of the instrument in any particular region of the spectrum. Note that, like all NeoductionTools plugins, the audio output is normalized to -0dB to avoid saturating any subsequent input in the chain.
Swazher Generator is a powerful tool that undoubtedly will be indispensable in your preferred selection of plugins.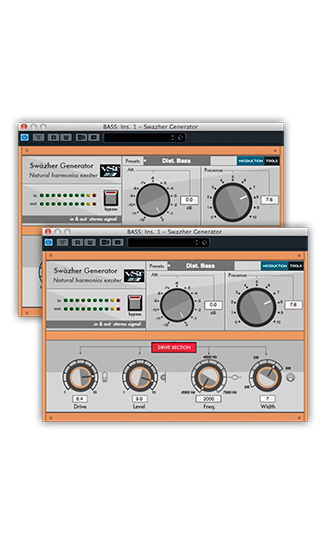 Use it with your favorite DAW. Low resources consumption.
Experience the fast harmonic release. Presence and drive will give you that extra shine in less movements than any other plugins. 
Double guitars from one single track.
Exquisite natural harmonics.
Reveal those hidden shines easily.
Revolutionary process.
Combines two ways of creating harmonics, the traditional and a brand new one.
Brilliant cymbals, guitars, brass, strings, voice…
Increase and recoever the instruments pressence.
System Requirements
Supported operating systems:
PC: Win 7, Win 8, Win 8.1
MAC: Mac OS 10.8+
Minimum system requirements: 
Intel Core 2 Duo 2.2GHZ 2Gb RAM
AAX
USB iLok (not included)
VST format available here
Internet connection required for activation, account setup and personal / product registration. Additional downloads may be required for the installation.
IMPORTANT: An iLok dongle is needed for any Neoduction® software.