Compadre is the result of more than one year of research, development, and countless hours of listening tests. The final product is a quality compressor that not only delivers a highly tuned sonic behaviour, but also drips with character.
Compadre is designed specifically for use on beats, drum loops, and other percussive material, and it does this with attitude and flexibility. Use it for subtle enhancements or heavy duty compression. While Compadre has been designed with drums in mind, its range of flexibility allows it to also deliver good and often unique performances on many other types of tracks; such as for example bass tracks.
Unique Sound
Compadre is a compressor with an attitude and a truly unique sound. We like to describe Compadre's sound as aggressive, with a tight & punchy attack and an airy release capable of very musical pumping.
It's a sound that suits drums - and also bass - very well, which makes it easy to achieve great results with a minimum of tweaking.
Unique Features
Compadre offers features you will not find on other compressors whether software or hardware. The "Shaper" mode offers a more experimental mode of compression allowing inspiring effects ranging from transient shaping to wild and funky gated-sounding compression.
Other unique features are host tempo-sync perfect for rhythmic compression, wet/dry mix for parallel compression and low-level controls to tweak the compressor response.
True Stereo Sidechaining
Compadre gives you full control over the sidechain with both external input and sidechain filtering. Using an external input to trigger the compression is what's often referred to as sidechain compression and is used extensively in modern electronic productions. Sidechain filtering allows you filter just the sidechain - and not the outgoing audio path.
Features
Feed forward RMS compressor with high quality characteristics.
True stereo sidechain. (4 channel input; 1+2=audio, 3+4=Sidechain).
High & low pass filters on the sidechain allowing frequency dependant compression.
Further 9 filter models featuring presets with key frequencies for drum mixing.
Optional BPM tempo-synced release.
Unique and wild "Shaper" mode with choice between 7 attack/release curves.
Choice between "Punch" & "Flatten" compression modes for extra flexibility.
Adjustable low-level controls to fine tune the compression characteristics. ("Snap", "Linearity" &
"Envelope").
Dry/wet mix control allowing easy "parallel compression".
Optional extra "Crunch" by enabling a built-in second compressor on the output stage.
Optional limiter on output.
Zero latency.
80 categorized presets included.
Format: 
VST (Windows XP, Vista or Win7)
More by Tone Projects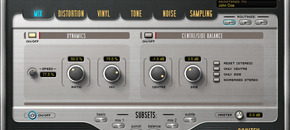 You may also like