2016 Mix and Master Bundle 
For a limited time - get the new, critically acclaimed Neutron (Standard) mixing plug-in and the industry standard in mastering, Ozone 7 (Standard). 
(For a limited time only!)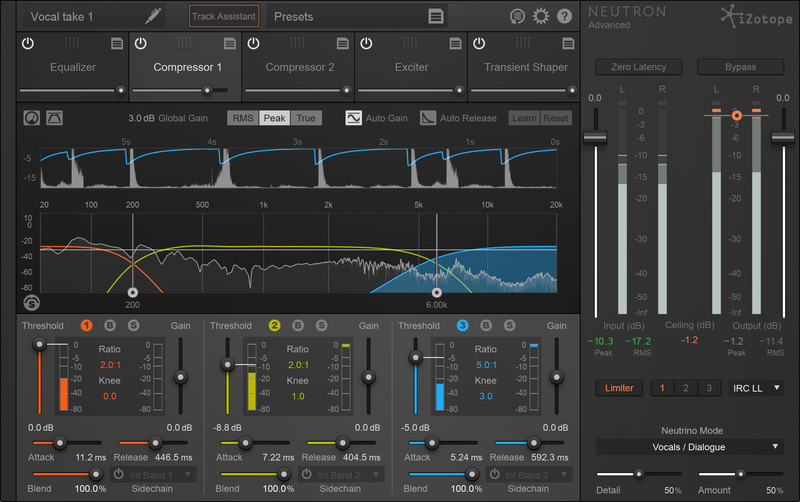 Achieve unprecedented focus and clarity in your mixes with Neutron. This new mixing plug-in combines the latest innovations in analysis and metering with award-winning audio processing.
The Neutron mixing plug-in combines five great-sounding new processors with the latest in intelligent metering and analysis. Like having a virtual assistant, Neutron can listen to your audio, identify instruments, and offer tailored starting points for creating powerful mixes with focus and clarity while leaving all the creative control to you. The revolutionary new Masking Meter can help you visually identify frequency collisions between instruments, allowing you to tweak each track so it sits better in the mix. Optimized for mixing, you can use this on dozens of tracks to carve away muddiness and reveal new sonic possibilities in your mixes.
Mix with Confidence
With powerful new features like Track Assistant and Masking Meter, Neutron helps you quickly reach an optimal starting point, clearly identify perceptual frequency collision and fully wield creative control over all your mix decisions.
Meet your New Assistant

An industry first, Neutron's new Track Assistant lets you create a custom preset based on your audio to get you to a faster starting point so you can focus on what's most important - your creative take on the mix. It's like having an assistant engineer at your disposal 24/7.
Different instrument tracks like vocals, dialogue, guitar, bass, and drums are automatically detected. Neutron then applies the spectral shaping technology within Neutrino to provide subtle clarity and balance to each of your tracks.

After analyzing the incoming audio signal, EQ nodes are intelligently placed where Track Assistant thinks you need them, speeding up your workflow and eliminating much of the EQ guesswork.

Get recommendations for optimal starting points across all of Neutron's modules, including compressor thresholds, saturation types, and single vs. multiband modes (including crossover points) - a huge time saver that can leave you feeling inspired.
What Makes Track Assistant So Unique?
It automatically detects different instrument types like guitar, vocals, bass, and drums
It creates custom, optimal starting points based on your audio tracks
It offers three levels of power, from Subtle to Medium to Aggressive
It adds Neutrino's Spectral Shaping sound for subtle focus and clarity
It intelligently places EQ nodes and creates an EQ curve
It sets optimal settings for signal flow, including single or multiband processing
It smartly places crossovers in multiband modes 
It selects Compressor style (Digital or Vintage) and automatically sets settings (Threshold, Attack, Release, and Ratio) 
It selects Exciter algorithm blend and dials in a custom amount tuned to the audio
Unmask Your Mix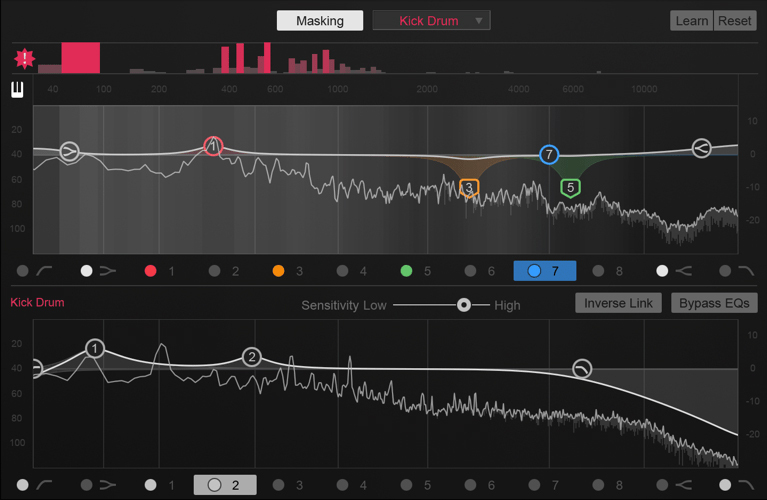 Another industry first, Neutron's Masking Meter allows you to visually identify perceptual frequency collisions, which can result in guitars masking lead vocals, bass covering up drums, and other issues that can cause a "muddy" or overly crowded mix. Toggle seamlessly between any two tracks to carve out sonic space and ensure that each instrument has its own place to shine. 
Our Best Processing Yet
Neutron features some of the best audio processing we've ever created allowing you to achieve better sounding mixes inside your digital audio workstation. It includes five industry leading mixing processors, all zero-latency capable, including a static/dynamic Equalizer, two multiband Compressors, a multiband Exciter, and a multiband Transient Shaper, as well as an ultra low-latency BS.1770 True Peak Limiter – perfect for all your mixing needs.
Learn more about Neutron.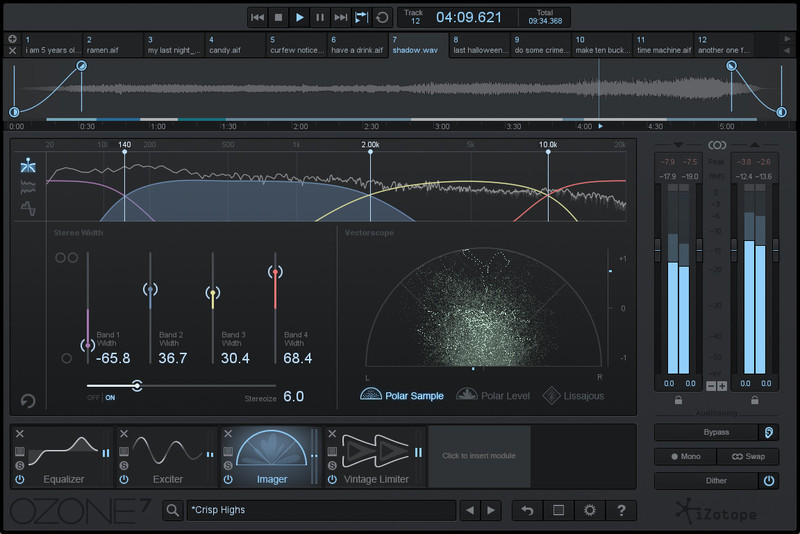 Glue a mix together, control dynamic range, and add rich character with the critically acclaimed music production tools in Ozone 7.
Ozone includes the Maximizer, the Dynamic EQ, the new Vintage Limiter, Export Formats, and more. Use Ozone as a plug-in or as a standalone application.
Key Highlights
Get essential mastering and mixing tools: Maximizer, Dynamic EQ (now in both Standard and Advanced) and the new Vintage Limiter
Build a high-tech new mastering chain when you mix-and-match components, going from fully modern to fully vintage to anywhere in between.
Quickly achieve authentic sounds for any genre and style with a comprehensive bank of presets.
Master within your audio editing software with Ozone as a plug-in or in its own environment with the standalone option.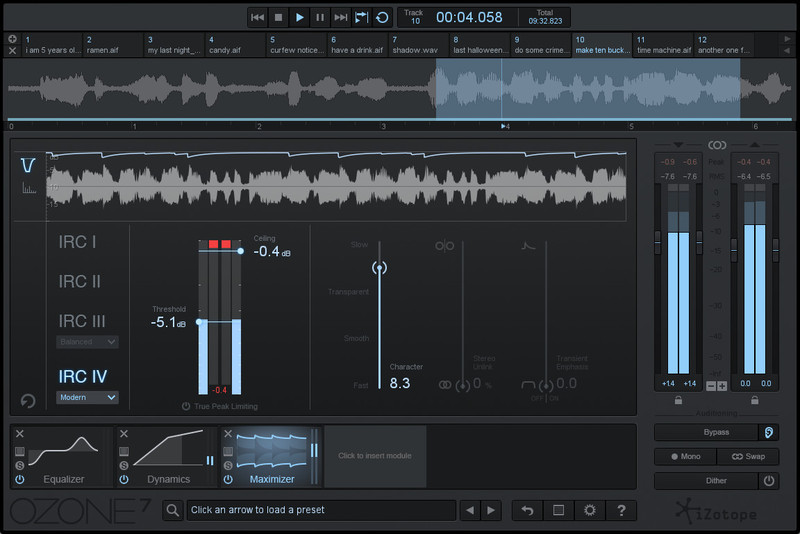 Powerful Processing for Mastering and Mixing
Dynamic Masters with Transparent Processing
The highly regarded Ozone Maximizer helps you achieve professional loudness and fullness with transparent limiting. Updated for Ozone 7, the Maximizer features a brand new frequency-specific IRC IV algorithm to deliver transparent mixes with even less pumping and distortion. Smooth out an unwieldy mix or tame the kick drum peaks without affecting the vocals.
The Dynamic EQ, now in both the standard and Advanced versions of Ozone, lives and breathes with your audio for finer control over your sound. Take advantage of the precision of an equalizer and the musical ballistics of a compressor in one integrated processor. Learn more about using Dynamic EQ in mastering.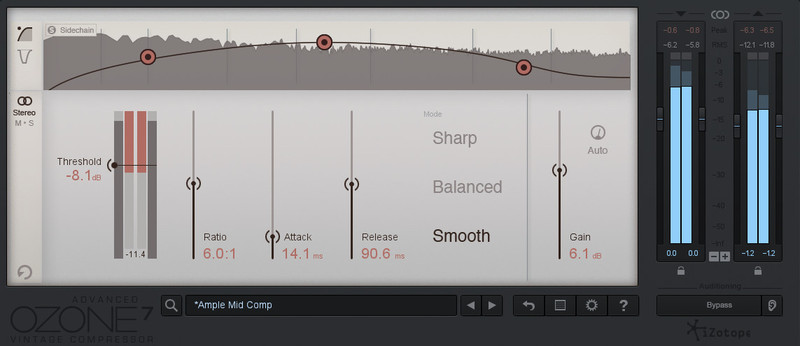 New Sounds, Nostalgic Results
A new set of vintage-inspired processing modules in Ozone puts nostalgic tone at your fingertips, bringing the creative color and character of analog hardware to digital recordings.
Glue a mix together and control dynamic range with the Vintage Limiter.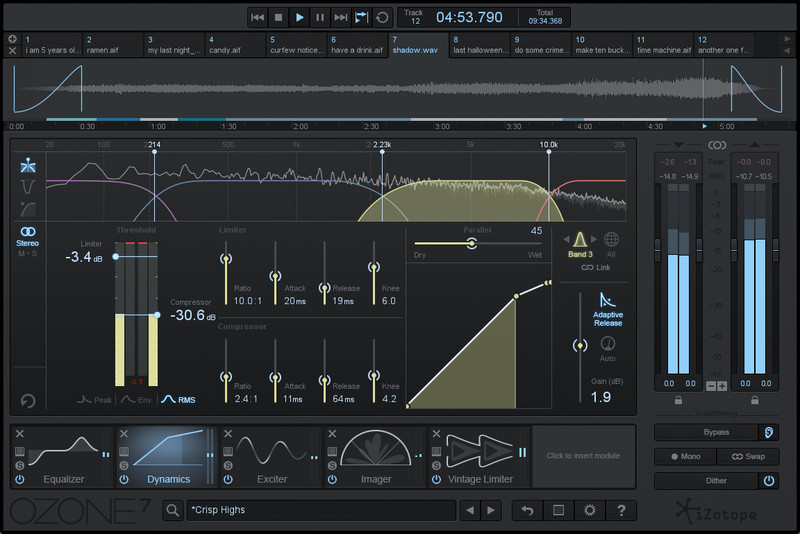 Ozone isn't Just for Mastering Anymore
Ozone was designed for mastering but there are lots of possibilities for how Ozone can help out in music production.
Learn more about Ozone 7.
System Requirements
Neutron:
Supported Operating Systems
Windows: 7, 8, and 10
Mac: OS X 10.9–10.11
Plug-In Formats:
VST 2 (32-bit and 64-bit), VST 3 (32-bit and 64-bit), Audio Unit (32-bit and 64-bit), AAX (64-bit), RTAS (32-bit), Audiosuite DPM and AAX.
Plug-In Host Compatibility:
The latest versions of the following hosts have been officially qualified as of October 2016: Logic Pro X, Ableton Live 9, Pro Tools 10, 11 & 12, Cubase Pro 8, REAPER 5, FL Studio 12, Studio One 3, Nuendo 7.
Ozone 7:
Supported Operating Systems:
Windows: 7, 8, and 10
Mac: OS X 10.8–10.11 (Intel only)
Plug-In Formats:
Pro Tools 10-12 (RTAS, AudioSuite, 64-bit AAX), VST 2, VST 3, and Audio Unit.
Plug-In Host Compatibility:
Pro Tools 10-12, Logic Pro X, Ableton Live, Cubase, Digital Performer, SONAR, REAPER, and many more. 
Graphics Card Requirements:
For use of the scrolling 3D Spectrogram in Insight, Ozone 7 Advanced requires a graphics card that supports Open GL 2.0.
Minimum Screen Resolution:
Plug-In: 1,159 x 614
Standalone Application: 1,166 x 827
Note: The Ozone 7 standalone application does not currently support the Waveshell format for Waves plug-ins within the Ozone signal chain. 
Awards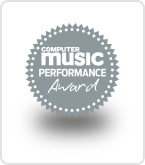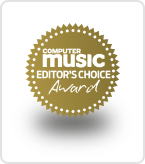 You may also like