Artillery2 Effect Keyboard
The Artillery concept is as simple as effective: Effects are assigned to keyzones and can be triggered with MIDI notes in an intuitive and extremely flexible way. This way you are able to perform hair-raising sequences, and playfully put the effects you want in the places you want, whenever you want. 
Artillery 2 now provides 28 innovative effects and unlimited creative possibilities: turn an EQ into a multiband comp with a set of envelope followers, let a looper scratch its buffer using a stepseq, play pitched delaytimes on the keyboard, or let ringmodulator´s pitches jam along th transients of your audio signals. Even a vocoder with internal synth is included.
Use Artillery 2 to do magic with your tracks or live signals on stage, in your VST/AU/RTAS compatible DJ software or in your studio setup.
Artillery is a multi effect - Effects are assigned to keyboard zones and enabled with midi notes.
Universal Modulator - Each effect parameter has its own modulation engine containing LFO, Envelope, Envelope Follower and Step Sequencer.
Key Track - The note position inside the effect zone can control parameters.
Mix Envelope - Each effect has an envelope for Dry/Wet Control.
Features
Delay

Standard Delay
Diffusion Delay
Filter Delay
Reverb
Tonal Delay

Filter

Eq
Multimode Filter
Vowel Multimode Filter
Vintage Lowpass

Amplitude

Amp
Compressor
Sync Dumper
Enveloper
Normalizer

Granular

Looper
Step Looper
Tonal Looper
Reverser
Pitch
Turntable

Modulation

Flanger
Chorus
Phaser
Ring Deluxe

Special

Retro
Vocoder
Overdrive
Karaoke
System Requirements
PC: WinXP/Vista/7 32/64bit, 1GHz, 128MB RAM
Mac: OSX 10.4+, 1GHz, 128MB RAM 
Awards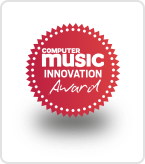 Product Reviews
With its sizeable arsenal of tempo-synced effects, Artillery 2 will have you armed to the teeth for your next live performance. Artillery 2 is...

Firing Range Artillery2 loses the grid, instead building on the idea of turning your MIDI keyboard into a real-time control device. Zones on...
You may also like