All Sugar Bytes products for a small price. Save over 50% on the indvidual plugins!
Click the UI to visit the plugin page for more info, videos and free demo trials.
A Versatile Poly Synth with a Unique Modulation-Matrix and Sequencers.
Modular Synthesiser for complex and organic sounds. Choose from the most particular synthesis methods, let yourself be charmed by the Matrix and morph between the most improbable variations of your sound. Four sequencers are pulling the strings behind the curtain. 
Key Features:
Poly Synth with Mod-Matrix and Sequencers
2x10 Oscillator Engines
Sub-Oscillator with Ringmodulation
Noise Generator with 5 colors
8x10 Mod Matrix with 36 targets
Morph Fader, 2 States & Copy/Paste
Sample & Hold Modul
8-voice VA-Sync, Wavetable, Waveguide & Fractal Synthesis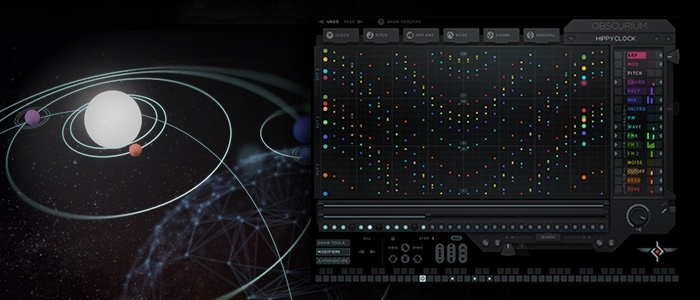 Productive Synthesis Tool with VST Hosting & Generative Pitch Engine
Obscurium is a synthesis tool for sound and pitch. It feeds on your input of scales & chords to produce futuristic soundscapes and vivid harmonics.
Key Features:
Avantgarde Sound Design Tool
8-voice Saw, Pulse, Supersaw and FM Synthesis
VST Interface can host & control plug-ins
Generative Harmonies or straight MIDI-Input
MIDI out
Draw Tools, Modifiers and Super Obscure Mode
Parameter Shifting
400 Presets with Pads, Drums & Atmos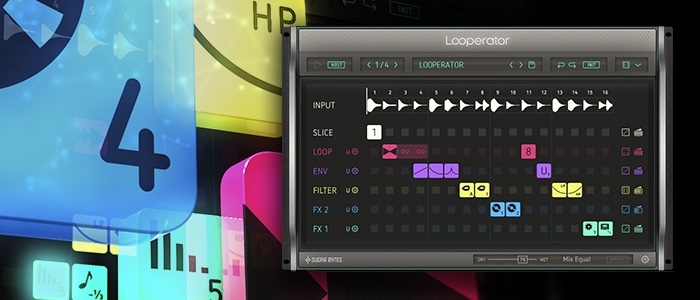 Loop Design Powerhouse. Rearrange your Groove!
Looperator chops up your audio and turns it into something new. In the process, you can dispose of the classics like Filters and Reverbs, but also trippy Loop and Vinyl manipulations. Looperator makes you sound as if you worked on your track for hours and hours and really all it took was a click of a button.
Key Features:
16-Step Sample Slicer
Looper with Reverse Mode
Time Stretch & Talkbox Filter
Recall presets with MIDI notes
Independent Control for left/right Channel
Unlimited Undo/Redo
Intelligent Random
5 Parameters per effect and step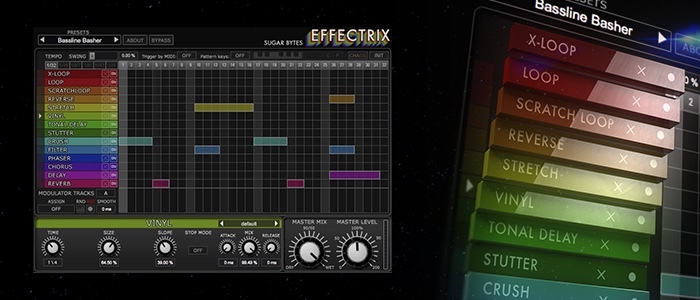 Professional Multi-Effect Sequencer with 14 Expressive Tools
Effectrix is a professional multi-effect sequencer, a game-changer in the way contemporary music is made. By painting coloured blocks across a sequencer, quite simply, your tracks metamorphose into fireworks. Looping, Scratching, Reverse & Stretching – in real-time and on-the-fly.
Key Features:
16-Step Sequencer with Tempo Divider
14 synced Effects from classic to advanced
Recall 12 Patterns via MIDI keyboard
Swing Feature
Copy/Paste, Chaos button & Loop Length
Unique Parameters per effect
2 Modulation Tracks
Hundreds of global presets and per effect
Creative Multi Filter. That Warm and Juicy Sound
Everything that you need in a filter unit – and nothing that you don't – in a compact GUI that gets right down to business.
Key Features:
21 Filter Types
LFO, Env.-Follower, Step Seq. & Wobble
Non Aliasing
Distortion with 3 Overdrives & 4 Digital Functions
Distortion Pre- or Post Filter Units
Envelope Follower with Frequency Detection
9 human vocal Sounds in Vowel Filter
Dynamic Oversampling across the board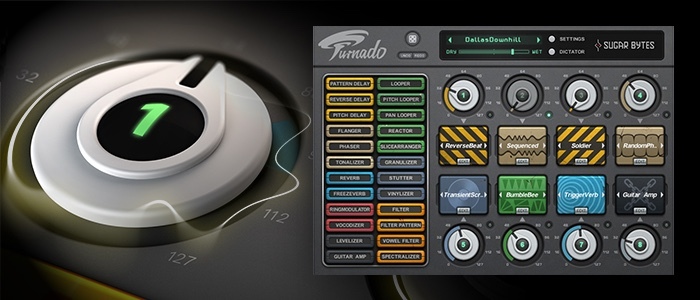 Revolutionary Multi Effect for Massive Real-Time Audio Manipulation.
Keep it simple! Turnado comes with 8 knobs, each firing up an effect and varying it with their dial. It invites play and experimentation with one or several effects. Customise 24 effects in expert mode. If you want it even more compact: in Dictator Mode, you can control all 8 effects simultaneously with a single fader.
Key Features:
The Silver Bullet of Audio Manipulation
24 Effects in 8 Slots
Classic: Delay, Reverb, Amplifier, Filter
Hi-Tech: Modulation, Tranformation, Loops & DJ
Modulation via 2 LFOs & Step Sequencer
Dynamic Signal Flow
Dictator Mode
Runs stable and low on CPU Load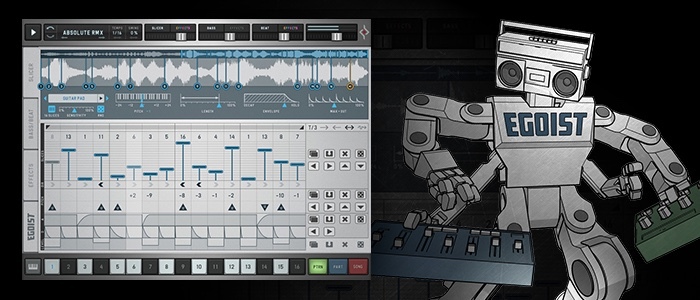 Load any Audio File and Squeeze the Groove Out of It!
Use samples or full songs as a sound source. Instant Groove. The onboard bassline, a drum machine and the multi-effect sequencer make Egoist the perfect track sketching tool in the studio and on the road. You'll soon fall in love with its distinct features and concept.
Key Features:
Slicer, Bass, Beat and an Effect Sequencer
Easy Arranging of Sample Slices
Perfect Track Sketching Tool
Arrange up to 16 slices with detailed control
Round and fat basses or blatant 303 lines
Beatbox with HiHat, Kick and Snare
Effect Engine for bright colours in the right spots
Song Arranger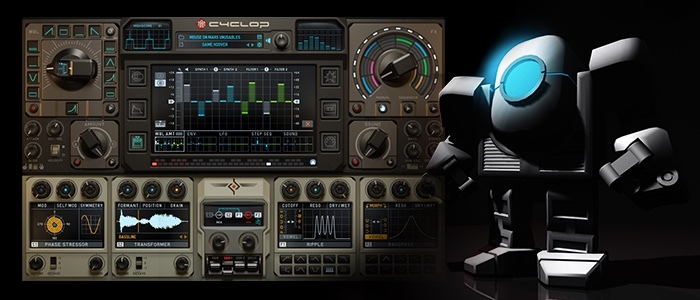 Twisted Bass: Pure Madness at the Low End of the Spectrum
Monophonic, raw and unbelievably versatile. Cyclop is packed with tools for the bass of the future and beyond. Wobble Knob, FX Sequencer and a hilariously versatile sound engine will give you endless joy.
Key Features:
Monophonic Setup
6x2 Synthesizer, incl. Sample Transformer & Phase Stressor
10x2 Filter, incl. Vowel Mode
FX Sequencer
Deep Modulation System
Effective Preset Cloud Browser
Free Signal Flow
Wobble Generator!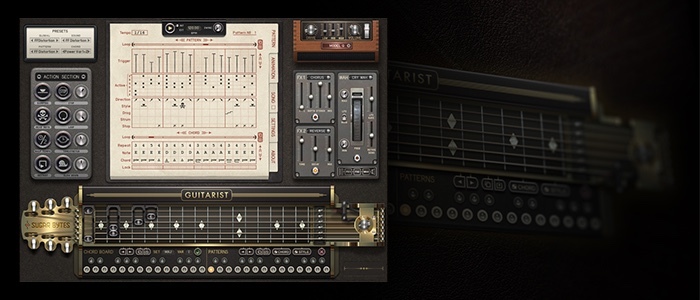 Expressive E-Guitar Emulation. Authentic Riffs and Sizzling Amps
Guitarist is a virtual guitar that's designed to emulate rhythm parts played on an electric guitar. The actual guitar player has been transformed into a step sequencer system with a huge level of customisation when it comes to chords or fingering patterns and a detailed control over authentic nuance and expression.
Key Features:
Four electric Guitars with more to come soon
More than 2,000 Samples for each Sixstring
Control over Strum, Chords & Song Structures
Action Section for real-time Control
Slides, Vibratos or Portamentos
Warm Amps and Direct-Out
10 Effects plus Wahwah Pedal & Talkmode
Mute or De-tune individual Strings
Chord Groovebox with MIDI-Out and 800MB's of Sounds
Consequence is an arpeggiator, which creates a sequence of notes based on the chords that you provide. Up to 3 instruments can be loaded up, and a vast number of sequencing options can be used to control the way that the plug-in "interprets" your input.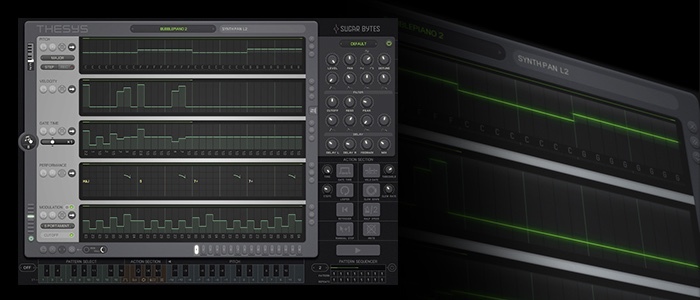 Pitch Sequencer with Vast MIDI-Out Capabilities
Step Sequencers are an attractive concept. Machines making music. Who could better awake the genie in the machine than Thesys, the drawing board for step-based music creation? A refined Randomiser is ready, whatever the current situation, to mutate existing material or to bring a new approach on the table.
Key Features:
3 Oscillators in a 32-Step Sequencer
Easily creates complex sounds and rhythms
Hundreds of natural sound samples
Charming multi-effect section
Individual Envelope per instrument
Onboard 4/4 Kickdrum
Polyphonic Triggers per Step
MIDI Out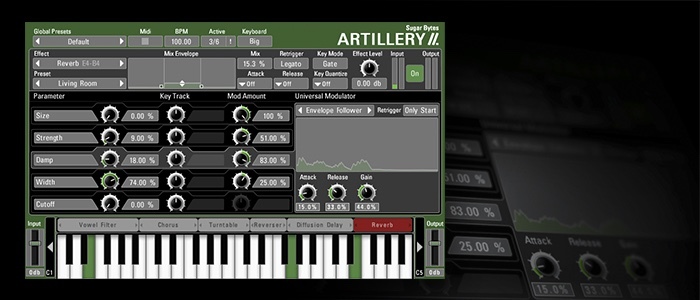 The Effect Keyboard. Do Magic with your Tracks!
The concept is as simple as it is effective: An arsenal of 28 effects can be assigned to zones on your keyboard. Then fire up the effects with your keyboard! Artillery simply is a great product, allowing you to create mad effect orgies in an intuitive manner. As you become familiar with its possibilities, you'll find yourself turning to Artillery more and more often, be it on stage or in production.
Key Features:
Multi-Effect with definable keyboard zones
28 Effect Algorithms
Consistent MIDI Integration and Host Sync
Flexible Modulation System with Key Tracking and Universal Modulator
Dedicated Modulation, Env. & Dry/Wet per effect
Each Parameter: LFO, Env-Foll. & Sequencer
Vocoder
MIDI-Out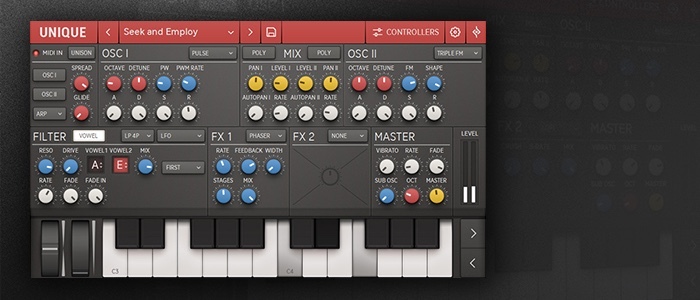 Virtual Analogue Synth Keen on Vocals
Unique specialises in state-of-the-art vowel sounds and mighty, mighty analogue sounds from the Golden Age of synthesisers. Her assertive sound should not be missing in any VST folder. 
Key Features:
Sawtooth, Triple Saw, Pulse, Triple FM, Noise with tonal Filter, Sub Sine
5 Filters with 5 Modulators each
Vowel Filter
Duophone Arpeggiator
Two Effect Sections
x/y Pad with Recording
MIDI Learn & Host Automation
300 groovy presets by various artists
System Requirements
Mac OS:
Requires Mac OS 10.6.7 or higher
Min. screen height: 800 pixel
Audio Unit, VST2, AAX, Standalone
Windows:
Requires Windows 7 or higher
Min. screen height: 800 pixel
VST2, AAX, Standalone
Awards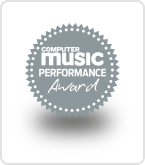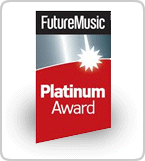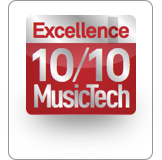 You may also like