All Sugar Bytes products for a small price. Save over 50% on the indvidual plugins!
Click the UI to visit the plugin page for more info, videos and free demo trials.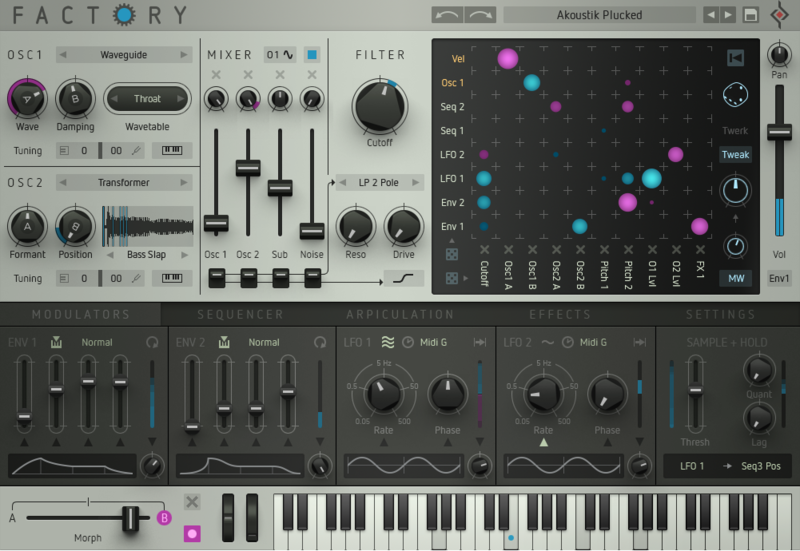 Factory is your safari ticket to the wilderness of sound. Bearded basslines go fishing for diamonds in a lake full of frogs. Crank the crossfader to morph from a tricky beat to some mellow chords. Combine what no one else has combined yet. This is not your usual preset-clicker. Factory is the new poly-synth from Sugar Bytes.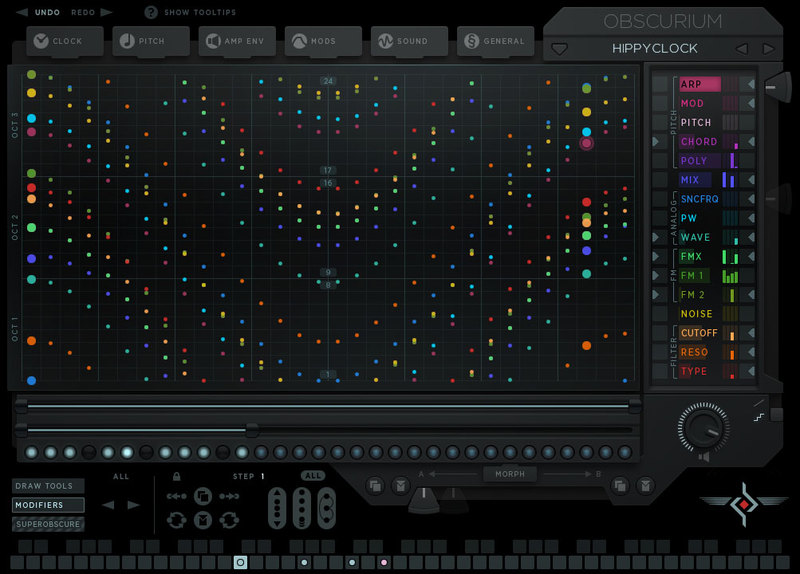 Obscurium is a generative synthesizer and timbral organism. Feeding on scales, chords and synthesis, producing vivid harmonics paired with an elaborate aesthetic. It is the source of a dazzling array of organic and lively sounds, delivering spherical pads, bubbly arpeggios and deadly percussion attacks.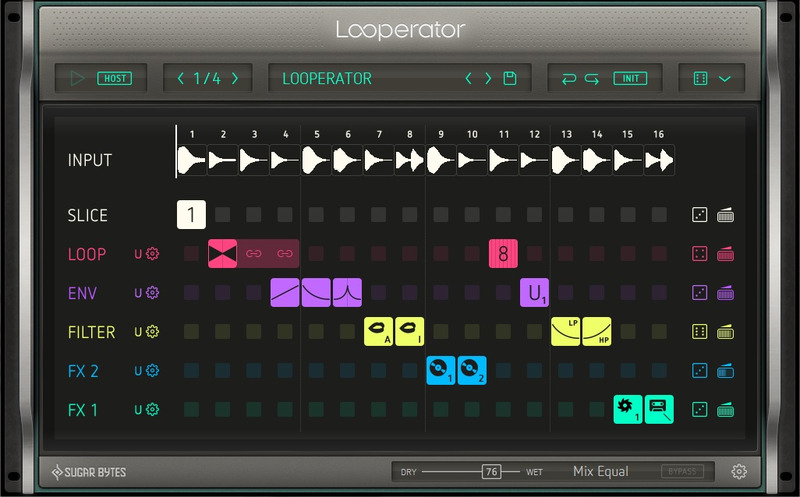 Looperator makes designing subtle rhythmic enhancements to spectacular effect pyrotechnics easy and fun: Its expressive potential quickly approaches the character of an "instrument".
Like all our software, we developed Looperator with operational fluidity at the top of the agenda. The deep parameters allow for intense technical performances, while the casual user can enjoy instant DJ-like fun. Either way, the audience will be equally fascinated. The dynamics and depth emanating from our new multi-effect is sure to touch every fan of modern music.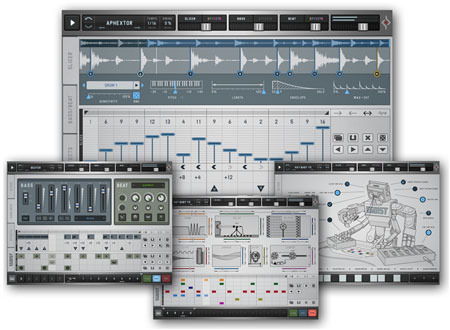 Egoist is a groove instrument. Load any audio file and squeeze the groove out of it! Try your mp3 library and use it a a sound source! The additional onboard bass, beat and fx units make Egoist the perfect track sketch tool in the studio and on the road.
Parameter madness and endless obsession with details often suffocate creative composition on computers.
Egoist is different: Playful, yet effective. A pragmatic toolset to make unique music on a professional level. Music, that exceeds mediocrity and stands out from the crowd of predictable tracks.
Cyclop has landed. A powerful monster that has grown out of all the sounds in the universe. And with it comes bass — lots of it. Synthesis in its purest form. Spectral, digital, or fat analog. Use your own samples as a wavetable, throw effect sequencer orgies, drop on filters and make wobble basses never heard before. Cyclop is here to create new sound. Wrap your bass around your drums like melted sugar around a hot chili pepper. Cyclop is monophic and it will blow your mind. Wobble bass? Dubstep? Do something completely new!
Cyclops is available in NKS Format!
Turnado is a revolutionary multi-effect tool, crafted especially for massive real-time audio manipulation. It combines unique and dynamic effects with the most intuitive and immediate control you can imagine. Just turn it on and crank it up. In the studio, simply dial in your effect from a super-sweet selection of 24 pro-quality algorithms, then mash up your audio content with minimum fuss, quickly adding dynamic variation to your arrangements. Take it to the stage and unleash Turnado's true power. With instant access to eight effects and immediate control over key parameters, Turnado is guaranteed to cause devastation on the dance floor, shredding beats and crunking breaks to insane proportions.
We proudly present the complete electric guitar solution for Mac and PC. Absolutely convincing guitar riffs, combined with amps, wah pedals and effects. The actual guitar player has been transformed into a step sequencer system that allows control about playing styles, chord progressions and song structures. Guitarist can be played live as well, with just two fingers you can combine chords and patterns easily. 
Guitarist can be played live as well, with just two fingers you can combine chords and patterns easily. You can choose from factory chords or just create your own chords on the fingerboard. The Action Section allows you to tweak the sequence in realtime and apply timestretch, looper or other crazy effects. Guitar players, keyboarders, producers, Guitarist is the new solution when guitar tracks are needed.
Thesys is an extremely powerful and intuitive MIDI stepsequencer plugin, giving you control over just about all aspects of your favorite MIDI devices. Use Thesys to create varied and organic bass lines, screaming leads, pulsating chords, and organic pad sounds in the studio or on stage.
For live musicians, Thesys provides an extremely versatile palette of performance options which can be triggered right from your MIDI keyboard: you can transpose, manipulate, twist up, mutate, and mangle your patterns without even getting near your computer.
This incredible machine will stir up your tracks and galvanize your production routine. Chords are organized via sequencer, cut in arpeggios and converted to delightful basslines, charming melodies and seemingly unreal textures of sound. CONSEQUENCE is a chord groovebox thats both overflowing with possibilities and enabling an intuitive workflow, capturing any of your ideas directly via audiorecorder. An extensive sound library contains all kinds of instruments – from powerful analogue synths to most subtle violins. CONSEQUENCE is a compositioning tool for you to try out chord patterns in a matter of seconds. This mega-instrument also mutates everything you play via MIDI into the discosound of tomorrow.
Effectrix is the perfect tool for sequenced sound manipulations. Tweak your beats, create new rhythms, reverse parts, stretch others, apply delaylines; even create melodies with atonal material. If you like, do it all at once! Have it your way with 14 Candy Effects of Sugar Bytes latest Bang Effectrix, each one providing its own stepsequencer and two modulation-sequencers.
See Effectrix as a musical instrument with lots of possibilities for different expressions of existing material. Sounds of any kind can be transformed to exciting beat structures and soundscapes.
The Effect Keyboard. MIDI controlled Multi FX with a lot of algorithms and super versatile modulation. The number one performance effect. The Artillery concept is as simple as effective: Effects are assigned to keyzones and can be triggered with MIDI notes in an intuitive and extremely flexible way. This way you are able to perform hair-raising sequences, and playfully put the effects you want in the places you want, whenever you want.
Artillery 2 now provides 28 innovative effects and unlimited creative possibilities: turn an EQ into a multiband comp with a set of envelope followers, let a looper scratch its buffer using a stepseq, play pitched delaytimes on the keyboard, or let ringmodulator´s pitches jam along th transients of your audio signals. Even a vocoder with internal synth is included.
The special synth with that supermighty sound. Includes juicy vowel filtering, crazy modulation possibilities, two multi effects and a lot of new thinking. The Unique synthesizer specializes in state-of-the-art vowel sounds and mighty, mighty analog keyboard sounds. With Unique, it takes just a rightclick on a control and complex parameter rides with internal and external controllers become a joyride. And that's what they should be, after all.
The source of the Unique's truly unique sounds are its direct and powerful sounding oscillators. The Triple Saw and the Triple FM algorithms cover such a wide range of sounds, we spent extra hours to make all this available by using just a few controls. The noise oscillator with built-in filter can be used in a tonal mode, the right choice for the vowel filter.
We dreamt of a WOW2 and now it is here! With a future-dripping user interface, 21 incredible filter types with the famous vowel mode. With distortions that cover your tracks with gas and put them on fire. Modulations that cause more trouble than your modular dark room. And finally that warm and juicy sound, that you were looking for. 21 Filter types like Lowpass, Bandpass, Highpass, Bandreject, Comb and much more. Low pass types up to 48 db, including flavors like SVF, Diode Ladder and Transistor Ladder.
21 Filter types like Lowpass, Bandpass, Highpass, Bandreject, Comb and much more. Low pass types up to 48 db, including flavors like SVF, Diode Ladder and Transistor Ladder.
The filters and distortions have been designed for best harmonics without aliasing, for high definition audio quality.
The ultimate Channel Strip. Gives your records the touch of expensive hardware devices, signals appear shiny and with more presence immediately and receive the final polish from first class virtual analog processors like Gate, Preamp, Overdrive, Compressor, Dynamic EQ, Multimode Filter, Delay and Reverb. Producers know: microphone recordings all too often lack the presence and power of digital sounds. The flute, the guitar, the voice you wanted to sit on top of your track threatens to eventually drown in the surrounding sounds. Now there's two things you can do: rob a bank and buy analog gear the size of your house – or get Sugar Bytes' VOGUE.
System Requirements
PC: WinXP/Vista/7/8 32/64bit, 1GHz, 2GB RAM
Mac: OS X 10.6+, 32/64bit, 1GHz, 2GB RAM
Plugin Interfaces: VST / AU / AAX / NKS (Cyclop Only) 
Screen Resolution: 1024 x 800
Please note: 
Only Cyclops is available in NKS Format
Awards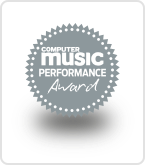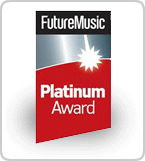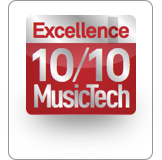 You may also like