"An absolutely powerhouse synth at a very modest price".
Keyboard Magazine. The most trusted information resource for keyboard players and producers in all styles of music.
Download Plugin Boutique's Exclusive FREE Z3TA + 2 presets!
Z3TA+ 2

Waveshaping Synthesis for Mac and PC:
Ultimate waveshaping control with dozens of sonic tools
Intuitive and graphically responsive interface
2,000+ professionally crafted presets
Built-in fully customisable studio quality FX
Z3TA+ 2 - The Ultimate Waveshaping Synth
Z3TA+2 is designed to suit any and all of your electronic productions. From pop to rap, energetic to atmospheric, you'll have the sounds you need at your fingertips.
Waveshaping Synthesis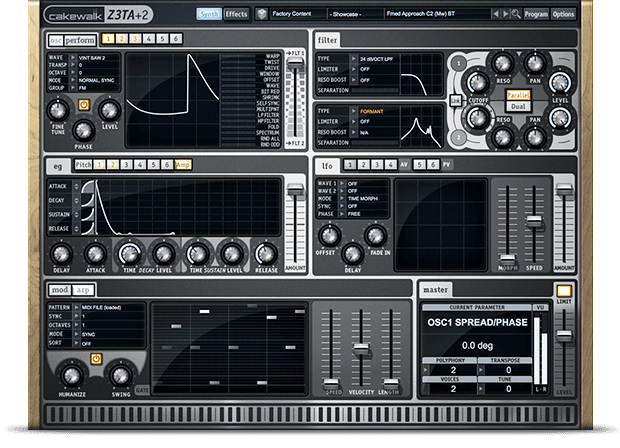 Choose, tweak, and fine-tune your waveform
Free and adaptive pitch-bending analog style performance grid
14 continuously variable dual-stage filter types
Envelopes to control any parameter
6 Powerful LFOs for individual or universal control
Straightforward Mod Matrix and Arpeggio tools
Global control for a crushing brick-wall limiter, level, tuning, and polyphony
Built-in Effects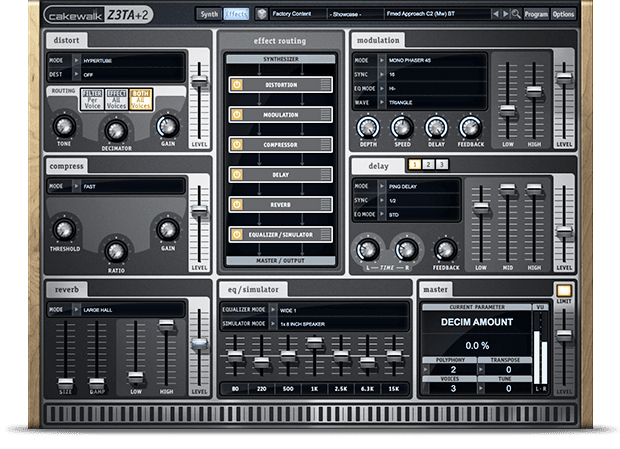 5 distortion types, plus routing options and continuously variable controls
Slow, Medium, and Fast compression with threshold, ratio, and makeup gain controls
Totally tweakable Room, Hall, and Plate reverbs
7-band graphic eq with variable band settings and colourful Simulator Mode
9 adjustable Chorus, Phaser, and Flanger effects
4 Stereo Delay types with Sync and EQ controls
Drag-and-drop effects in any order
What's New?
We've recently updated Z3TA+ 2, introducing a wealth of new features and enhancements for Mac and Windows users:
AAX Support for Pro Tools users
Windows 10 Support
OS X El Capitan
Mac OS X El Capitan Support
VST3 Support
4 Stage Phaser
Arpeggiator Bypass
Improved Search Functionality
Load FX from another program
Mod Matrix Additions
Dozens of fixes and enhancements
Synth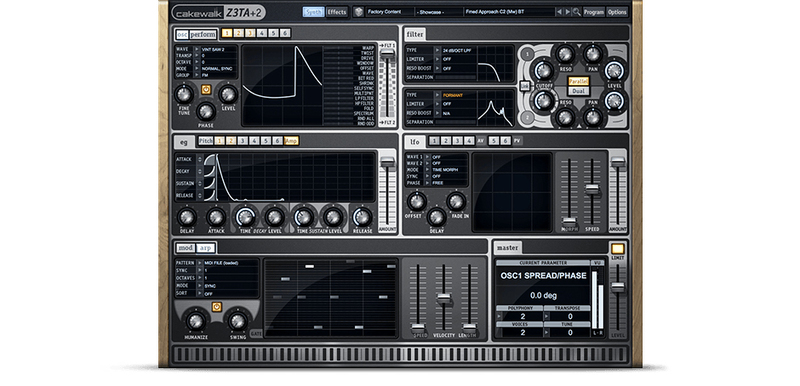 With a wealth of waveshaping tools, Z3TA+ 2's interface has everything you need to build a sound from the ground up:
Osc/Perform: Choose from a vast collection of wave shapes or add your own, then modify it to your heart's content. Perform with analog feel and digital precision using real-time controls.
Filter: 14 different filter types, real-time visual response and link, dual, and parallel routing modes
EG: Graphically Controlled Envelopes provide visual representation and feedback of all Envelope Generators
LFO: Create LFO's as simple or complex as you need them to be. Clearly see the resulting LFO shapes when morphing between 2 waves
Mod/Arp: Clean Mod Matrix with updated routing capabilities. Graphical Arpeggiator for instantly building musical grooves
Master: Visual feedback of everything else, and a brickwall limiter to cap it all off
Effects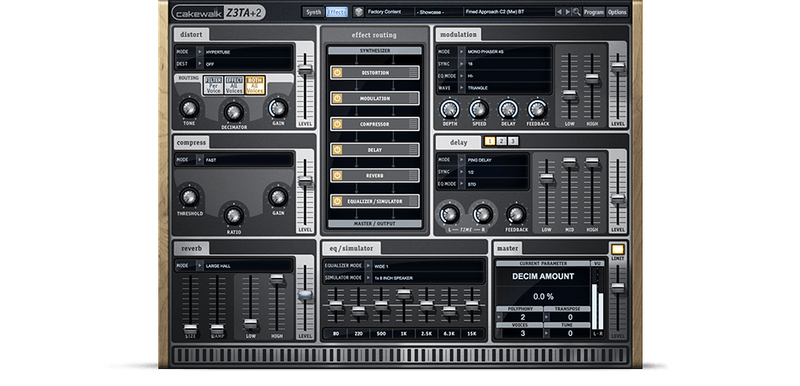 Bring your sounds to life with a variety of effects and routing options:
Distort: Add a little warm saturation or annihilate your sound completely with 5 distortion modes and variable controls
Compress: 3 compression modes to even out your performance or use as an effect
Reverb: Create and customize a sonic space for your sounds
EQ/Sim: 12 EQ Modes and 30 simulators to graphically shape and sculpt the sound you're after
Modulate: Syncable Chorus, Phaser and Flanger effects with all the controls to tweak to perfection
Delay: Use up to 3 separate delays at once and create captivating spatial effects
Route: Instantly alter the routing of all 6 effects in one simple drag-and-drop interface
System Requirements
Mac:
Minimum: OS X 10.8, Recommended: OS X 10.10 - 10.12
Processor: Intel Core 2 Duo or newer
Memory: Minimum 2 GB RAM
Disk space: Approximately 60 MB
Formats: AAX, Audio Unit, VST3i (32 or 64-bit)
PC:
Minimum: Windows 7, Windows 8 / 8.1, Windows 10
Processor: Intel Core 2 Duo or newer
Memory: Minimum 2 GB RAM
Disk space: Approximately 60 MB
Formats: AAX, VST2i, VST3i, Standalone Version (32 or 64-bit)
Note:
Internet connection is required
Notice: Security update 2015-001 included in the 10.10.2 update introduced compatibility issues with Z3TA+ 2.
Product Reviews
Review: Z3TA+2: Galaxy of Sound A favorite among PC users for years, Cakewalk finally brings their flagship virtual synth to the Mac with Z3TA+2,...
You may also like