The Predatohm plugin is one of my all-time favorite plugins.
Craig Anderton. leads a dual life as a musician and author. During the early '70s he played sessions on both guitar and synthesizer for Epic, Columbia, RCA, United Artists, and other labels. He has played on, mixed, or produced over 20 major label releases, including his solo album "Forward Motion."
The fastest way to get that BIG PHAT sound
It's no easy task to turn a lifeless signal into a warm, punchy sound. Predatohm, a multi-band overdrive with many useful features and capable of producing all kinds of distortion from vintage tube to aggressive blast, does it very well. So well, in fact, that it received a best plugin award from Computer Music!
Complete Enhancing Arsenal
To put it technically, Predatohm is a 4-band distortion with compressor/expander features for each band. To start with, on each channel 13 distortion types cover a wide range of options. Moreover, they control not only tones but also stereo widener for mono-to-stereo processing and a creative feedback generator.

Get that Vintage Tone
Guitar players know how valuable a warm, vintage tube sound full of harmonics is. The good news is that you can get this tonal character out of Predatohm very easily. Welcome back to the golden era of tube amps! Used on vocals, you can go as far as to get megaphone or radio effects!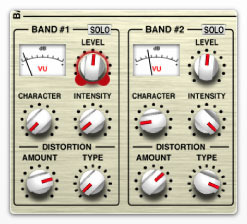 PHATen any Sound
Actually, Predatohm is good to any source that sounds too dry or thin. On activating, you will immediately add bass punch to your rhythmic section. Your listeners will not be able to help but marvel, like "D*mn, this synth line is so PHAT!!!" Of course, you can push distortion even further, but you better mind your speakers!

Simplicity of Use
Despite a large palette of controls and possibilities, Predatohm remains a very simple plugin to use. You will quickly understand how its interface is organized, be it the classic or the funky skin. For usability's sake, all of the parameters are automatable via MIDI, as with all Ohm Force plugins.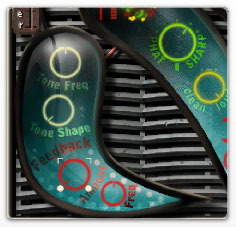 Two Skins, Two Paths to the Force
Ohm Force plugins come with two skins: the classic one gives you all the controls in a neat, old school analogue rack-like interface. It's a good point to start learning and get familiar with the plugin's capabilities. The other one, called 'funky', embodies the true spirit of Ohm Force.
System Requirements
Mac (32/64-bit)
Windows (32/64-bit)
Note for Pro Tools users: Our RTAS formats have been reported as presenting certain issues in Pro Tools 10. Unfortunately, there is currently no plan for fixing them. Therefore, we recommend that you test our demo versions before purchasing in order to check their compatibility with your gear.
You may also like