"Malfunction is not an effects processor for the faint-hearted. Effective sound-masher. Goes from extreme to ridiculous."
Computer Music Magazine. Computer Music is a monthly magazine published by Future plc in the UK. It covers the topic of creating digital music on a computer.
Circuit-Bent Filter
Turn drum loops into glitchy mayhem. Make basses scream and beg for mercy. Burn anything to ashes. Malfunction is a unique tool for extreme sound destruction.
Warped from inside. This unique effect is based on a special low-pass filter that has been "circuit-bent" - that is, the algorithm has messed up internal connections and doesn't operate normally. It produces an incredibly characterful, screaming distortion that is full of attitude and puts out various unpredictable but controllable buzzes and noises.
Motion Modulation
Malfunction features a very flexible tempo-synchronised LFO with four waveforms, innovative per-cycle random mode and variable smoothness. It can be used to modulate the input low-pass filter, the circuit-bent filter or the output multi-mode filter – letting you easily do complex sound destruction and morphing.
Effectively Simple
With its clean colour-coded interface, Malfunction is incredibly intuitive to work with. The logical control layout and responsive graphics make sure you always see what's doing what without having to ever consult the user manual.
System Requirements
Malfunction works with Logic, GarageBand, Live, MainStage, Maschine, Digital Performer, Studio One, ReNoise, Reaper, Bidule and other software that supports Audio Unit effect plugins. It comes in 32/64 bit format for Intel Macs running OS X 10.6 or later, and supports Retina screen resolution.
Note: 
This software is Mac compatible only (Audio Units) 
An Audio Units (AU) compatible DAW is also required to run this software
Product Reviews
Torturous tone plugin for sonic sadists There are countless plugins on the market whose sole purpose is to take your pristine audio clips and...
Also available in this bundle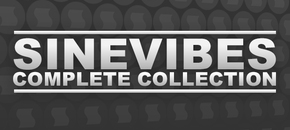 You may also like