SAVE £29 OFF Individual PRICE!
Probably the most iconic drum machines ever built, the TR808 and 909 Rhythm Composer, are now available to download in high resolution digital format, together at last!
After years of competing against each other, with the 808's boomy kick and melodic tom toms and the 909's crunchy hi hats and thumping kick, a truce has finally been made and they can both be yours to own in this snug little bundle.
With over 9000 24 Bit Wav samples, full presets libraries and two beautifully scripted interfaces, these fully fledged drum sequencers pay a real tribute to the original machines, and are in our opinion, the most accurate software recreations available to date.
Please note, you need a full copy of Kontakt 5 to run the sequencers, although you can also use the Kontakt 4, Ableton, EXS24 and Reason NN-XT sampler instruments.
​808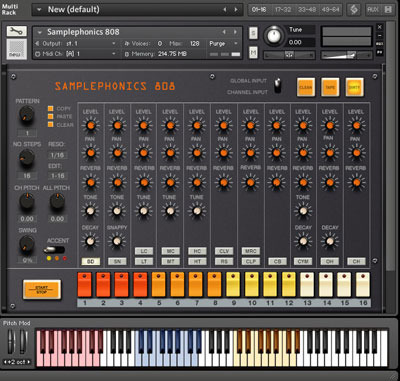 This is quite simply the last collection of 808 samples you will ever own.
Containing 4599 24 Bit Wav samples, with multiple input options available (clean, direct to tape and overdriven tape) and formatted for use in Ableton, Reason, Logic Pro and Kontakt 4, and Kontakt 5, we think it's about time you ditched those regurgitated, 2nd hand lo-fi samples that have been trawling the internet for years, and inject some real analogue goodness into your music!
Samples:
Each part of the insturment was faithfully sampled over and over again to capture the true sound of the instrument. This allowed us to recreate all of the functions of the 808, as well as add extra features. Velocity mapping and round robin layering combine to reproduce the subtleties that only a true analogue machine can create.
The Sequencer:
As well as sampler patches for all main DAW's, we've created a custom sequencer for Kontakt 5, which retains the true feel of the original 808, plus a few simple extra functions that make it even more intuitive and easy to use. For example, our intelligent pattern script allows you to play stored paterns on the keyboard without going out of time or losing yourplace in the beat if played legato. Once you release the keys the pattern resets and you can retrigger.
The Recording Process:
We spent a long time tuning and servicing this magnificent piece of hardware until it was as functional and clean as possible, before we set about the mammoth task of sampling every single feature multiple times. Initially we split the signal into 2, one going straight to digital at 192khz, and the other directly to a Studer analogue tape machine. We then sampled it all over again, this time through Chandler Germanium preamps (which allowed us to vary the input to the tape machine,) through the Studer, into a Neve desk and finally to disk. The result is 3 totally different sounding input stages that can be switched between, mixed and matched as desired.
Features
4599 24 Bit Wav Samples
Custom Sequencer for Kontakt 5
Sampler Instruments for Ableton Live, Reason, Logic Pro and all Major DAWs.
3 Input Options Available, including Direct to Disk, True Analogue Tape or Overdriven Analogue Tape.
Size: 834Mb (44.1khz) 
10 Preset Beats
909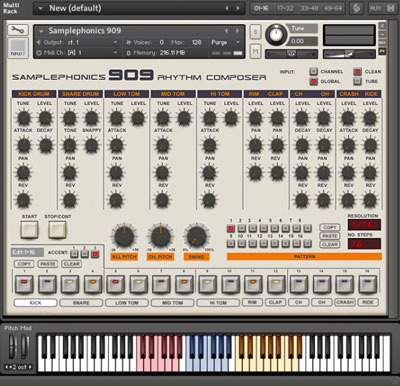 We're proud to bring you another huge selection of multisampled drum hits and custom Kontakt sequencer, this time from the legendary beast that is the 909!
Expect to find over 4000 24 Bit Wav samples, meticulously sampled through two inputs, one clean, and one through a Thermionic Culture 'Culture Vulture' to provide some real analogue tube warmth and extra beef!
This sample library is available to download with a deeply scripted sequencer for Kontakt 5 (please note the full version of Kontakt 5 is required to run this and the instrument only works in demo mode with the Kontakt Free Player.) Create, copy, paste and edit patterns and even play live. We've kept many features true to the original (and added a few more necessities) and we believe this to be the closest software equivelent to the real thing.
Take your music back to it's roots and inject some truly authentic drum samples into your next production. The 909 is back!
Features
4054 24 Bit Wav Samples
Clean and Real Analogue Tube Input Sources Available
Custom Aequencer for Kontakt 5
Sampler Instruments for Ableton, Reason, Logic/Garageband and Kontakt 4.2
You may also like