SAVE OVER £20 OFF THE FULL PRICE!
The Chemical Beats Bundle contains two of our flagship sampler instruments for Kontakt, Lithium Beats by EVAC and Plasmic Beats Ivo Ivanov.
Expect to find intricately designed royalty free one shot drum samples, and a beautiful custom drum manipulater and MIDI groove player for Kontakt 5.
Please note, you must own a full copy of Kontakt 5, and the library will work in demo mode only on the Kontakt Free Player.
Lithium Beats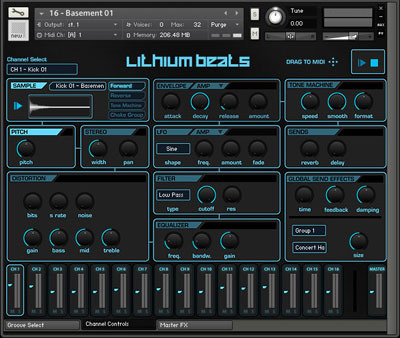 Introducing Lithium Beats, a revolutionary new drum machine for Kontakt 5, with a powerful custom interface and groove browser, over 400 expertly crafted 24 Bit drum samples from sound designer EVAC, and over 250 versatile midi grooves for a whole range of genres.
The machine is built around a beatifully diverse collection of drum samples, that were created from a huge collection of over 3000 field recordings and analogue machine noises, which were then painstakingly recorded, editing and finally assembled into a stunning collection of drum kits. All samples are laid out in a similar format, allowing midi grooves to be used between kits, and individual samples to be mixed and matched as desired.
The midi grooves can simply be auditioned and dragged straight from Kontakt to your DAW, where you can edit them as you wish...or just create your own grooves.
Each sample has a huge range of processing options available for those who like to delve a little deeper, meaning the samples can be completely twisted beyond recognition into something totally new. There is also a powerful master effects section offering superb EQ, transient designing and tape saturation possibilies.
It's been a long time in the making, but boy was it worth it!
Features
Custom Kontakt 5 Interface
Over 400 Drum Samples
270+ MIDI Grooves and Battery, EXS24 and Reason NN-XT Sampler Instruments
Plasmic Beats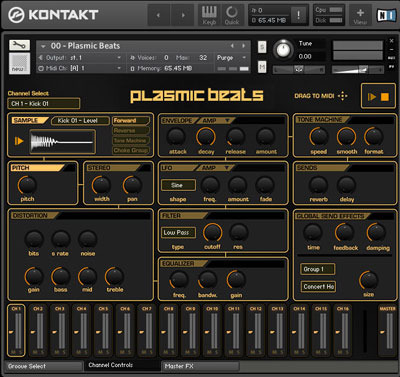 Presenting the eagerly anticipated follow up to Lithium Beats! Sound designer Ivo Ivanov takes things a whole lot glitchier, with 14 brand new warped kits and 105 new grooves, housed in a spectacular Kontakt interface that allows for a wealth of editing capabilities.
This drum sample player, glitch machine, beat twistedr and MIDI player requires the full version of Kontakt 5 and will only work in demo mode with the Kontakt Free Player. There are also sampler patches for Reason NN-XT, Kontakt 4.2, Battery and EXS24.
Features
Custom Kontakt Interface 238 Glitchy 24 Bit Wav Samples
100+ MIDI Grooves
14 Drum Kits and Templates
System Requirements
Requires Full Version of Kontakt 5 and will only work in Demo Mode with the Kontakt Free Player
Sampler Patches for Battery, EXS24, Kontakt 4.2 and Reason NN-XT
You may also like