"We especially love the Pro-DS plugin, which we use on a lot of our vocal tracks, and also the Pro-L, which is replacing our go to limiter on the master channel."
DJ Antoine vs Mad Mark. As an experienced remix team DJ Antoine and DJ Mad Mark produced remixes for big names like Mary J. Blidge, P. Diddy, Pitbull, Robin S., Guru Josh, Example and Ivana Trump.
Intelligent and Transparent
Even when using the best mics, pre-amps and converters, sibilance in vocal recordings can easily get over-accentuated during post-processing like compression or saturation. But don't worry, FabFilter Pro-DS comes to the rescue!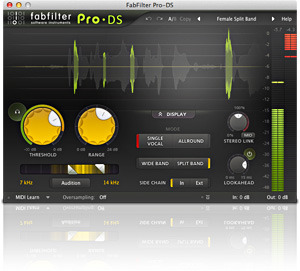 Accurate Detection
With its highly intelligent 'Single Vocal' detection algorithm, FabFilter Pro-DS accurately identifies sibilance in vocal recordings and attenuates it transparently.
When using the 'Allround' mode, Pro-DS becomes a great tool for high-frequency limiting of any material, like drums or even full mixes. Try it out yourself!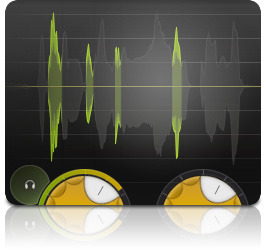 Everything You Need
FabFilter Pro-DS offers everything you need to get the best result possible, presented in a simple and easy-to-use interface. Wide band or linear-phase split band processing, an optional look-ahead of up to 15 ms, adjustable stereo linking with optional mid-only or side-only processing, up to four times linear-phase oversampling... it's all there.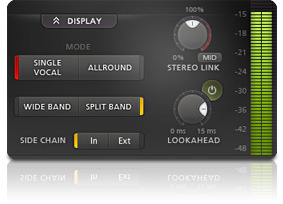 FabFilter Goodies
Of course, you also get all the usual FabFilter goodies: perfectly tuned knobs, MIDI Learn, Smart Parameter Interpolation for smooth parameter transitions, an excellent help file with interactive help hints, SSE optimization and much more!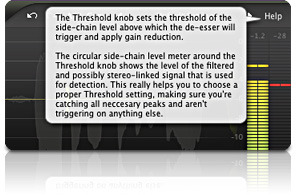 Key Features
Highly intelligent 'Single Vocal' detection, and classic 'Allround' detection
Transparent program-dependent compression/limiting
Adjustable Threshold, Range and detection HP and LP filtering settings
Wide Band or linear-phase Split Band processing
Optional look-ahead time up to 15 ms
Freely adjustable stereo linking
Optional mid-only or side-only processing
Up to four times linear-phase oversampling
Real-time de-essing display, clearly showing the affected parts of processed audio
Side-chain input meter, making it easy to choose a good Threshold value
Real-time spectrum analyzer built into the HP/LP filter controller
GPU-powered graphics acceleration
High-quality 64-bit internal processing
Double-click text entry of parameter values
Large and compact interface sizes
Stereo and mono plug-ins available
Supports common Pro Tools hardware control surfaces
MIDI Learn
Undo/redo and A/B comparison
Smart Parameter Interpolation
Sample-accurate automation of all parameters
Extensive help file with interactive help hints
System Requirements
Windows:
32-bit: Windows 8, 7, Vista or XP
64-bit: Windows 8, 7 or Vista (x64)
VST 2/3 host or Pro Tools
Mac OS X:
32-bit: OS X 10.5 or higher
64-bit: OS X 10.6 or higher
AU or VST 2/3 host or Pro Tools
Intel processor
Plug-In Formats:
All FabFilter plug-ins are available in VST, VST3, Audio Units, AAX Native and AudioSuite formats (all both 64-bit and 32-bit), as well as RTAS (32-bit only)
Awards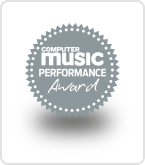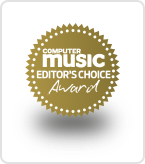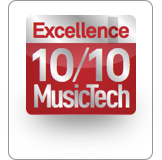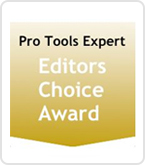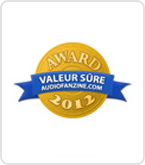 You may also like