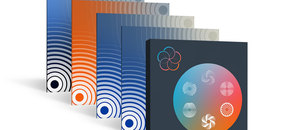 Music Production Suite 2.1 gives you access to over thirty industry-standard plug-ins that interact across your session and provide time-saving assistive features, innovative new workflows, and cutting-edge visual analysis tools. From vocal production to mixing and mastering, this go-to plug-in collection is everything you need for music production.
Enabling creativity through intelligent technology
Through inter-plugin communication, iZotope plug-ins in your session can send and receive diagnostic information, help you make mix decisions, ensure translation across devices and streaming services, and more. By automating the tedious in-between processes of music production, Music Production Suite 2.1 lets you spend more time doing what you love instead of troubleshooting. Music Production Suite 2.1 is an extension of your creativity, enabled by iZotope audio science.
What's Included:
Tonal Balance Control
iZotope Relay (NEW)
Over $2000 in music production tools
Over 30 individual plug-ins
Any references to any brands on this site/page, including reference to brands and instruments, are provided for description purposes only. For example references to instrument brands are provided to describe the sound of the instrument and/or the instrument used in the sample. Plugin Boutique do not have (nor do they claim) any association with or endorsement by these brands. Any goodwill attached to those brands rest with the brand owner. Plugin Boutique or its Suppliers do not accept any liability in relation to the content of the product or the accuracy of the description. "RHODES" is a registered trademark of Joseph A Brandstetter.