Connection – Sylenth Cinematic Soundbank
'Connection' for Sylenth is an experimental, cinematic soundbank. It contains 60 carefully engineered high quality presets to bring you unique timbres for use in all your electronic music and movie scoring applications. Beautiful pads, haunted atmospheres, piercing textures, mechanic sequences and avant-garde effects will provide inspiration to any producer seeking contemporary, experimental sound with a dash of retro nostalgia.
Movie scores in genres such Sci-Fi, suspense and horror will benefit most from this preset pack, but the provided sounds can also be used to great success in music, including ambient, electronica, downtempo and even EDM as intro or breakdown layers.
Adam Pietruszko
Created by Adam Pietruszko, a specialist in cinematic synthesizer programming and sample library production, to bring unsurpassed, extravagant timbre to your works.
Adam Pietruszko is a sound designer and synthesis teacher at the Academy of Audio Engineering in Warsaw, Poland. His trademark, avant-garde sound is built around analog and digital instruments, as well as field recording and processing. He specializes is cinematic sample libraries and synthesizer soundbanks. Constantly providing his soundscapes, atmospheres and effects to major soundware companies, primarily intended for use in motion picture applications, as well as music genres such as ambient electronica, dub techno, downtempo and chill.
Features
Total of 60 presets for Sylenth
System Requirements
The full Sylenth (Version 2.2 or higher) is required.
Important note: The full version of Lennar Digital's Sylenth synthesiser (version 2.2 or higher) is required to run this software!
Any references to any brands on this site/page, including reference to brands and instruments, are provided for description purposes only. For example references to instrument brands are provided to describe the sound of the instrument and/or the instrument used in the sample. Plugin Boutique do not have (nor do they claim) any association with or endorsement by these brands. Any goodwill attached to those brands rest with the brand owner. Plugin Boutique or its Suppliers do not accept any liability in relation to the content of the product or the accuracy of the description. "RHODES" is a registered trademark of Joseph A Brandstetter.
Also available in this bundle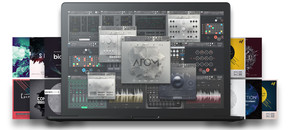 You may also like