Advanced Film & Game Sound Design Tool
Introducing ATOM, a unique new virtual instrument for Kontakt with a powerful custom engine fully equipped to spark your creativity.
The machine is built around a beatifully diverse collection of intricate textures and organic elements, that were created from a huge collection of field recordings, custom made acoustic instruments including a tuned anker, propellers, the famous Koka's experimental Box even a WWII Torpedo and analogue machine noises, which were then painstakingly recorded, edited using the most advanced sound design techniques and finally assembled into a stunning collection of abstract cinematic & experimental organic elements. with over 180 patches & presets to be mixed and matched as desired.
A unique sound design tool to create a huge range of distinctive cinematic sounds, otherworldly atmospheres, mesmeric drones, emorive synths, noisey pads, organic keys, impressive cinematic fx, transitional elements, Impacts and and Melodic Motifs each with its own character and concept behind the creation handcrafted with passion, innovation and technology. This virtual instrument plugin comes with 3.000+ samples, a highly versatile collection of on board effects, an incredibly intuitive multi-layer engine with separate effects and arpeggiator engine for each layer to provide hundreds of sonic combinations.
Atom has two layers of sound sources. The same 180+ sources are available on both layers and you can mix and match as you need to. Atom features a custom convolution reverb impulse engine, full synthesiser LFO's, filters, envelopes and a powerful dual arpeggiator engine for those looking to take their sound further than the preset patches.
Atom is preloaded with over 180 exquisitely crafted presets divided into five main categories ATMO, KEYS, FX, PERCUSSIVE & SYNTHETIC. Each sound can be shaped into lush evolving pads, dense uplifting chords, strange acoustic tones, deep Textures, ambient soundscapes, layered ambiences, Imacts, transitional cinematic FX and elements for adding drama and movement into your compositions with all advanced features that allow unlimited flexibility over morphing, manipulating and processing.
Features
180+ soundsources categorised into five categories encompassing a wide variety of sounds
7.2 Gb worth of total sounds (Compressed to 6.73 GB using .NCW Lossless format)
Full keyboard range of sample playback
Multi-Layer Engine
Individual Effects for each Layer
Individual Arpeggiator for each Layer
Random Sequence Generator
Optimized Functionality
Custom convolution reverb impulse engine
24Bit/48Khz resolution for all source samples
Multi-Genre versatility
Kontakt Instrument
System Requirements
Mac & PC Compatible.
The Full Kontakt Version 5.5.0 or higher is required to run this software.
Important note: nki Kontakt instrument presets require full retail versions of NI Kontakt 5.5.0 or later. The FREE Kontakt Player does not support these libraries. Kontakt requires Windows XP/Vista/7 or an intel Mac OS 10.5 or higher. The minimum recommended computer system should have at least 1GB of RAM, a dual core processor and a 7200rpm SATA hard drive.
Any references to any brands on this site/page, including reference to brands and instruments, are provided for description purposes only. For example references to instrument brands are provided to describe the sound of the instrument and/or the instrument used in the sample. Plugin Boutique do not have (nor do they claim) any association with or endorsement by these brands. Any goodwill attached to those brands rest with the brand owner. Plugin Boutique or its Suppliers do not accept any liability in relation to the content of the product or the accuracy of the description. "RHODES" is a registered trademark of Joseph A Brandstetter.
Product Reviews
In this review, we are going to be going over a new Kontakt virtual instrument made by Audiomodern called ATOM, which is a hybrid library targeted...

In this review, we are going to be going over a new Kontakt virtual instrument made by Audiomodern called Atom, which is a hybrid library targeted...
Also available in these bundles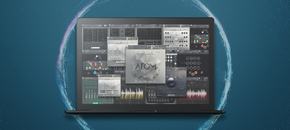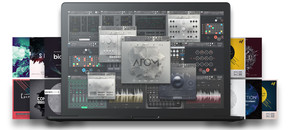 You may also like