Gold-Plated Perfectionism
Features
A virtual gold-standard drummer that follows your direction 
5 meticulously recorded kits. 
30 styles, 720 patterns (intro, verse, chorus, ending). 
Full control over tempo, timbre and variations. 
Custom FX algorithms.
Everybody Comes to Hollywood
Virtual Drummer Solid is your seasoned pro for sophisticated, grand productions. For all popular genres and moods, SOLID provides those untouchable gold-standard drumming styles and sounds that open record label executives' doors, hearts and wallets.
Hear the Difference!
Solid's drum kits were recorded with great attention to detail and love for the genre's specialities. We recorded real drummers' performances on a delicate selection of sought-after instruments, selected fitting recording rooms with prime acoustical space, and employed only the finest microphones, outboard gear and mixing equipment.
Virtual Virtuoso Heavy
SOLID comes with 30 styles, 720 rhythm patterns played on 5 drum kits covering the vast musical range for all popular genres and moods.
Human After All
Add realism and subtle playing variety with Humanize and Feel.
Character Counts
An industry-first: Select from ready-made mix character presets that drive a sophisticated array of algorithms under the hood. Imagine an automated mixing engineer, what you click is what you get.
It Might Get Loud
The Slam control is a smart compressor that adds, yes, you guessed it, slam to your drum sound. Make your drums stick out in the mix and adjust their punchiness with just one button.
System Requirements
Operating Systems:
Windows 7 or later, Mac OS X 10.9 or later
You may run it on earlier versions but we don't support them
Plugin Formats:
Minimum Requirements:
4 GB of RAM
> 1 GB of Disk Space
1280x768 px Display
Internet Connection
Delivery Format:
Downloadable Installer File
Supported Standards:
Any references to any brands on this site/page, including reference to brands and instruments, are provided for description purposes only. For example references to instrument brands are provided to describe the sound of the instrument and/or the instrument used in the sample. Plugin Boutique do not have (nor do they claim) any association with or endorsement by these brands. Any goodwill attached to those brands rest with the brand owner. Plugin Boutique or its Suppliers do not accept any liability in relation to the content of the product or the accuracy of the description. "RHODES" is a registered trademark of Joseph A Brandstetter.
Also available in this bundle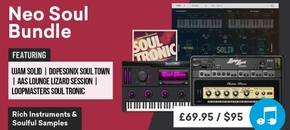 You may also like