PrimeEQ is a parametric equalizer plug-in for professional music production applications.  PrimeEQ was designed to be the first equalizer to reach for when track or mix equalization is necessary: just insert the plug-in, put and drag the control points to the desired positions.
PrimeEQ implements an extremely optimized user interface.  It features an innovative "differential" filter display which shows you how exactly a given selected filter contributes to the overall EQ shape.  All control points are placed on the overall EQ shape making the workflow with this equalizer fast and efficient.  PrimeEQ is similar to CurveEQ in this respect except that PrimeEQ uses independent parametric filters instead of a continuous EQ curve.
PrimeEQ features deeply customizable spectrum analyzer of the same high quality as found in SPAN, GlissEQ, and other Voxengo plug-ins.
Applications
Track equalizer
Mastering equalizer
Stereo, 5.1 surround equalizer
FFT spectrum analyzer
Transparent equalizer
Extremely optimized workflow
Up to 32 parametric filter bands
User interface window resizingPreset manager
Zero processing latency
New "differential" filter display
13 filter types
Stereo and multi-channel processing
Undo/redo history
Real-time spectrum analysis
Narrow-band sweeping
64-bit floating point processing
All sample rates support
Demo limitations
Processing output is muted for a moment every 45 seconds. (Demo version is authorized with a product key, which is a text string - no challenge/response nor dongle required).
System Requirements
This plugin is compatible with Windows (32- and 64-bit Windows XP, Vista, 7, 8, 10 and later versions) and Mac OS X (10.6 and later versions, 32- and 64-bit, Intel processor-based) computers (2 GHz dual-core or faster processor with at least 2 GB of system RAM required).  A separate binary distribution file is available for each target computer platform for each audio plugin specification.
Compatibility
This audio plugin can be loaded into any audio host application that conforms to the AudioUnit or VST plugin specification.
RTAS compatibility is available by using the FXpansion VST-RTAS adapter.
Any references to any brands on this site/page, including reference to brands and instruments, are provided for description purposes only. For example references to instrument brands are provided to describe the sound of the instrument and/or the instrument used in the sample. Plugin Boutique do not have (nor do they claim) any association with or endorsement by these brands. Any goodwill attached to those brands rest with the brand owner. Plugin Boutique or its Suppliers do not accept any liability in relation to the content of the product or the accuracy of the description. "RHODES" is a registered trademark of Joseph A Brandstetter.
Awards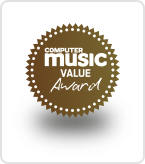 You may also like