MIDI Modulated Audio Effect
Audiomodern & StrangeLines present STREAKULATOR, created by developer Ernesto Cecco D'Ortona, Streakulator is a midi-modulated audio effect suitable for modern producers to use in the daily workflow, but it's suitable for many uses, mostly sound design. Its main job is to create crazy sounds with a human touch in no time: possibilities are endless.
What is Streakulator?
STREAKULATOR  is literally a swiss army knife for Ableton Live: you can do sidechain, sound design, waveshaping, filtering, wobble and growl basses, synth sounds from any source, heavy metallic effects, robostep sounds, perfectly synced gating, dramatically fast sound shifting with presets automation and it goes as far as your imagination can.
You can use STREAKULATOR with any kind of sound: organic sounds, acoustic instruments, drum loops, synth phrases and vocals too. You'll be surprised at any time about its incredible sound quality and flexibility in producing so different results.
Update V2 is Now Available
How it Works...
Streakulator is comprised of two main pieces: the "Midi to Streakulator" and Streakulator itself.
Streakulator is a midi-triggered audio effect, therefore it needs midi impulses to work, so here comes into play the Midi to Streakulator: put it in a new midi track, put some notes in its piano roll and your midi sequence will trigger filters, envelopes and effects in Streakulator. Note that the letter in the "MIDI TO" parameter should be the same in Streakulator's "MIDI FROM".
Ernesto Cecco D'Ortona
Software created by Ernesto Cecco D'Ortona [StrangeLines], user experience professional, sound designer artist and developer, to bring you the premium Max for Live experience.
Ernesto Cecco D'Ortona is a user experience designer, artist and Max/MSP guru from Italy. He's not new to the Ableton community for his innovative and easy to use devices. His very own project, StrangeLines, is focused on bringing strong and unusual electronic vibes to the mix through "strange" intruments, both pleasurable and fast to use in the daily rush of the busy music producer. Don't be fooled by the experimental mood: if you're looking for high-quality and uncommon results in no time, Streakulator is the perfect fit for you, no matter the music genre.
Features
FX mode switcher (regular effect or midi-triggered)
New signature (custom-modeled) filters and resonance control
Perfect gating/triggering with adjustable cut from very narrow to very wide
Way-beyond-recognition sound design and shaping capabilities.
New signature hybrid delay-chorus effect with extreme feedback and polarity (StreakFX section)
Real-time custom neuro-style pitch shifting (Warp control)
Fully automatable and midi-controllable.
Clean, minimalistic, modular, dry/wet-responsive UI
System Requirements
Ableton Live 9.5 & Max For Live 7.1 or higher are required.
The minimum recommended computer system should have at least 1 GB of RAM, a dual core processor and a 7200rpm SATA hard drive.
Important note: Both Ableton Live 9.5 & Max For Live 7.1 or higher are required to run this software!
Any references to any brands on this site/page, including reference to brands and instruments, are provided for description purposes only. For example references to instrument brands are provided to describe the sound of the instrument and/or the instrument used in the sample. Plugin Boutique do not have (nor do they claim) any association with or endorsement by these brands. Any goodwill attached to those brands rest with the brand owner. Plugin Boutique or its Suppliers do not accept any liability in relation to the content of the product or the accuracy of the description. "RHODES" is a registered trademark of Joseph A Brandstetter.
Also available in this bundle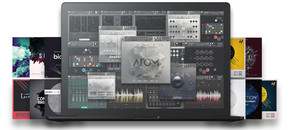 You may also like