Modern Grainy/Glitchy Reverb Plugin
Audiomodern & StrangeLines present Glitchverb, created by developer Ernesto Cecco D'Ortona, Glitchverb is a modern reverb plugin that features a big bassy compression reverb sound, but without actually compressing.
Choose between grainy or glitchy mode. The magic behind its huge presence on the freq spectrum, so rich to raise your volume levels quite dramatically, lays in the "Root" knob: it sets the root frequency to which "Bass" and "Treble" knobs will adapt their min/max values range.
Rest assured that it'll make sound your drums heavy like tons-heavy lead blocks.
Ernesto Cecco D'Ortona
Created by Ernesto Cecco D'Ortona [StrangeLines], user experience professional, sound designer artist and developer, to bring you the premium Max for Live experience.
Ernesto Cecco D'Ortona is a user experience designer, artist and Max/MSP guru from Italy. He's not new to the Ableton community for his innovative and easy to use devices. His very own project, StrangeLines, is focused on bringing strong and unusual electronic vibes to the mix through "strange" intruments, both pleasurable and fast to use in the daily rush of the busy music producer. Don't be fooled by the experimental mood: if you're looking for high-quality and uncommon results in no time, Glitchverb is the perfect fit for you, no matter the music genre.
Features
Grainy or Glitchy mode
Huge presence on the freq spectrum
Heavy Sound
Easy to use
System Requirements
Ableton Live 9.5 & Max For Live 7.1 or higher are required.
The minimum recommended computer system should have at least 1 GB of RAM, a dual core processor and a 7200rpm SATA hard drive.
Important note: Both Ableton Live 9.5 & Max For Live 7.1 or higher are required to run this software!
Any references to any brands on this site/page, including reference to brands and instruments, are provided for description purposes only. For example references to instrument brands are provided to describe the sound of the instrument and/or the instrument used in the sample. Plugin Boutique do not have (nor do they claim) any association with or endorsement by these brands. Any goodwill attached to those brands rest with the brand owner. Plugin Boutique or its Suppliers do not accept any liability in relation to the content of the product or the accuracy of the description. "RHODES" is a registered trademark of Joseph A Brandstetter.
Also available in this bundle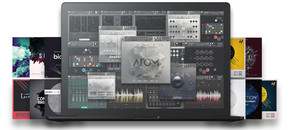 You may also like