Creative Contraptions
Tricky Traps is a collection of 16 creative contraptions spanning sequencers, instruments, Audio and MIDI effects that are tons of fun to play. Chain devices together to trigger unexpected reactions and happy accidents – and experience a new level of customized grid control on Push and Launchpad Pro/Mk2.
Essential Sequential
At the heart of the Tricky Traps collection are 5 unique sequencer & MIDI effects. Each device has its own unique properties that allow you to quickly generate unexpected melodic and rhythmic moments. Draw in sequences by hand and interact with your sound in realtime, all from the Push or Launchpad Pro grid.
Sound Control To Major Tom
The Tricky Traps approach to audio effects is focused entirely on custom control mapping and hands-on interaction with an effect or instrument parameter. The 3 audio effects contained in this bundle provide a whole new dimension of modulation and expressive, hands-on control from the Push and Launchpad Pro/MKii grid.
Sonic Playground
No MIDI sequencer collection is complete without sound sources to trigger. Tricky Traps provides simple and beautiful sounding instruments to be used in conjunction with its MIDI and audio effects. Each of the 8 instruments is stripped down to its bare essence, providing the crucial controls for that sound.
Learn More About the Included Devices
4PLAY
A melodic Step Sequencer with four simultaneous play heads, each with its own speed and direction
ISO-ARP
Create pseudo-random progressions with a scale and key. Great for generating melodic soundscapes that fluctuate over time
RADAR
A rhythmic circular sequencer where each lane can run at its own speed or direction. Assign each of the four lanes to any drum rack
RIPKORD
An intelligent chord generator combined with an arpeggiator/sequencer. Assign your favourite chords to single keys, quickly build in-key chord progressions and run the chord set through an expressive arpeggiator/sequencer for transcendent melodic patterns
RIPPLE
Generate sound ripples that echo on a grid. Set up notes and repeaters to create self oscillating ripple patterns
GRID NINJA
Map eight macros to any parameter in Live and trigger momentary effects. Play your audio effects like an instrument using the Push grid or MIDI keyboard
SEQ-MOD
Assign this 64 step sequencer to any parameter in Live.Use the Push grid to draw in your sequence and the slider to manipulate the modulation range
XYZED
Inpired by modular X-Y sequencers, this unorthodox device can be assigned to any parameter in Live and then fed different values and direction
808 BASS
808 inspired Kicks, Toms, Booms and Subs
AMBN
Mellow, ambient tones made for contemplative generative sequences
GLITCH THING
Glitchy, twitchy, robotic and psychotic sound generator
MAD FM
Thick bass and lead tones with extreme FM modulation and sound mangling
DIRTY TALK
Gritty talking vocal synth that can morph between vowels
SYNDRUM
Analog drum sounds recorded from a massive modular synth rack
TRANCEBOT
Deep, trancey leads sounds for epic arpeggios
TROPIX
Pure tropical sounds of Marimbas, Steel Drums and other melodic Percussion 
System Requirements:
Requires Ableton Live 9.6 Suite and Max For Live 7
Mac OS X 10.10 or 10.9 (latest update), Intel Core 2 Duo
Windows 7 or Windows 8 (latest service pack, 32/64-bit)
4GB RAM (8GB recommended)
Any references to any brands on this site/page, including reference to brands and instruments, are provided for description purposes only. For example references to instrument brands are provided to describe the sound of the instrument and/or the instrument used in the sample. Plugin Boutique do not have (nor do they claim) any association with or endorsement by these brands. Any goodwill attached to those brands rest with the brand owner. Plugin Boutique or its Suppliers do not accept any liability in relation to the content of the product or the accuracy of the description. "RHODES" is a registered trademark of Joseph A Brandstetter.
Also available in this bundle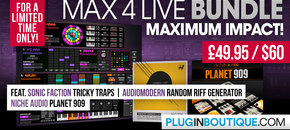 You may also like