Renew your upgrade plan for another 12 months.
Renew an existing upgrade plan for another 12 months or upgrade from Bitwig Studio 1 and get 12 months of upgrades.
What's New in Bitwig Studio 2
Learn all about it...
Bitwig Studio 2 comes fully loaded with powerful new features and updates, here's a quick overview: 
A re-conceptualized modulation system with 25 brand new Modulators
Numerous device updates, including remote controls, dynamic displays and spectrum analyzers
17 entirely new devices
Better hardware integration, with improved MIDI handling and several dedicated MIDI and CV devices
Fades and crossfades
VST3 support
...and much more! 
Released back in 2014, Bitwig Studio 1 was the first music production software to combine linear and non-linear sequencing on Windows, macOS and Linux. With cutting edge technologies like plug-in crash protection and a highly flexible user interface, alongside a lightning fast workflow experience for keyboard, mouse and touch screens, Bitwig Studio has attracted a large and steadily growing user base all over the world.
We're proud to present the next edition of Bitwig Studio, introducing a full set of powerful new features. 
Bitwig Studio 2, the new edition of our next generation music software for Windows, macOS, and Linux.
Discover Bitwig Studio 2, the innovative music creation and performance software for all major platforms. Experience seamless integration of linear timeline sequencing together with nonlinear, performance-oriented clip launching and an intuitive user interface that adapts to each step of your workflow. Bitwig Studio is the single solution for realizing any musical idea across every stage of production.
Includes over 70 devices, such as our suite of instruments and audio effects, as well as container devices and note effects. 
Enjoy a sound content library consisting of over 2,000 presets and 9GB of sound content: drum machines, acoustic drums, multi-sampled instruments, loops, sound effects and much more.
Important Note: The license includes 12 months of free upgrades: perpetual license with 12 months of free updates and upgrades upon registration.
Key Features
Native cross-platform DAW (Windows, macOS, Linux)
Intuitive nonlinear sequencing for the studio world and beyond
Modular device structure with advanced nesting and routing
Multi-touch support for Windows and Linux, with a dedicated Tablet display profile
Full multicore and multiprocessor support
VST and VST3 support with built-in 32-/64-bit bridging, plug-in crash protection, delay compensation, and flexible multi-out and sidechain capabilities 
Multi-display support for up to three displays
Unified Modulation System: Use Macro controls, Note Expressions, and LFOs & Envelopes to modulate any device, VST plug-in, or hardware parameter
Advanced Layered Editing mode
Support for various MIDI controllers out of the box, with native MPE support for next generation controllers
Open Controller API: Create and customize functionality for any MIDI controller, with scripting access to nearly every feature of Bitwig Studio
Bounce and Bounce in Place for Clips or time selection
Context-based Pop-up Browser, with support for selected VST preset formats
Extensive hardware integration with MIDI sync, MIDI Time Code, as well as analog Clock, and CV out
File import: WAV, AIFF, MP3, AAC, WMA, FLAC, OGG Vorbis, and MIDI
New Features and Updates
A re-conceptualized Modulation System
Numerous device updates including dynamic displays and spectrum analyzers
Remote controls
Fades and crossfades
VST3 support
Better hardware integration
Smart tool switching
Improved editor workflow
MIDI timecode support
New menu system
Dashboard
Notification system
Adjustable track height in arranger
Controller API improvements
...And much more
A Universe of Modulators 
Introducing A New Modulation Paradigm
The current version of Bitwig Studio already offers one of the industry's most flexible and powerful modulation systems, and with Bitwig Studio 2 we're taking things even further. We've reworked the entire modulation system and it now offers nearly endless possibilities; this is a big step towards a fully modular device architecture.
Each device in Bitwig Studio 2 (internal devices and external plug-ins) have modulation slots where you can load individual modulators. Bitwig Studio 2 comes with 24 brand new modulators; from standard modulators like envelopes and LFOs - to more unique modulator types like Random, Select-4 and Math.
An unlimited number of modulators can be added to a device by simply clicking an empty Modulator slot and choosing a specific Modulator from the pop-up browser. Assign the modulator to any number of parameters, with ease and flexibility. Modulators can also be interconnected for truly dynamic and expressive sound design possibilities.
When using internal Bitwig instruments, many modulators can be set to polyphonic mode - enabling per-voice modulation - something previously only seen in closed systems.
Meet the Modulators - A New Class of Devices
With Bitwig Studio 2 we introduce a brand new class of devices: Modulators. Modulators can be loaded into instruments, audio FX, plug-ins and hardware devices to modulate and control any parameter. This list of 24 modulators will expand as Bitwig Studio grows even further.
4-Stage
4-Stage is an advanced envelope that can be synced to tempo and looped
ADSR
ADSR Envelope inspired by and modelled on old analog classic synth envelopes.
AHDSR
Attack-Hold-Decay-Sustain-Release envelope with slope settings.
Audio Sidechain
The Audio Sidechain modulator allows you to use any audio input (in the track or external) as a modulation source.
Beat LFO
A simple yet powerful beat-synced LFO with expressive controls for wave shape and timing.
Button
A simple button to control any parameter.
Buttons
Two buttons, freely assignable to any parameter.
Classic LFO
A highly configurable LFO with numerous available waveforms and polyphonic capabilities.
Envelope Follower
An envelope modulator controlled by audio input.
Expressions
With the Expressions modulator you can assign up to four expressions (velocity, timbre, release, pressure) to any parameter in your device chain.
HW CV In
Modulate parameters in Bitwig Studio 2 from hardware via CV using this Modulator.
Keytrack
Modulate any parameter by key of incoming notes, with curve settings.
Macro-4
Four macro knobs in one modulator.
Macro
A simple macro knob.
Math
A choice of adding, subtracting, multiplying or min/max-ing two parameters.
LFO
A free-running LFO that can be shaped in many ways.
MIDI
This modulator allows you to modulate any parameter using MIDI CC, Pitch Bend or Aftertouch data from an external source.
Mix
With Mix you can control a parameter with two faders and a crossfader. Useful to create complex interconnecting relationships.
Note Sidechain
The Note Sidechain modulator allows you to use any note input as a modulation source.
Random
Useful for giving a parameter a random value every time you play a note, at a given time interval or to provide some smooth sweeping chaos.
Select-4
Select-4 is a morphing modulator, letting you set four stages, with each stage modulating any number of parameters. You can then morph between the four stages using a fader.
Steps
Modulate any parameter with a step sequencer. You can set speed, number of steps and direction.
Vector-4
An X/Y matrix where each of the four corners can be assigned to control any parameter.
Vector-8
Assign each axis to any parameter and use as a X/Y pad with great expressive potential.
XY
Assign each axis to any parameter and use as a X/Y pad with great expressive potential.

New Devices - Because We Love Devices
Apart from totally re-conceptualizing the modulation system and introducing an entire new class of Modulator devices, we're also expanding the standard device collection. Here's a list of the new additions, which we hope you'll love as much as we do.
Spectrum Analyser
This is an essential tool for many producers. Simply put, it gives you a visual representation of the audio material you feed it. The new Spectrum Analyzer allows for a freely selectable secondary input, so you can directly compare the frequency graph of two separate audio sources.
Dual Pan; With this device you can control panning for individual channels of a stereo signal
DC Offset; With this device you can control panning for individual channels of a stereo signal
Phaser; You asked for a phaser, we built a phaser - and a very capable one at that. Happy phasing!
Pitch Shifter; This pitch shifter shifts your pitch up or down one octave, with precise fine-tune and grain control.
Treemonster; Organic zero-crossing amplitude controlled ring modulator with a life of its own. That's honestly the most accurate description we can give you
Multi-Note; This chorder device will generate up to 7 notes based on the note you send into it, with pitch and velocity settings
Note Length; This device will transform all notes to a defined length and velocity. In its second mode it can generate a fixed-length note when the key is released
Note Echo;  So much more than a standard echo, this seemingly simple device allows you to get creative with note echoes and loops
Note Latch; The Note Latch device will simply hold any note you send into it until it receives the next note - or until you click its stop button
Note Velocity; With this device you can transform velocity on incoming notes using a curve - or go ahead and use modulators for some dynamic velocity effects.
Note Harmonizer; Note harmonizer will transpose your notes in real-time to harmonize with a chord playing on another track
Better Hardware Integration - We Speak Hardware
We've done a lot of work under the hood to revamp MIDI handling in Bitwig Studio; improving sync and note timing. We are also introducing a set of devices that will allow you to seamlessly integrate hardware machines into your workflow via MIDI and CV/Gate.
MIDI CC; This device can be used to send CC data to external hardware or plug-ins. Add it to a HW Instrument device to get instant access to your hardware's parameters
MIDI Program Change; As the name implies, this device allows you to control program changes of your hardware or VST plug-ins from Bitwig Studio
HW Clock Out; Using the HW CV Clock device you can send CV clock to audio outputs, with individual time settings
MIDI song Select; A device used to send MIDI song select messages to external devices, for instance to change patterns on a drum machine
HW CV Instrument; Use this device to send notes as CV and gate to an output on your audio interface, to control analog synths, eurorack modules and other hardware
HW CV Out; This is a simple device to send a CV signal to an output on your audio interface
MIDI Timecode; Bitwig Studio 2 can send out MIDI timecode (MTC). In Settings, you can choose to send out MTC through any connected MIDI device, and configure its rate
Controller API Improvements; We've worked on the open controller API to make it more consistent. A new scripting engine gives better performance, and you now get improved and immediate feedback while scripting
Device Updates - More Creativity, More Control
We've made lots of enhancements to our existing devices, improving both sound quality and usability. Several devices now include a spectrum analyzer and dynamic display panels. In many devices, we've re-organized, re-designed and added new features. With Bitwig Studio 2 we've also improved visualization of parameters, movement and signal flow. We invite you to explore the device collection for yourself. Read about some of the highlights below...
Polysynth Updates
Since Bitwig Studio first came out, Polysynth has been our go-to synth for musicians and sound designers. With Bitwig Studio 2, we've expanded our Polysynth's feature set further, by adding several oscillator mix and filter waveshaping modes. These new modes open up new possibilities for sound exploration; adding complex overtones and frequency modulation options to your sound palette.
Furthermore, with improved unison capabilities you can now control the stereo width of the oscillators - and place them individually in the stereo field. We've also equipped Polysynth with a sweepable high-pass filter to quickly get rid of unwanted low frequency content and a feedback loop around the filter and amplifier section.
With the new modulation system there's no need for the three LFOs or expression choosers, you can simply add all the modulators you like.
Remote Controls
Now every device now has a Remote Controls panel, where you can assign remote control access to any parameter in the device (or nested in the device chain).
Navigate existing pages or freely set up your own, using different control elements (e.g. knobs, buttons, choosers).
Mappings can now be saved with presets or devices, allowing on-the-fly access to your favorite parameters directly from your hardware controller, when browsing through your library or swapping between devices and tracks.
This powerful and flexible new feature refines and improves the Device Mappings and Macro pages from Bitwig Studio 1.
Dynamic Displays Everywhere
With the overhaul of our device collection, we've equipped several devices with spectrum analyzers and dynamic display panels.
Fades and Crossfades - Your Fast Workflow Just Got A Lot Faster
You can now create fades and crossfades for audio clips in the arranger timeline or audio editor. Additionally, you can create fades for audio events inside clips - for truly fast yet flexible editing. Naturally, the curve slopes of all fades can be adjusted.
Easily edit fades by hovering the mouse cursor over clip or event boundaries, and then drag the fade handle when it appears. Crossfades are automatically created when you move clips so they overlap.
In Bitwig Studio 2 you can freely adjust the height of individual tracks in the arranger timeline.
VST Support
We are happy to announce that we now support the VST3 plug-in standard, including per-note expression and sample accurate automation.
Smart Tool Switching and Improved Editor Workflow
With Bitwig Studio 2, we've improved the efficiency of our tools. You can now achieve many standard tasks without having to swap tools: depending on where you click, you can select multiple objects or time segments, edit fades or zoom and scroll.
Furthermore, the arranger and detail editors now have their own tool selector - enabling you to work with separate tools in the two editors.
Oh, and a small nugget for the note editor aficionados: when using the pen tool, right-clicking a note now deletes it. You're welcome.
Dashboard
The Dashboard, likely the first new feature you'll bump into, handles many tasks that were previously available only in menus and other windows - such as locating and opening projects, configuring settings, installing packages and accessing help resources. The Dashboard allows a more sophisticated and user-friendly approach, informed by modern software design paradigms.
Furthermore, we've consolidated most configuration settings and included them under the Settings tab in the Dashboard.
Notifications
We're introducing a new notification system, showing different types of messages in a clear, streamlined and non-intrusive format.
The notifications system will tell you when the application is scanning plug-ins or files, if there are problems with your project or if there's a new version of Bitwig Studio available for download.
You can select to show or hide different types of notifications.
New Menu System
We've reworked the menu system extensively. Bitwig Studio 2 now features a context-aware menu system to keep you focused on the task at hand. Depending on your selection, different menus and options will be shown. For instance, when selecting a track, a menu will be shown with all available related actions.
To speed up your workflow even further, you can pin actions so they are always visible in the menu bar.
We've also reworked all context menus, to give you quicker access to your favorite commands. All commands are now collected in the menus, and removed from the Inspector to make it less cluttered visually.
System Requirements
Mac:
Mac OS X 10.9 or later
64-bit Intel CPU
Minimum 9GB free disk space (for full content installation)
Minimum 1280 x 768 pixel screen resolution
Minimum 4GB RAM
PC:
Windows 7 64-bit / Windows 8 64-bit / Windows 10 64-bit
Dual-core AMD or Intel CPU or faster with SSE3 support
Minimum 9GB free disk space (for full content installation)
Minimum 1280 x 768 pixel screen resolution
Minimum 4GB RAM
Linux:
Ubuntu 16.04 or later
64-bit dual-core or better x86 CPU with SSE3 support
Minimum 9GB free disk space (for full content installation)
Minimum 1280 x 768 pixel screen resolution
Minimum 4GB RAM
Note: A decent internet connection is required to download bundled content (not included with installer).
Any references to any brands on this site/page, including reference to brands and instruments, are provided for description purposes only. For example references to instrument brands are provided to describe the sound of the instrument and/or the instrument used in the sample. Plugin Boutique do not have (nor do they claim) any association with or endorsement by these brands. Any goodwill attached to those brands rest with the brand owner. Plugin Boutique or its Suppliers do not accept any liability in relation to the content of the product or the accuracy of the description. "RHODES" is a registered trademark of Joseph A Brandstetter.
Product Reviews
The much-hyped DAW was updated earlier this year. Jonny Strinati has been exploring the new features in version 2… Released in late February...
More by Bitwig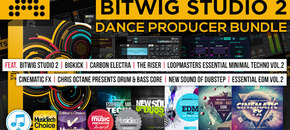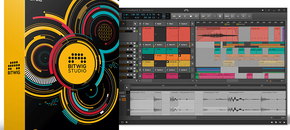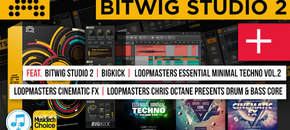 You may also like