OMFG! Deep and vast goldmine of grooves, beats and vibes loaded with rough and raw SP/MPC Old School attitude. Honestly this'll keep you going for a very long time. And as I always say, not just useful for sub 100 bpm beats... Just use your imagination. 10/10 Stars
Tom Middleton. A classically trained pianist and cellist, Middleton worked in the early 1990s with Aphex Twin, co-producing "En-Trance To Exit" on the Analogue Bubblebath EP for Exeter's influential Mighty Force Records.

Some nice, raw samples. I like how dirty and punchy they are at the same time, definitely suitable for underground house music. 7/10 Stars
Marco Carola. is a global ambassador of techno. From Napoli in the south of Italy, Marco was instrumental in the development of the electronic scene in the early 90s, he took the flourishing techno Napolitano scene to the rest of the world.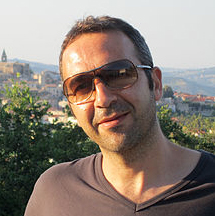 There's been some serious crate digging going on over the years to complete this excellent pack. Breakbeats, percussion and musical loops and stings aplenty. All with that charismatic crunch you get from vinyl. 8/10 Stars
David Carbone. is an ARIA Award-winning music producer, composer/sound designer.
The Raw Cutz Super Pack, is our premium package which features all 30 launch releases from Raw Cutz - now also available in Home Grown Complete, Crate Digger Complete and Hip Hop Complete.
If you know the history of sampling then you may well be aware of some of the sample packs that changed the game – and many of these including Smokers Delight, Premier Beats, Vinylistics and the X-Static Goldmine Series were all produced by Erik at Equipped and his team. Since teaming up with Matt from Loopmasters – the pair have drawn on their knowledge, experience and contacts to bring forward a new Sample Label which is inspired by the machines, instruments and techniques  of the past, with a vision for the music of the future – this is Raw Cutz!
The Raw Cutz Super Pack is the primo sample collection for anyone who is serious about their music, whether it be for Hip Hop, Downtempo, Urban, House or other forms of Electronica and features over 5500 sounds created with pride and passion.
Whether you are looking for Punchy Kicks, Crisp Snares, Mellow Rhodes, Ethereal Vocals, Dubbed Out Basses, Glitched Jazz Guitars, Drifting Flutes, Funky Horns, Ambient Sounds, and Dusty Breaks - these smoking beats are guaranteed to add the flavour, punch and inspiration to your productions that you have been looking for.

These exclusive samples have been crafted carefully by our top producers using technology including MPC and SP1200 samplers, Technics 1210 mk2 decks, Analogue Tape Machines and vintage mics and instruments including Fender Jazz Guitars, Double Basses, Horns, Rhodes Pianos and much more besides.
"All Dance Music draws inspiration from Hip Hop", and besides being inspired by the sounds and production techniques of the likes of J Dilla, Mad Lib, DJ Premier, Pete Rock and the Hip Hop of the 1990s, the sounds and loops we provide are also packed with atmosphere and most of all, inspiration – which we feel are relevant to multiple styles of modern music...
Weighing in at a mighty 3.3GB, this Hip Hop sample collection includes no less than 5,645 separate samples in 24 Bit Quality (!) , including 300 Raw and Dusty Break Loops (81_99Bpm), 3,510 Raw Cut Inspirational Music Samples, 755 Fat Raw Kicks, 456 Crisp Raw Snares, 322 Raw Hi Hat Samples, and 302 Break Rex Files.
The Rawcutz Super Pack includes all the material released in 30 individual sample packs and its cost is 70% less than the combined price of the single products
If you need Raw power for your music –  this is surely a pack you need to check out – or miss at your peril!
Features
24 Bit Quality 
3.34GB
Total 5,645 Files
3,510 Raw Cut Music Samples
468 Raw Snare Samples
302 Rex2 Files
300 81-99BPM Raw Break Loops  
778 Raw Kick Samples  
331 Raw Hi Hat Samples 
You may also like