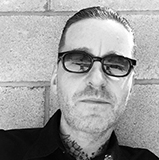 These plugins are great. I've been using them on a bunch of films already.
Dieter Hartmann. is a composer for motion picture, TV and video games, known for films such as Guardians of the Galaxy, Watchmen, Black Mass and many more.

I love the character and colour it gives to any of my sound. It's good to saturate and phatten up drums. It adds bites to my lead synth. And give that warm analog feel to my master bus. It's like the Swiss army knife of saturation. And it's a decent limiter too at the same time.
Random. is one of the true pioneers in Indonesian Dance Music, Lawrence or Random was one of the early DJs in Indonesia to have dabbled in production.

Handy controls of Kratos Maximizer quickly become my choice when it comes to polishing a newly produced track.
Hogi Wirjono. is a well known name in Indonesia's house music scene since the Parkit era in the 90's, blending a mixture of house, R'nB, Funk, and Acid.
Loud and Clear
New version of Kuassa's ooh-so-handy limiter / loudness maximizer plugin
Make your Mix and Master LOUD transparently without sacrificing punch and sound quality
Featuring the new Adaptive Mode,  dithering section, up to 4x oversampling, LatencyCompensation, and redesigned graphics
Now supports Avid Pro Tools' AAX
The latest update of Kuassa's ooh-so-handy limiter / loudness maximizer plugin: Kratos 2 Maximizer, featuring the new Adaptive Mode for Attack and Release parameters, dithering section, up to 4x oversampling, Latency Compensation toggle, and completely redesigned graphics. In addition, the new Kratos 2 Maximizer is now extend their reach to accommodate Propellerhead Reason as well as the Avid Pro Tools users with the support for AAX plug-ins.
The original Kratos Maximizer VST / AU plugin serves its sole purpose to simply make your mix music LOUD right at your fingertips. Now you can polish your final mix further into perfection while still preserving the familiar solid workflow of Kuassa plugin to safely increase perceived loudness without sacrificing sound quality in music audio mastering in the most natural way possible: Crank the Maximize knob, tune the unique Texture knob to taste, tweak Attack and Release for tighter or loose response, then adjust the Knee for harder / smoother limiting action.
Key Features:
Transparent, precision limiting / loudness maximizing
Unique Texture knob for smooth or harder character
Attack and Release parameter with the new adaptive option
Latency Compensation toggle, supported by most DAW
3 dithering options with 3 modes of bit depth to accommodate wide range of mastering needs
Up to 4x oversampling mode
Compact user interface, straightforward workflow
Support up to 96 kHz Sample Rate
System Requirements:
PC:
Windows XP or Later (32/64 bit)
Intel Pentium 4, or AMD Athlon XP or better (Core2 Duo, Athlon64, or better is recommended) with 512MB minimum RAM
VST/VST3/AAX compatible host/sequencer, Pro Tools 10 or Propellerhead Reason 7.1 or later*
MAC:
Mac OSX 10.5 or later (32/64 bit)
Intel Pentium 4, or AMD Athlon XP or better (Core2 Duo or Athlon64 recommended) with 512MB minimum RAM
VST/VST3/AU/AAX compatible host/sequencer, Pro Tools 10 or later or Propellerhead Reason 7.1 or later*
Please note that this product is a plugin, a VST/VST3/AU/AAX compatible host/sequencer is needed to run this software
You may also like