Arturia Mini V & D16 LuSH-101 Vintage Synths Bundle

"LuSH-101 is stunning - sonically superlative, extremely versatile, inspiringly self-contained, and as easy to use as Roland's classic orginal, yet much more powerful."
Future Music. The number one magazine for today's producers. Packed with technique and technology we'll help you make great new music.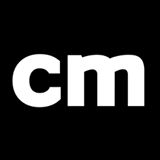 "LuSH-101 sounds beautiful, and it confidently proves that even after 30 year of progress, some great ideas just don't go our of fashion - 9/10"
Computer Music. The world's best selling magazine dedicated to making great music with your Mac or PC.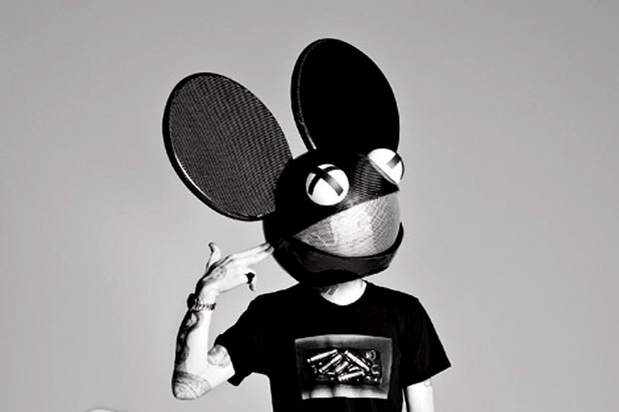 '..I've been using the minimoog emulator: Vintage Hardware is not easy to come by these days, this is just simply the next best thing'
Joel Zimmerman (deadmau5) . Joel Thomas Zimmerman, better known by his stage name deadmau5, is a Canadian progressive-house music producer and performer from Toronto, Canada.
Introducing the Arturia Mini V & D16 LuSH-101 Vintage Synths Bundle [Limited Time Exclusive Bundle]
Get the classic sound with emulations of two legendary synths that have defined the sound of electronica. The Mini V & LuSH-101 have both set the standard of what a software emulation of an iconic instrument must be. This bundle brings two of the most sought-after synths straight into your DAW with new exciting features and extensive presets. 
Arturia's Mini V soft-synth plugin emulates all the sounds of the original Minimoog synthezier which has been making it's presence known for over 40 years now. For this plugin, Arturia partnered with the Minimoog's creator Bob Moog in order to recreate the iconic look and sound of the 70's synth that has since become the stuff of legend within music folklore. As well as mostly sticking to the original Minimoog's look and sound, Arturia has also added it's own advanced modulator, vocal filter and modulation matrix in order to allow users to not feel limited with the original style of the retro-synth.
D16's LuSH-101 synth plugin allows users access to over 1500 presets all modelled on the Roland SH-101 synthesizer. Presets can be tweaked, and with it's multilayer architecture, the sound design possibilities are virutally limitless. This synth promises to be peferect for any genre whether it be Ambient and Chillout or even Dubstep and Drum & Bass.
The Arturia Mini V & D16 LuSH-101 Vintage Synths Bundle is time limited and exclusive to Plugin Boutique.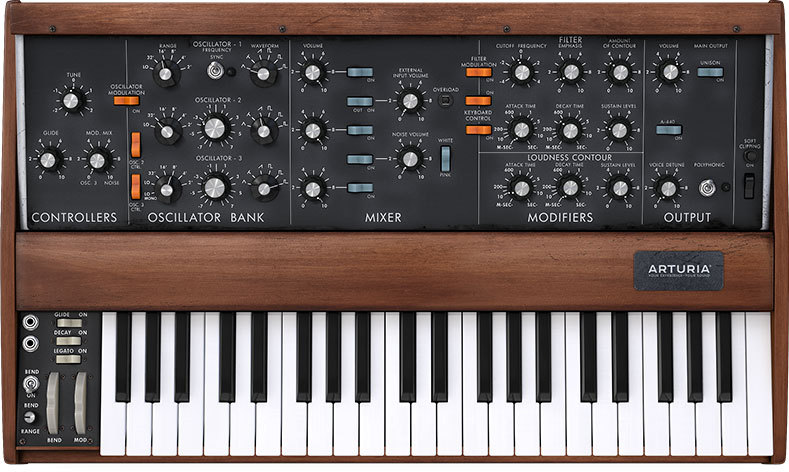 Technology Meets History
From the starship funk lead lines of the '70s to the gangster whine of mid '90s hip-hop, the ever-present MiniMg has been making its fat presence known for over 4 decades.
In partnership with Bob Moog we recreated the legendary interface of his early 70's synth that was and is loved by generations of musicians. What truly makes this synth the Legend of Legends is its sound, and so we took great care to model the subtleties of its internal characteristics as well.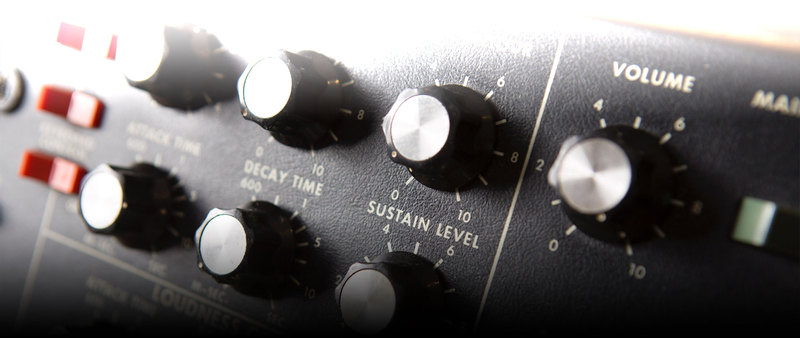 A Good Thing Made Better
Mini V has kept all of the original characteristics of its award-winning previous versions.
Mini V version 3 updates the filter design to make it even more accurate than ever. Powerful and rich bass, faithfully reproduced 'free-running' waveforms thanks to new advances in our long proven TAE® technology.

A Class of its Own - When fat, deep blistering bass is needed, there is no further need to go anywhere but to Mini V. Also famous for its powerful lead sounds, the greatest hit makers in the '70's knew that this synth was the goto tool.
A Sonic Expansion - But we're not resting on our laurels.
While the original product set the sound of the 70's we have taken it to new realms. We have added an advanced modulator that allows you to draw a shape and control many parameters creating a movement and interest. A vocal filter expands sonic possibilities with a formant-analysis based effect: now you can make that synth talk! A modulation matrix has been added dramatically improving on the original design and doing away with its limitations.
Features
All the parameters of the original Mini V

3 voltage controlled oscillators with 5 waveforms
1 amazing 24 dB/octave filter
2 ADSR envelopes
LFO with 7 waveforms
1 Noise Generator
1 VCA
1 Mixer
1 external audio input and 1 external oscillator and filter modulation input

Modulation matrix with up to 8 connections (15 sources and 35 destinations)
Arpeggiator
Vocal Filter: a fully automatable, formant-based effect with its own LFO
Up to 32 voices of polyphony
Unison mode option
More than 1000 presets created by an international team of top-notch sound designers
Stereo effects: chorus and delay
Soft clipping function
Advanced automation mode
Learn more about Arturia Mini V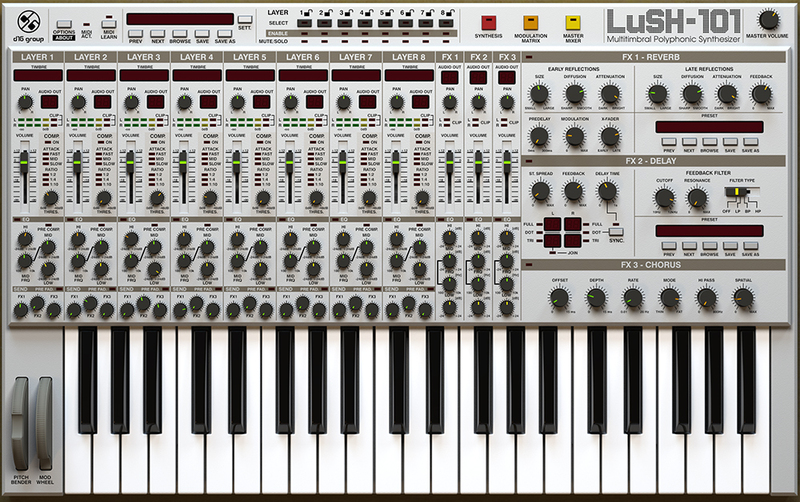 LuSH-101 is a synthesizer created from modules that can be found in many modern virtual synthesizers, all combined into a single compact and logically intuitive design. However, this basic simplicity combined with its multilayer architecture turns it into an easy-to-use but extremely powerful instrument that can be programmed and tweaked quickly, almost effortlessly leveraging its maximum potential.
The multilayer architecture guarantees that both the sound design possibilities and number of unique situations in which LuSH-101 can be used, are virtually limitless. Layered sounds can be created simply by assigning the layers to the same MIDI channel; the results can sound as massive as anything imaginable! Assigning the layers to different keyboard zones allows you to create even the most sophisticated splits. Of course, you can always assign the various layers to different MIDI channels for 8-part multitimbral usage. And, virtually any combination of splits, layers, and multitimbrality is possible with just a single instance of LuSH. With each layer working as an independent synthesizer with its own polyphony, parameters, enhanced arpeggiator, and a palette of only the finest insert effects, LuSH-101 can push your creativity to unprecedented levels!
Want to express yourself even more? In addition to a very sophisticated MIDI-learn implementation, an advanced modulation matrix is built into each layer. Even the Arpeggiator's MIDI output can be used as a modulation source, unleashing your creativity to build complex sequences and progressions.
LuSH also comes complete with a powerful built in mixer, complete with layer-independent parametric equalizers and compressors. Three send effects in superb quality allow you to put the finishing touches on the final output.
LuSH plays perfectly in any genre. For funkier styles, the Gate may be used instead of the VCA for instant staccato sounds full of energy and rhythmic pep. When creating Ambient or Chillout, longer attack and release times along with the smooth, rich spaciousness of the built-in reverb are enough to satisfy even the most ardent purists. Is Dubstep or Drum & Bass more your thing? No problem! Filters modulated by the LFOs and envelopes in conjunction with Unison mode can lead to the sickest, nastiest, and most novel vibrations - your sound system won't know what hit it (and you won't, either), so watch out! No matter what you want to play or how you want to use it, LuSH will get the job done.
Sound Like Never Before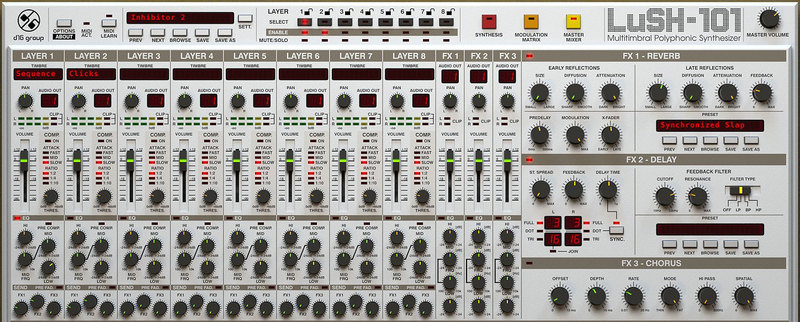 LuSH-101's uniquely accurate sound has been achieved only through experience: countless hours have been spent analyzing classic analogue synthesizers, and then designing and implementing DSP algorithms with close attention paid to every component in the signal path - not just the approximating the overall output. We deliver to you a synthesizer built on oscillators of uncompromising quality, filters with incredible natural warmth and character, and effects each at the absolute top of their class. 
Innovative oscillator algorithms developed by D16 make LuSH-101 sound exactly like a sampled hardware analog synth - but without the sampling! There is no aliasing in the oscillators, even at 22kHz from the note's base frequency. Vibrato and pitch bend do not affect the spectral quality of the oscillators, allowing LuSH-101 to sound completely authentic under all conditions. 
A problem present in many virtual analogue synths is that the harmonics of generated sound waves start to disappear well below (and up to) the Nyquist frequency, causing the them to sound dull and lacking in clarity and punch. LuSH-101 was designed from the ground up to avoid this, resulting in a very rich and clear sound, even from the simplest waveforms!
Resonance is constant across the entire frequency domain, which makes the filter sound totally authentic, especially when controlled via the envelopes or an LFO. Turning resonance to maximum and turning all the oscillators down will produce a pure and pleasant sine wave as the filter is driven into self-oscillation, exactly as with true analog gear. Of course, keyboard tracking can also be applied to the filter for a smooth, adjustable cutoff gradient across the keyboard range. 
Multilayer Architecture With 8 Independent Layers (Per-Layer Properties)
Up to 32 voices of polyphony
MIDI channel
Keyboard zone
Audio output
Synthesis
Oscillators (Saw, PWM, Noise), with Supersaw and HardSync options
Sub Oscillator (5 waveforms)
Self-oscillating, high-quality, multimode filter
Passive high-pass filter
Up to 8 voice unison with Tune, Cutoff and Panorama spread
2 LFOs with optional tempo synchronization and re-triggering modes (Trig, Gate, Arpe, None)
2 envelopes with re-triggering modes (Trig, Gate, LFO1, LFO2)
Insert Effect (Selectable Algorithms)
Chorus
String Ensemble
Phaser
Flanger
Distortion
Vowel filter
Decimator
Tremolo
Modulation Matrix (Modulation Sources)
Note velocity
Pitch bend
Modulation wheel
Expression pedal
Sustain pedal
Keyboard's aftertouch
Note pitch
Arpeggiator's output
Arpeggiator
Step sequencer (Gate and Tie per step)
6 Run modes (Up, Down, Up and Down, Down and Up, Random, Manual)
Chord mode (Gater)
3 Hold modes (Normal, Toggle, Trigger)
Shuffle
Tempo multiplier (Full notes, Dotted notes, Triplets)
Mixer
Parametric EQs (1 per channel strip)
Compressors (1 per channel strip)
Up to 11 freely-assignable stereo output busses per instance
Send FX's (Reverb, Chorus, Delay with tempo sync)
Presets
Over 1700 factory presets
5 preset categories (whole synth, single layer, Arpeggiator, Reverb, Delay)
Advanced, file-based preset browser
Miscellaneous
Advanced MIDI learn
Parameter mapping for VST / AU automation
System Requirements
Arturia Mini V
Platform Specifications
Windows: Win 7+ PC: 4 GB RAM; 2 GHz CPU. 
2GB free hard disk space
Apple: 10.8+: 4 GB RAM; 2 GHz CPU. 
2GB free hard disk space
Required Configuration
Works in Standalone, VST 2.4 (32-bit and 64-bit), VST 3 (32-bit and 64-bit), AAX (32 bits with PT 10.3.8, 64 bits with PT 11), Audio Unit (32-bit and 64-bit).
Protection
The software is protected by the Arturia Software Center. 
D16 LuSH-101
PC / Windows: 
OS version: Windows 7, Windows 8, Windows 8.1
CPU: 2.8 Ghz with SSE (i7 based 3.7 GHz recommended)
RAM: 1 GB (2 GB recommended)
Software: VST compatible host application (32bit or 64bit)
MAC OS X:
OS version: 10.7.x, 10.8.x, 10.9.x, 10.10.x
CPU: Intel based 2.8 Ghz with SSE (i7 based 3.4 GHz recommended
RAM: 1 GB (2 GB recommended)
Software: AU / VST compatible host application (32bit or 64bit)
Please note: LuSH-101 is not a standalone program - a host application (DAW) is required to use it.
Awards