''A really handy tool for anyone that travels or uses layers a lot or has lot's of hardware. Especially for things like modular synths where you can't store a preset…. Well now you can!'

Dom Kane
DJ, producer and sound designer.
SampleRobot 4 Pro is appropriate for music producers and sound designers who are using professional sample instruments for their productions. With SampleRobot Pro you can easily do automatic sampling of acoustic and electronic instruments. It does not matter what you would like to sample: orchestral instruments, choir, organs, electric guitars, ethnic percussion, adlips, sound scapes, noises, MIDI gear, virtual instruments, alpenhorns or whatever, SampleRobot makes your sampling as fast and as satisfying as possible. SampleRobot samples all sound nuances automatically and creates high-end sampled instruments in various formats. Seamless integrated WaveRobot software finds perfect loop points even for whole multi-samples with different velocity layers during recording. It was never easier to build professional-sounding software instruments.
Main Functionality
Fully automatic sampling of MIDI sound devices
Semi-automatic sampling of sound sources that are not equipped with a MIDI interface
Fully automated sampling of VST- and AU-instruments
Streamlined and easy to use graphical interface
Windows WDM support
Core Audio support
ASIO 2.2 support
Preset manager: over 80 sampling presets for different instruments and situations included; user presets can be created easily
Automatic output of velocity, after touch, MIDI controllers, program change to record all sound nuances
Non-destructive graphical loop and marker editing with full zoom functionality (including overlapping the stereo left and right waveforms)
MIDI monitor (SampleRobot only)
Auto functions and user macros for recording format and length, editing, normalizing, fading samples
Automatic creation of crossfade loops, backward-forward loops and combinations
Auto arrangement and mapping of multi-samples and (SampleRobot only) release-samples including key maps with velocity splits and real time MIDI controller assignment
Release-sample support (SampleRobot and WaveRobot only)
Supported file formats: see below
Sampling of Windows audio streams, played by other applications in the background
Pitch information read and write (WAV files)
Sophisticated Functions
Tuning oscillator
Advanced loop-searching algorithms
Different crossfade types to create inaudible loops
Auto naming from an external ASCII file
Batch multi-sample creation from an uncut audio file (e.g. useful to split sounds from sampling CDs)
Batch sampling all sounds (whole bank) from a MIDI-instrument: automatic creation of multiple projects with program changes
Batch normalize and gain functions for all samples in a project/multi-sample, auto normalize to maximum level in a project
Optional sampling rate and bit rate conversion during export
Crossfade rendering
WaveRobot
Professional Auto-Loop recognition and loop editing for wave files (incl. loop search and pattern markers for optimum results)
Alternative Auto-Loop search results are directly accessible
Tempo-based and beat-based loop marker editing
Automatic functions for truncating silence at the beginning and at the end of the waveform
Comfortable editing: Fully scalable and zoomable editor window
Ultra-fast waveform zooming and marker editing (even during playback)
Graphical overlay of stereo left and right waveforms in realtime possible
Autogain crossfades for optimum crossfade loops without volume-change during crossfade
Supports crossfade loops, forward-backward loops and combinations
Intelligent zero-crossing functions
WAV drag & drop functionality
Audio format: WAV up to 24 Bit, 192 kHz
ASIO 2.2, Core Audio and Windows WDM/MME compatible
Crossfade rendering
Loop/Crossfade/Release-Sample rendering
Batch processing capabilities in conjunction with SampleRobot 3 and SampleRobot 3 Essentials
System Requirements
Mac: Apple Mac Intel, OS 10.6.4 or higher. SampleRobot Mac OS X installation is based on Wine framework.
PC: Windows 8/7/Vista/XP
Formats
Audio Import

Formats: WAV (single-sample, multi-sample), SRPrj, Preset
WAV drag & drop functionality (also multiple files) to SampleRobot's virtual keyboard including root-key recognition (optional extraction from file name or usage of root-key information) and importing loop points
Automatic creation of velocity, after touch, MIDI controllers, program change to record all sound nuances
Channels: optional 1 (mono) or 2 (stereo)
Bit resolution: optional 8, 16 or 24 bits (depending on the used audio interface)
Sampling rate: optional 11, 22, 44.1, 48, 96 or 192 kHz (depending on the used audio interface)
All formats can be combined in one Project

Audio Export

Format details: same as Import
SampleRobot Projekt (*.SRPrj)
SampleRobot Preset (*.SRPrj)
Project and Project group export as:
WAV [single, group (Multi-Samples)]
WAV (Loop only) [single, group (Multi-Samples)]
SoundFont2 (*.sf2)
Steinberg HALion 4 (*.xml, clipboard copy & paste)
Apple Logic Pro EXS 24 (*.sf2)
Waldorf Blofeld (*.xml)
Tascam Gigastudio (*.wav)
Propellerhead Software Reason 6 NN-XT (*.sxt)
Emu Emulator X3 (*.wav)
Wusik.com Wusikstation (*.SND)
Yellow Tools Independence (*.sf2)
MOTU Machfive (*.wav)
rgc:audio (*.sfz)
Maz Sound Tools VSampler 3 (*.sf2)
NI Kontakt (*.sxt)
Cakewalk Dimension Pro / LE (*.sfz)
Cakewalk Dimension Program (*.prog)
All multi-sample export formats including auto-mapping and multi-velocity layering

MIDI Data

Note on/off
Velocity, release velocity
After touch
Pitch bend
Program change
All continuous controllers with MSB and LSB

Other supported Formats

ASCII-text (TXT), Import and Export
SampleRobot Project (SRPrj), Preset
Product Reviews
Like the idea of having all your hardware synth sounds in a software sampler, but can't be bothered to do the necessary programming? Fear not,...
More by Skylife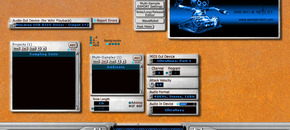 You may also like