Rip Every Channel...
ST-R-I-P. is a analog inspired channel strip for OS X/VST/AU and Windows/VST/64/32.
ST-R-I-P features subtle saturation and noise to emulate the behaviour of analog mixing desks. It's intended use is with pure 'in the box' music to give it some texture and depth while having traditional sound shaping features like compression and equalising at your fingertips
Get traditional, get ST-R-I-P
Flexible High Quality Oversampling

Oversampling is a technique used to prevent aliasing at low sample rates, a common and mostly undesired artifact created by digital audio processing. There are numerous ways of achieving this goal. With audioD3CK you can oversample your way! Use the colourful polyphase oversampling or stick to the crystal clear linear phase oversampling, set a fixed ratio (x1 - x64) or set a minimum sample rate at which the processor should operate (20khz - 1mhz)
Features
Global
Subtle impurities like saturation and noise to give depth and grit
Switchable processing order
Compressor
Wide range of possible attack and release times
Analog style gain reduction meter
Adjustable high pass side-chain filter for improved behaviour at low frequencies
Variable knee settings
Dry/wet knob for parallel compression
Full range ratio control, all the way from 0 to infinity
Unlinked mid/side compression mode for a different stereo image 
Equalizer
Adjustable 12db high pass filter
12kHz high shelf filter for some "air"
2 broad band peak filters for wide sound shaping
Adjustable low shelf filter
System Requirements
Mac 
Mac OS X 10.8, 10.9 or 10.10 (latest update)
Intel Core Duo, 2 GB RAM (4 GB recommended)
Windows
Windows 8, Windows 7 (latest Service Pack, 32/64 Bit)
Intel Core Duo or AMD Athlon 64 X2
2 GB RAM (4 GB recommended)
Awards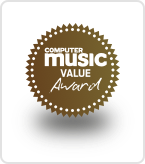 Product Reviews
Hamburg-based developer audioD3CK are recent entrants into the plugin arena, and as we discovered with their Krucz limiter, their rather...
You may also like