Formant Filter: Vocal Coloring
If your music doesn't get enough "Aahs" and "Oohs", maybe you should try putting them into the actual music? Formant filter shapes the sound in a similar way to how the vocal tract works, leading to vowel-esque sounds. So, channel your inner  robo-Tarzan. Aaaaoooeoeeeoeeeee!
Supported Formats
What's a snapin?
This plugin is a "snapin". That means you can use it as a regular VST/AU plugin, or you can use it with our snapin hosts Multipass and Snap Heap where you can combine effects in amazing ways.
Also available in these bundles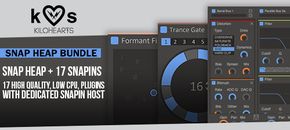 You may also like