Mix with the Masters
EZmix 2 combined with 150 additional settings, personally crafted by three of metal's top engineers
This savings bundle comes with the widely popular multi-effect mix tool EZmix 2 as well as three individual titles from the line of EZmix Pack expansions. In total, EZmix 2 offers in excess of 350 general-purpose mix settings for vocals, bass, guitar and mastering, allowing you to produce great-sounding tracks – quickly and easily. In addition, the added value of the three EZmix Packs gives you custom-made settings designed by three top names in metal engineering: Andy Sneap (Megadeth, Testament), Colin Richardson (Slipknot, Machine Head) and Forrester Savell (Karnivool, Dead Letter Circus).
An abundance of guitar and bass tones as well as settings for vocals, drums, keys, mastering – and more. Start mixing!
Features
Includes the full EZmix 2 with more than 350 general-purpose mix settings
Thee additional EZmix Packs as an added value
EZmix Packs designed by world-class engineers Andy Sneap, Colin Richardson and Forrester Savell
Settings for anything from guitars to vocals, drums and keys
Included Products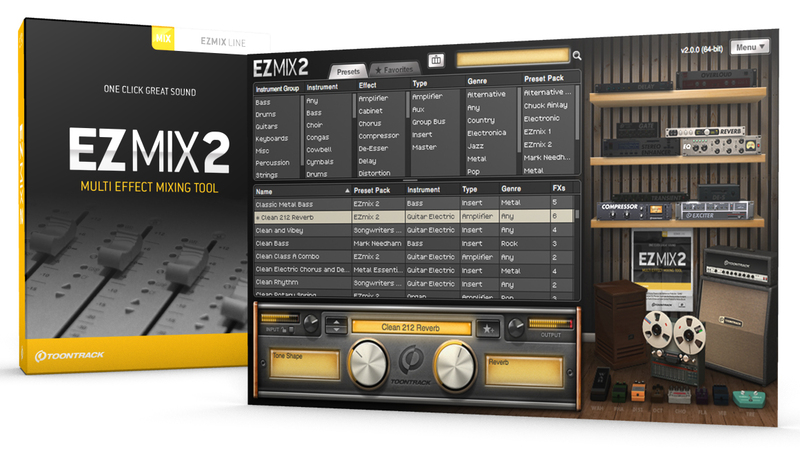 Meet your new Amp, Mix Engineer & Mastering Suite
Following the success of Toontrack's EZmix, the new and completely overhauled EZmix 2 continues to build on the same fundamental idea: having pro-designed effect chains for instruments and channels found in every recording session combined in one powerful mixing tool. With the vast collection of ready-made presets, mixing music is not only easy and incredibly fast – you end up with results second to none.
All the previous functionality and content from EZmix is still intact and working in EZmix 2. The major difference however, is that the new and revamped version comes with settings based on high-tech mastering effects, new reverb algorithms, guitar/bass amp and cab simulation, a completely revised interface and a large core content boost. Essentially, EZmix 2 is a mixing engineer, mastering suite and guitar/bass amp all rolled up into one package. Start mixing – it's EZ!
Effects
EZmix 2 is a powerful package that combines a multitude of quality studio effects with the know-how of professional engineers. As soon as you select one of EZmix's pre-designed settings, a complex chain of effect units instantly loads seamlessly in the background. See Details for in-depth information.
The Professional Touch
Making professional mixes has never been easier! Having a vast array of available effects to choose from, the signal-chain settings in EZmix 2 and all EZmix Packs were carefully crafted by seasoned mixing engineers. Lend some pro secrets and platinum record magic to your music by letting seasoned veterans do the tweaking for you!
Guitar/Bass Amp & Speaker Simulation
EZmix 2 has a large amount of ready-made settings based on some of the most classic vintage and contemporary guitar and bass amps, speakers and stomp boxes. Whether you are working stand-alone or in a host; plug your instrument straight into your sound card and select a preset!
Low CPU Usage
Combing several plugins on multiple channels can slow down even the fastest computer. With EZmix 2 you only use ONE instance on each channel instead of MANY and end up reducing your CPU usage to a minimum. With EZmix 2 you can make flawless mixes on low resource systems or in mobile situations!
Learn more about EZmix 2.
A Speed Dial to Metal
Mix tools for vocals, drums guitar and bass – all designed by British superstar metal producer Andy Sneap.
Would you want one-click settings for a variety of mix and recording scenarios that transformed your DI signals to match the sound of one of the most influential metal producers of the past two decades? A speed dial to a plethora of the guitar and bass tones heard on some of the heaviest records in modern time? Continue.
This expansion for EZmix 2 was personally designed by British superstar producer Andy Sneap. It focuses primarily on guitar and bass tones but also includes a selection of settings for lead vocals, background vocals and drums. Over the last couple of decades, Andy's mixes have seen him rise to international fame, lent him work on albums by some of the biggest names in modern metal and overall, his skills have had an instrumental role in shaping the sound of metal as we know it in the new millennium. Andy's discography reads like a who's who in recent metal history and includes the likes of DevilDriver, Saxon, Testament, Exodus, Accept and Killswitch Engage, to name a few.
The included guitar and bass tones were emulated and EQ-matched against the source material from some of the most noted productions in his extensive catalogue. The end result presents a jaw-dropping similarity and gives you a multitude of options for bass guitar as well as clean, rhythm and lead guitar. Add to that Andy's custom settings for various lead vocals, background vocals and drums and you'll have a set of extremely powerful audio shaping tools that will add a new dimension to your songs.
No amps, no cabs, no hassle. Just you, your song and a great mix. By yourself – and Andy Sneap.
Learn more about Andy Sneap EZmix Pack.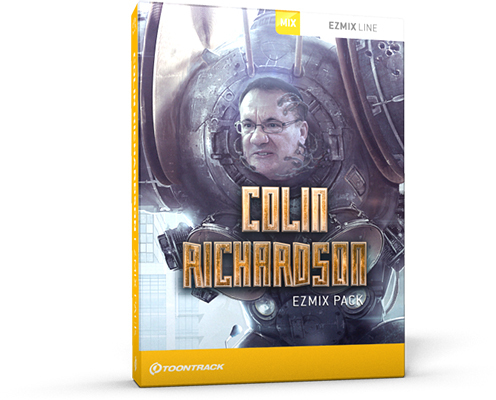 The First Aid Kit for Metal
Guitar tones and mix settings from one of the most influential names in modern metal production.
Raw, pummeling rhythm guitar tones. Soaring leads, ambient clean settings and special effects. Thick, in-your-face bass amp simulations, an array of tools for drums, vocals and keyboards. This EZmix Pack covers the ins and outs of metal mixing and comes directly from the desk of one of today's premier names in the game; Colin Richardson.The Colin Richardson EZmix Pack was designed by the man himself and based on the sounds and techniques he's learned to master over the past few decades producing the likes of Slipknot, Machine and many others. "I wanted to create a toolbox based on overcoming the usual hurdles in a mix", he comments
Get a premier first-aid kit for your drums. Slap a custom reverb, crispy delay or distortion on your vocals. Plug your guitar straight in and choose from a wide variety of tones for rhythms, leads or effect sounds. This pack has all the tools to take your next metal song from rough demo to finished, mixed track ready to hit the airwaves.
Learn more about Colin Richardson EZmix Pack.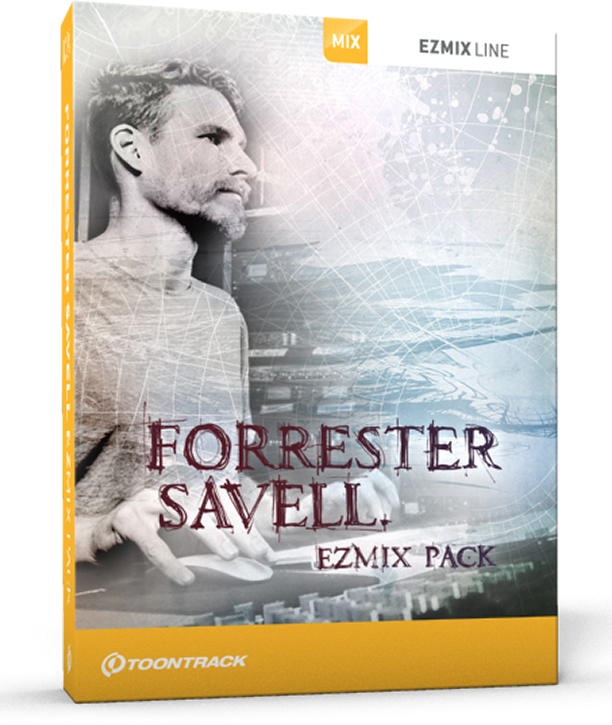 Out-of-the-Box Ideas for in-the-Box Mixing
50 settings for general mixing designed by one of the most interesting names in heavy rock production today.
Since graduating from the West Australian Academy of Performing Arts in 2000, Forrester Savell has worked out of the famous NRG Studios in Los Angeles, engineered and co-produced alongside some of the top names on the west coast, relocated back to Australia and landed himself two Producer of the Year ARIA Award nominations, three gold certified albums and several high profile projects. Needless to say, in a relatively short time Forrester Savell has established himself as a go-to name in the heavy rock community. Some of his most critically acclaimed work includes defining albums by the likes of Karnivool, Dead Letter Circus and The Butterfly Effect – all productions with dense, intricately layered landscapes of sound, widely considered cutting edge in modern rock production.
This collection of settings for EZmix 2 takes a broad approach and gives you anything from lush, ambient and distorted guitar tones to settings for vocals, bass and a variety of mix tools for drums – all applicable across any genre definition.
With this pack you'll be able to hone all the basic elements in your next mix – from firing up a guitar tone to setting the vibe of your synth bass, beefing up your kick or just randomly applying one the 50 creatively saturated chains of effects to whatever you may have going on at the moment. Because that's the beauty of EZmix 2 – no rules apply. Start mixing!
Learn more about Forrester Savell EZmix Pack.
System Requirements
PC:
Windows 7 or newer, Pentium 4 or Athlon processor with 1 GB RAM
Audio Unit, VST, AAX or RTAS host application and professional sound card recommended
200 MB free hard disk space required
MAC:
Mac OS X 10.6 or higher, Intel-based Mac with 1 GB RAM
Audio Unit, VST, AAX or RTAS host application and professional sound card recommended
200 MB free hard disk space required
Formats:
VST, Audio Units, RTAS, AAX, 32 & 64 bit