Ignite Your Songs
EZmix 2 Combined with 150 Additional Settings for Guitar, Vocals and Mastering.
This savings bundle comes with the widely popular multi-effect mix tool EZmix 2 as well as three individual titles from the line of EZmix Pack expansions. In total, EZmix 2 offers in excess of 350 general-purpose mix settings for vocals, bass, guitar and mastering, allowing you to produce great-sounding tracks – quickly and easily. In addition, the added value of the three EZmix Packs gives you 50 guitar tones specifically designed for rock, 50 settings tailored for lead vocals as well as 50 settings for solely devoted to mastering.
This is the perfect collection to take your songs from rough demos to finished, mixed and mastered tracks – ready to hit the airwaves.
Features
Includes the full EZmix 2 with more than 350 general-purpose mix settings
Three additional EZmix Packs as an added value
In total 150 extra settings for rock guitar, lead vocals and mastering
Included Products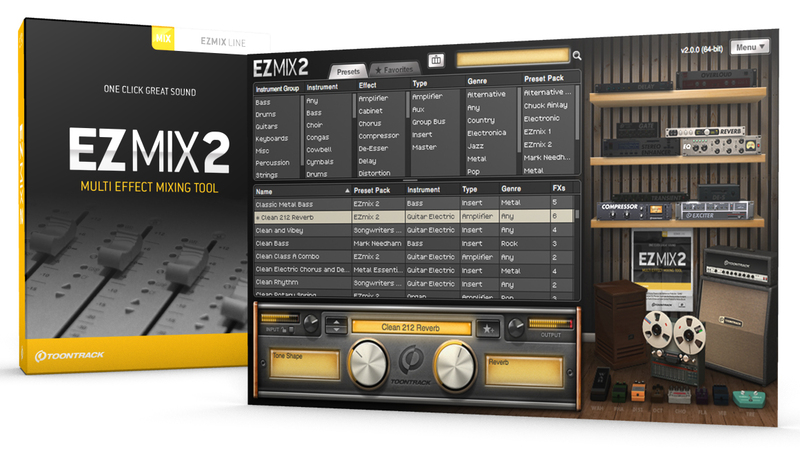 Meet your new Amp, Mix Engineer & Mastering Suite
Following the success of Toontrack's EZmix, the new and completely overhauled EZmix 2 continues to build on the same fundamental idea: having pro-designed effect chains for instruments and channels found in every recording session combined in one powerful mixing tool. With the vast collection of ready-made presets, mixing music is not only easy and incredibly fast – you end up with results second to none.
All the previous functionality and content from EZmix is still intact and working in EZmix 2. The major difference however, is that the new and revamped version comes with settings based on high-tech mastering effects, new reverb algorithms, guitar/bass amp and cab simulation, a completely revised interface and a large core content boost. Essentially, EZmix 2 is a mixing engineer, mastering suite and guitar/bass amp all rolled up into one package. Start mixing – it's EZ!
Effects
EZmix 2 is a powerful package that combines a multitude of quality studio effects with the know-how of professional engineers. As soon as you select one of EZmix's pre-designed settings, a complex chain of effect units instantly loads seamlessly in the background. See Details for in-depth information.
The Professional Touch
Making professional mixes has never been easier! Having a vast array of available effects to choose from, the signal-chain settings in EZmix 2 and all EZmix Packs were carefully crafted by seasoned mixing engineers. Lend some pro secrets and platinum record magic to your music by letting seasoned veterans do the tweaking for you!
Guitar/Bass Amp & Speaker Simulation
EZmix 2 has a large amount of ready-made settings based on some of the most classic vintage and contemporary guitar and bass amps, speakers and stomp boxes. Whether you are working stand-alone or in a host; plug your instrument straight into your sound card and select a preset!
Low CPU Usage
Combing several plugins on multiple channels can slow down even the fastest computer. With EZmix 2 you only use ONE instance on each channel instead of MANY and end up reducing your CPU usage to a minimum. With EZmix 2 you can make flawless mixes on low resource systems or in mobile situations!
Learn more about EZmix 2.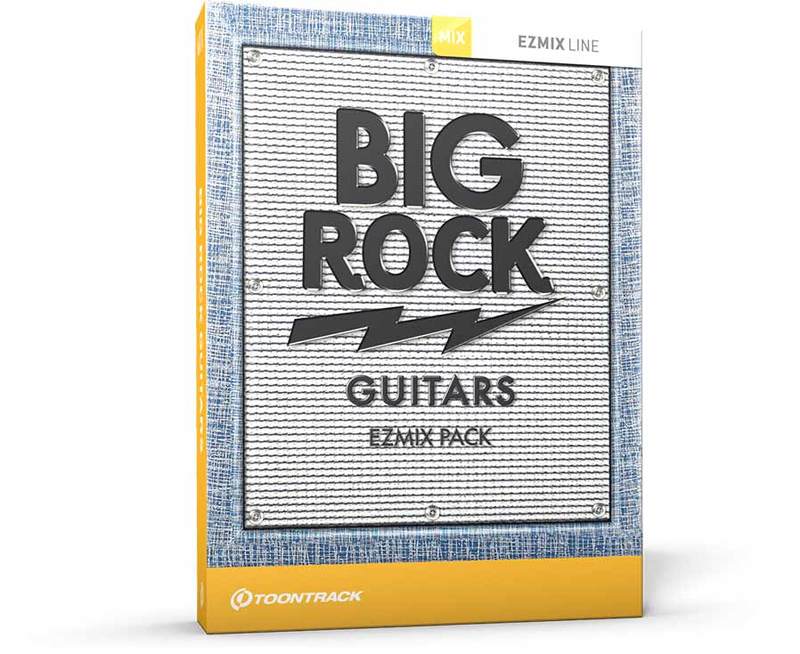 The School of Rock Guitar
50 unique guitar tones, inspired by the past 40 years of rock.
Some guitarists hit notes thirty, or even forty, years ago that seem to resonate just as vividly now as back then. We're talking about the icons – the flag bearers of the big guitar tones that changed the fabric of rock and whose legacy to this day keep trickling down to new generations of players across the globe.
This is where the Big Rock Guitars EZmix Pack is rooted – deep in the midst of the bursting '70s classic rock scene. But even if this collection blatantly nods at times gone by, it still aims to paint a picture of rock guitar as a whole, vintage or not. This is a tribute on a broader scale – to the amps, the players, the riffs and the past 40 years of guitar-driven music.
Expect all the tones you need for your deafening, tube-sizzling rhythms, your flange-infused twang and, of course, all your soaring leads. Regardless of whether you're a writer of classic or modern rock – this collection's got you covered.
Get your guitar out, school's in session.
Features
50 unique guitar tones
Inspired by the past 40 years of rock guitar
Both vintage & modern tones
Rhythm, clean, lead and effect tones
Learn more about Big Rock Guitars EZmix Pack.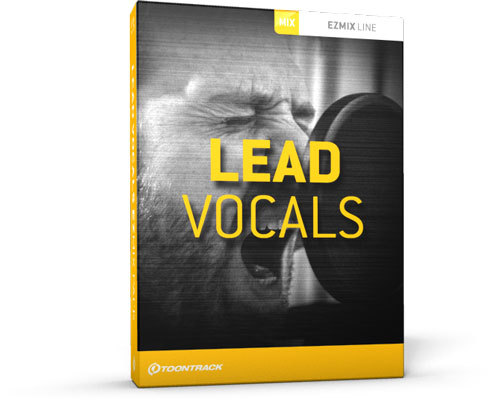 Get your Vocals Right
For any and all things related to making lead vocals sound great and sit well in your mix.
Regardless of genre, vocal style or preference, the single most identifiable ingredient in a mix is the lead vocals. It carries the tune, the melody and the words. It's the undisputed, universal component that anyone can name and relate to. Sadly enough, it's likely one of the hardest things to get right. A great vocal sound often involves a long chain of effects, compression, EQ and not to mention, the know-how and touch of an experienced engineer. This pack was designed by Toontrack co-founder and head of Sound Design, Mattias Eklund, and is best described as a virtual pantry chock-full of the sweetest of any and all things related to making lead vocals sound great and sit well in any mix.
No matter if you are looking to mix growling death metal vocals, intimate ballads, edgy modern styles, hard rock or ambient pop, this pack has one-click settings tailor-made for any genre, mix situation or whim you might find yourself in.
Get your vocals right – it's EZ!
Learn more about Lead Vocals EZmix Pack.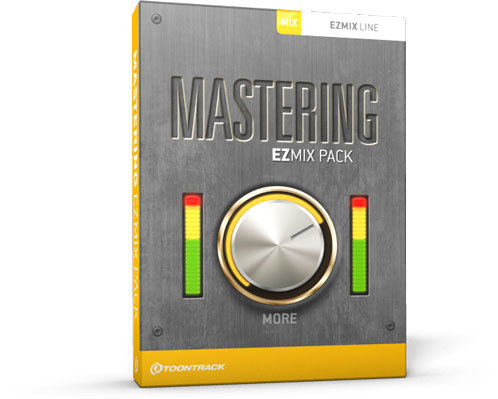 Make World-Class Masters
A wide variety of effect chains for the most common mastering needs and music genres.
Mastering is an art in itself as well as the final and crucial step in making great mixes sound even better. That's why we wanted one of the best in the business at the helm when designing the presets for this pack. Meet Mats "Limpan" Lindfors, senior engineer at Cutting Room, the leading mastering studio in Scandinavia.
"I tried to make this pack cover as much ground as possible. I wanted everyone to find great mastering settings no matter what kind of music they are working on", Mats says.
The Mastering EZmix pack comes with a wide variety of effect chains for the most common mastering needs and music genres. Whether you are working on a loud metal song, a mellow jazz tune or a big house anthem, this pack has one-click settings to take your mix from great to fantastic in no time.
Give your final mixes that extra little bit of detail and attention. Start mastering – it's EZ!
Why Mastering?
Mastering is the final audio processing step before a song is ready for distribution. All tracks you hear on the radio or on albums are mastered. In simple terms, mastering means you take your final mix and add various amounts of EQ, compression and limiter to make it sound as great as possible whether you play it on a car stereo, a hi-fi system or a compact mono radio.
Learn more about Mastering EZmix Pack.
System Requirements
PC:
Windows 7 or newer, Pentium 4 or Athlon processor with 1 GB RAM
Audio Unit, VST, AAX or RTAS host application and professional sound card recommended
200 MB free hard disk space required
Mac:
Mac OS X 10.6 or higher, Intel-based Mac with 1 GB RAM
Audio Unit, VST, AAX or RTAS host application and professional sound card recommended
200 MB free hard disk space required
Formats:
VST, Audio Units, RTAS, AAX, 32 & 64 bit