Syn'x 2 is a Polytimbral Synthetizer inspired for the synthesis part by a legendary Italian Synthesizer from the 80's, while its multilayer card based architecture is inspired by sophisticated hardware analog monsters like the Oberheim Matrix 12.
The Sound: It offers the striking combination of clear and punchy DCOs with cutting multimode modeled analog filters like it's ancestor, one of the last Vintage Polyphonic Analog Synthetizers, and a piece of Synthesis history, including the famous BBD Chorus!
And because it's multitimbral, you can use up to 16 oscillators, 8 0df Analog Filters, 32 DADSR envelopes and Modulation Matrixes addressing any of the 132 possible destinations to build your own patches, when the 300 Factory Library Presets will be not enough.
It's a Xils-Lab synthesizer, so we added MORE. To name a few: 
Oscillators with cumulative waveforms (Up to 40 per patch)
New 0DF PWM/Hard Sync Algorithm
Unique Lfos with cumulative waveforms (Up to 50 per patch)
Additional D-ADSR envelopes and Modulation Matrixes  (Per Layer)
Unison, 2 arpegiattors, 2 Keyboards zones, Guitar Multitimbral mode
Plethora of monophonic and polyphonic Play Modes
PolySequencer (Also acting as a modulation source) 
Easy Sound Creation with our unique Smart Load Technology
Vintage sounding effects : Chorus, Phaser, Delay, Analog EQ. True Stereo Technology.
And a dual programming environment which offers you two different edit mode ( Easy and Advanced)
The Eazy Mode enables you to benefit of a powerful, yet intuitive and streamlined programming environment similar to the  miniSyn'X duotimbral synthesizer, but with the additional power of additional envelopes, LFOs, etc
The Advanced mode unleashed the total power of the Syn'X 2 to build thick, complex, and never heard patches, still with a totally revamped and fast workflow.
Making it one of the most powerful and complex Virtual Analog Synthesizer of the modern era.
Offering you the best of both worlds : Vintage Sound in a modern frame, and never seen possibilities.
Oscillators
7 waveforms. (Triangle, PWM Triangle, Saw, PWM Saw, Square, PWM Pulse).
Triangle and Sawtooth waveforms can also receive PWM New zero delay feedback PWM cross modulation mode. Ring modulator and Hard Sync between oscillators.
Several waveforms can be selected simultaneously for each of the oscillators (Up to 40 per patch).
Multimode Filter
Based on an emulation of the CEM 3320 chip, the Syn'X multimode filter provides 6 filter types: 12 & 24 dB Low Pass, 6 &12 dB Band Pass, and 12 dB High Pass.
Self oscillation for all types.
A special overdrive circuit can be used before or after the filter.
D-ADSR
4 special envelopes are available.
Added to the standard Attack-Decay-Sustain-Release, the Syn'X offers a MIDI synced Delay segment, useful for example, to trig tempo synced modulations, or to open the filter a few milliseconds after the amplifier, giving some plosive effects. 
A wide range of new sounds can be done with this feature.
Polyphonic LFO
2 heavily featured LFOs that can modulate the oscillator pitch and width, the filter frequency and the amplifier level and can also be used as sources in the modulation matrixes. 
The frequency can be synced to the Host application tempo.
The modulation can also be reset by the keyboard or free running and a fade in function is available. 
Chaox
This additional unique LFO will breathe Real life into the synthesis engine(s).
This module calculates in a 2-D space the movement of a point. Each of the two axis can modulate any of the numerous available destinations. Modulation's rate, and the delay before the modulation is applied can be set.
A smoothing parameter allows to reduce the modulation variations and a chaotic level parameter allow to increase or reduce the chaotic aspect of the movement.
4 Chaotic functions can be chosen: Flying Fly, Bow Tie, Rainbow and Butterfly.
Rhythm LFO
5 unique LFOs built for rhythmic effects.
The 5 modulations can run simultaneously, and each one can be assigned to any of the 132 possible destinations. The modulation can be delayed and a phase parameter can adjust the start of the cycle.
Octo: a pulse at the 8th part of the cycle.
Hexa: a pulse at the 16th part of the cycle.
Terna: a pulse at the 6th part of the cycle.
Hoover:a rampe at the 16th part of the cycle.
Stutter: 5 little saw at the 16th part of the cycle.
Multi-Layer Two keyboards and Guitar Mode
The Syn'X offers two MIDI keyboards (Upper and Lower) suitable for split and layered instruments, and a special Guitar mode, where all layers can be assigned to independent Midi channels. 
Each Keyboard has its own independent split point parameters, Unison and Play Mode, as well as a simple but powerful polyphonic arpeggiator.
Each keyboard can use up to 8 layers/16 voices, freely chosen, to get the most benefit of the Syn'X multi-layer features.
The Syn'X offers up to 16 voices of polyphony, by group of two voices (1-9, 2-10, 3-11, ...), for a full independent 8 layers management.
Guitar Mode
The Syn'X provides a specific voices/layers Mode initially invented for Midi guitar players.
Two voices can be assigned to each Midi Channel (ie one per guitar string). 
Playing different sounds with each Guitar string has never been easier. 
This feature can also be used by drum players, by connecting MIDI pads to these entries. 
System Requirements
Mac
Mac OSX 10.5 and later : VST, Audio Unit,  RTAS (Protools 7.0 and later), AAX (32&64 bits, native)
2GHz processor
1GB RAM
Windows
Windows XP, Vista and 7,8 ; VST,  RTAS (Protools 7.0 and later), AAX (32&64 bits, native)
2GHz processor
1GB RAM
Any references to any brands on this site/page, including reference to brands and instruments, are provided for description purposes only. For example references to instrument brands are provided to describe the sound of the instrument and/or the instrument used in the sample. Plugin Boutique do not have (nor do they claim) any association with or endorsement by these brands. Any goodwill attached to those brands rest with the brand owner. Plugin Boutique or its Suppliers do not accept any liability in relation to the content of the product or the accuracy of the description. "RHODES" is a registered trademark of Joseph A Brandstetter.
Awards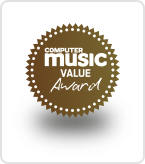 You may also like