Plug-In Suite
The Red 2 & Red 3 Plug-in Suite accurately models Focusrite's classic Red range equaliser and compressor hardware – letting you exploit the originals' famous sound, conveniently from within your audio software. Coveted by producers and engineers for their exceptional clarity and versatility, the original Red 2 and Red 3 remain prized fixtures in professional recording studios the world over. Now, you can use these revered pieces, easily and flexibly, in your own mixes.
The Red Range
The Red range was introduced in 1994 and remains among Focusrite's most successful and recognisable hardware products. Encased in half-inch thick red anodised aluminium body, with polished steel top and bottom covers that feature the classic 'ff' detailing, the original Red units are unmistakable. Their natural, unobtrusive sound and distinctive style have earned them 'iconic' status in the pro audio world. Almost every major studio owns, or has at some time hosted, a Focusrite Red.
The Red 2 hardware is derived from the ISA 110 equaliser circuits, initially designed for the sidecar upgrade of the Neve console at Sir George Martin's Air Studios, London. Its flexible 6-band configuration with high and low-pass filters is powerful and responsive. Distinguished by its subjectively warm and smooth sound, the Red 2 is extremely versatile and remains highly sought-after.
The Red 3 hardware, similarly, uses the same circuit topology as the ISA130 compressor module, based around an innovative proprietary VCA design that earned Focusrite a TEC award for Outstanding Technical Achievement in Signal Processing Technology. The Red 3 is famous for being able to retain a natural sound, even when significant compression is being applied. As such, it has remained the choice of many of the world's finest mix engineers, such as Chris Lord-Alge, who continues to religiously place his Red 3 over the mix-bus.
The Red 2 and Red 3 plug-ins faithfully reproduce the sonic qualities of the hardware, allowing you to get detailed dynamic and tonal control of your mix, and tap into the classic 'Red' sound – the sound of professional recording studios all over the world – with the mere touch of a button. Featuring stunning graphics that evoke the trademark red sheen of the originals and faithful sonic modeling, they'll fast become the go-to weapon in your plug-in arsenal.
Specifications
Plug-in Formats
Mac OS 10 .8
AAX 32-bit (Pro Tools 10 only)
Mac OS 10 .9, 10 .10 (Universal Binary)
VST2 32-bit/64-bit
VST 3 32-bit/64-bit
AU 32-bit/64-bit
AAX 32-bit/64-bit
Windows 7, Windows 8 .1 (x86 and x64)
VST2 32-bit/64-bit
VST 3 32-bit/64-bit
AAX 32-bit/64-bit
System Requirements
Mac OS
Mac OS 10.9 or higher (Mac OS 10.8 for Pro Tools 10 only)
Windows
Windows 7, Windows 8.1 (x86 and x64)
Any references to any brands on this site/page, including reference to brands and instruments, are provided for description purposes only. For example references to instrument brands are provided to describe the sound of the instrument and/or the instrument used in the sample. Plugin Boutique do not have (nor do they claim) any association with or endorsement by these brands. Any goodwill attached to those brands rest with the brand owner. Plugin Boutique or its Suppliers do not accept any liability in relation to the content of the product or the accuracy of the description. "RHODES" is a registered trademark of Joseph A Brandstetter.
More by Focusrite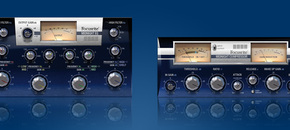 You may also like