"I put the TSAR-1 on one track of a song 'just to see if I liked it, and I ended up using it exclusively for the rest of the mix."
Fab Dupont. Producer/Mixer Jennifer Lopez, Toots and the Maytals, Marc Ronson and many more.

"Man!!!!!! Incredible incredible incredible!!!!! Just mixed Lil' Waynes new single How to Love and so sweeeet my TSAR-1 Reverbs are sounding right now. If I had four hands I'd give four thumbs up!"
Fabian Marasciullo. Mixer for Lil' Wayne, The Neptunes, etc.

"TSAR-1R immediately became my go-to reverb and I used it whenever I needed some ambience. A smooth plate for a vocal, medium sized room for a snare drum, sparkly string ambience; it really sounds great on everything."
Bo Boddie. Santana, Everlast, Korn, Reni Lane, etc.
TSAR-1R Reverb is the little sibling of the more adjustable TSAR-1 Reverb. They share exactly the same high end reverb algorithm, but TSAR-1R offers extreme ease of use for a fast and intuitive workflow.
Essentially, TSAR-1R is operated with a single control—the Time slider. Add depth and dimension to any sound with short and controlled room sounds, or slide it up towards hall settings for large, dramatic spaces. It really is as easy as that, and it always sounds stellar.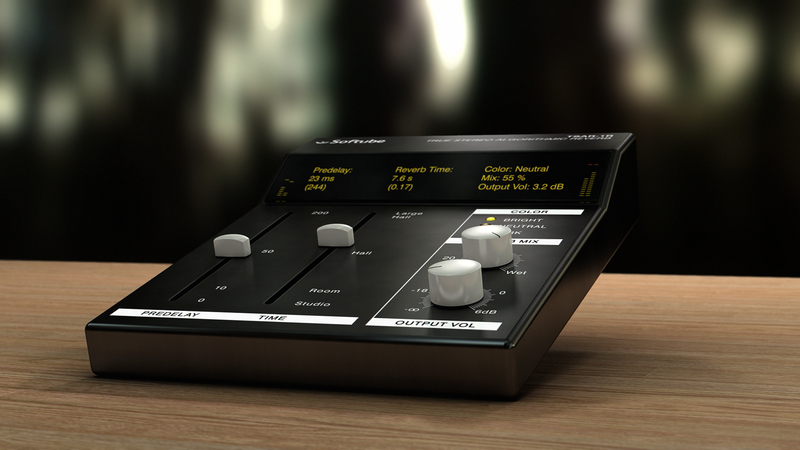 The True Stereo Algorithm inside the TSAR-1R Reverb and the more adjustable TSAR-1 Reverb is what gives them their magic. The strength lies in the sophisticated sound and versatility, no matter whether they are used on strings and brass or rock drums and lead vocals, they always shine. All this while still having a comprehensive and easy-to-use interface that is unparallelled in other high-end reverb products.
Features
Predelay - Perfect for getting that small gap between the vocals and the reverb tail 
Time - One fader to rule them all. The Time control changes the Density, Diffusion, Early Reflections, Reverb Time, etc. Almost like a continous swipe through all the best presets. 
Color - Need a bright or a dark reverb?
True Stereo Algorithm - Same as in TSAR-1 Reverb
Extremely easy to use
Modern and powerful high-end Reverb
Fast and easy, yet powerful. Apart from Mix and Volume, there's only three parameters in TSAR-1R. Don't let that fool you though, it has never before been this easy to dial in a great reverb sound.
System Requirements
Version 2.0 of the Softube plug-ins have the following minimum requirements:
All Native Versions:
Mac OS X 10.9 or newer
Windows 64-bit, versions 8 or 10
Intel Core 2 Duo, AMD Athlon 64 X2 or newer
Screen resolution larger than 1280x800
1 GB RAM or more, and at least 6 GB hard disk space for installation (individual plug-ins take less space)
Any VST, VST3, AU, or AAX (Pro Tools 10.3.7, 11.0.2 or higher) compatible host application
Softube/Gobbler account
Gobbler application to manage license activation and plug-in downloads
Please make sure that you always use the latest iLok License Manager. It is not included in the Softube installer, but can be downloaded from www.ilok.com
Broadband internet access for downloading installer and register licenses​
Please note: 
Windows XP and Vista are no longer officially supported
All Softube plug-ins support both 32- and 64-bit hosts, although a 64-bit OS is required. Supported sample rates: 44.1, 48, 88.2, 96, 176.4 and 192 kHz, in both mono and stereo
You may also like